Ford May Lose Some Investors to GM IPO, Chairman Says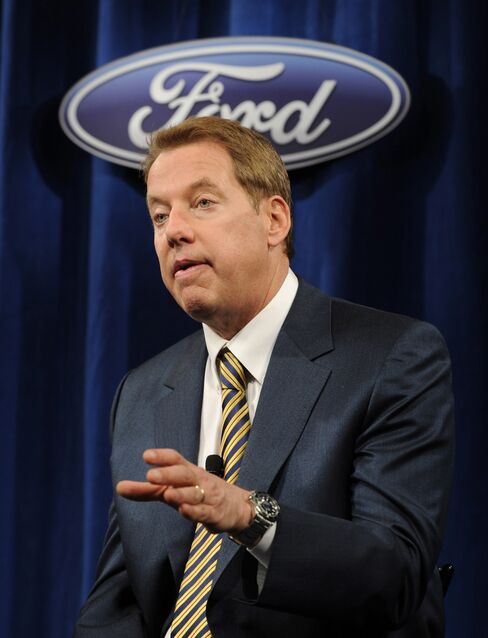 Ford Motor Co. Executive Chairman Bill Ford said some investors may reduce their holdings in his company to buy shares in General Motors Co.'s initial public offering and spread their risk across the automobile industry.
"Some money will be rebalanced into GM, but look: our company and GM ultimately are going to succeed or not based upon performance," Ford, 53, told reporters today at an event in Royal Oak, Michigan. "It doesn't make any difference to me where our shares are or their shares are on any given day."
GM, 61 percent owned by the U.S. Treasury, this week filed documents for a share sale that would cut the government's stake and mark the automaker's return to public markets a year after filing for bankruptcy. The offering may be as large as $16 billion, people familiar with the plans have said.
Ford fell 12 cents, or 1 percent, to $11.77 at 4:01 p.m. in New York Stock Exchange composite trading. The Dearborn, Michigan-based company's shares gained 19 percent this year through yesterday.
Ford is talking to the United Auto Workers union in advance of 2011 negotiations, the chairman said today. While the automaker is "largely competitive" with GM and Chrysler Group LLC on labor costs, there are some areas where the companies aren't at parity, said Ford, the great-grandson of the company's founder.
Contract Changes
UAW members at Ford ratified contract changes in March 2009 that the automaker said would save $500 million annually, including giving up annual bonuses and cost-of-living increases and accepting reductions in layoff benefits. GM and Chrysler, before the bankruptcies of their predecessors, won a freeze on pay for entry-level workers and a no-strike accord until 2015.
"I'm confident that as we go through negotiations we'll work it out," Ford told the audience at the event. "Any negotiation is a big deal, but I feel very good about our relationship with the UAW."
Ford avoided bankruptcy by borrowing $23 billion in late 2006, before credit markets froze. Chief Executive Officer Alan Mulally has said the borrowing left the company with obligations that now put it at a competitive disadvantage.
Ford's earnings and cash flow have kept the company ahead of schedule repaying debt, the chairman said today.
The automaker earned $4.7 billion in the year's first six months, the largest first-half profit since 1998. Sales of redesigned models such as the Taurus and Fusion sedans helped propel the automaker's U.S. sales up 23 percent this year compared with an industrywide gain of 15 percent.
Before it's here, it's on the Bloomberg Terminal.
LEARN MORE