Roger Clemens Indicted for Obstruction, Lying About Steroid Use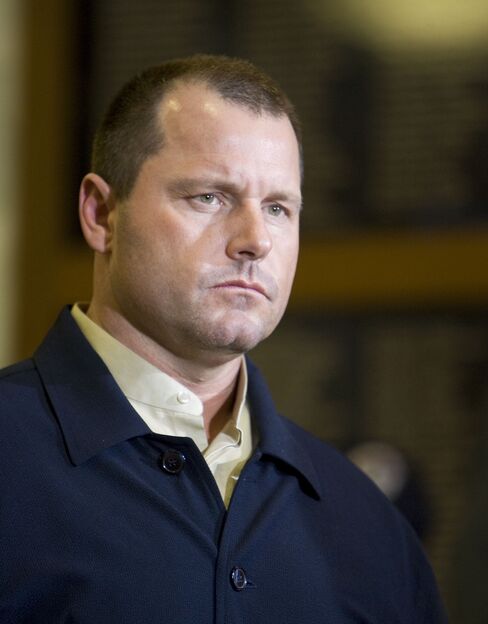 Roger Clemens, seven-time winner of Major League Baseball's Cy Young pitching award, was charged with lying to Congress about using steroids, joining a growing list of ballplayers accused of cheating.
A federal grand jury in Washington indicted Clemens, 48, yesterday on six counts, including obstructing Congress, making false statements and perjury. If convicted, he faces as much as 21 months in prison under U.S. sentencing guidelines, prosecutors said yesterday in a statement.
The right-hander, known as "the Rocket" for his blazing fastball and habit of pitching hitters close, was linked to steroid use by a former trainer in a 2007 report to Congress. A U.S. House of Representatives committee in February 2008 held hearings on the matter and called Clemens to testify. In sworn statements, he told committee staff members and lawmakers that he never used steroids.
"As Clemens well knew when he gave his testimony, Clemens knowingly received injections of anabolic steroids while he was an MLB player," according to the indictment. He's also accused of lying about his use of human growth hormone, which was banned by the league in 2005.
"Roger is looking forward to his day in court," Clemens's lawyer Rusty Hardin said at a news conference, according to ESPN, the sports television network. "He is happy this has finally happened. We have known for some time this was going to happen. We'll let everything get taken care of in court."
Hardin didn't immediately respond to phone calls and an e-mail message seeking comment. Major League Baseball spokesman Pat Courtney declined to comment.
Clemens Not Arrested
Clemens, who hasn't been arrested, will be scheduled for arraignment by U.S. Judge Reginald Walton, said Bill Miller, a spokesman for the U.S. Attorney's office in Washington.
Clemens is the latest former Major League Baseball player to be accused of relying on banned substances. Former San Francisco Giant Barry Bonds, who holds the record for home runs, is scheduled to go on trial in March in San Francisco for perjury related to alleged steroid use.
Miguel Tejada, who plays for the San Diego Padres, pleaded guilty last year to lying to Congress about his knowledge of steroid use by a teammate. Three-time Most Valuable player Alex Rodriguez of the New York Yankees admitted using steroids from 2001 to 2003.
Clemens, who also played for the Yankees, as well as the Toronto Blue Jays, Boston Red Sox and Houston Astros, won more than 300 games in a major league career spanning from 1984 to 2007. His seven Cy Young awards, for being the best pitcher in his league, are a record.
Hall of Fame
The Hall candidacies of Clemens, Bonds, with a record 762 homeruns, and Sammy Sosa, who ended his career in 2007 with 609 home runs, may be in doubt because of allegations of steroid use. All have denied using banned substances. Eligibility for the Hall begins five years after a player retires.
Mark McGwire, who held the single-season record for home runs until Bonds shattered it, has been eligible for the Hall the past four years. A week after this year's vote, in which he got fewer than a third of the votes needed for induction, the former member of the St. Louis Cardinals and Oakland A's admitted that he used steroids in his career.
The Federal Bureau of Investigation opened an inquiry in February 2008 after the congressional committee told then- Attorney General Michael Mukasey in a letter that Clemens may have lied during the panel's probe.
Clemens's Denials
Clemens's denials about using performance-enhancing drugs were contradicted by the testimony of his former trainer Brian McNamee and ex-teammate Andy Pettitte, according to a letter from the committee to Mukasey.
McNamee testified that he injected Clemens 20 times with steroids and human growth hormone. Pettitte told the committee in a deposition and affidavit that Clemens admitted in 1999 or 2000 that he used human growth hormone.
"I am just making it as possibly clear as I can," Clemens said in his sworn deposition to Congress, as cited in the indictment. "I haven't done steroids or growth hormone."
In the hearings, Clemens was represented by Hardin and Lanny Breuer, who is now the head of the Justice Department's criminal division.
Clemens, who won the World Series with the Yankees in 1999 and 2000, testified that McNamee only injected him with vitamin B-12 and a painkiller. Clemens told Congress that Pettitte, a longtime friend who played alongside him with the Yankees and Houston Astros, "misremembers" a conversation they had about HGH.
Clemens Associates
The indictment mentions two unidentified associates of Clemens, denoted as Player #1 and Strength Coach #1. McNamee is the unnamed coach, said his lawyer, Earl Ward.
In the indictment, Clemens is accused of lying about the injections the strength coach gave him while the pitcher was with the Blue Jays and the Yankees. Prosecutors say the strength coach gave Clemens steroid and HGH shots and never gave him B12 injections.
The charge that Clemens obstructed the congressional probe stems in part from his statement that Player #1 "'misheard' or 'misremember[ed]' when Clemens told this teammate in or about 1999 or 2000 that he (defendant CLEMENS) had taken HGH," the indictment alleges.
"If there is evidence that someone has intentionally misled a congressional investigative committee, they should be prosecuted to the fullest extent possible," said Kurt Bardella, spokesman for the House Oversight and Government Reform Committee's ranking Republican, Representative Darrell Issa of California.
Perjury Prosecutions Difficult
Prosecuting perjury is difficult when just taking one person's word against another, former federal prosecutors Colleen Conry, Kevin DiGregory and Steven Tyrrell said in interviews yesterday. To prevail, the government will need corroboration from another witness or other evidence, they said.
"The government must prove that Clemens used either performance-enhancing drugs or human growth hormone," said Conry of Ropes & Gray LLP in Washington. "The jury would expect and demand where is the forensic evidence, where is the DNA? Where is the needle?"
It's generally easier to win a conviction for a charge of making false statements, "because you don't have to prove the underlying offenses," said Robert S. Bennett, a lawyer at Hogan Lovells in Washington who represented President Bill Clinton in the Paula Jones sex harassment case. He also represented former Defense Secretary Caspar Weinberger, who was pardoned after being indicted for perjury.
'Favorite Charge'
"This is the favorite charge of prosecutors because it's simple and it's something the jury can understand," Bennett said.
There have been other notable prosecutions based on testimony before Congress, said DiGregory, a former Deputy Assistant Attorney General in the justice Department's criminal division, now with Manatt, Phelps & Phillips.
Most notably, Oliver North was convicted for his role in obstructing a congressional inquiry related to the Iran-Contra investigation, he said.
"There are many investigations of people who allegedly lied to Congress because Congress is recognized as having the ability to put people under oath," said DiGregory.
Tejada, who pleaded guilty without facing trial, spent no time in prison. Marion Jones, the Olympic sprinter, served months in a federal facility after her conviction on two obstruction charges, for lying to grand juries about her steroid use and the criminal activities of an associate.
Phil de Picciotto, president of Athletes & Personalities at the Los Angeles-based marketing and representation firm Octagon, said that even though Clemens is innocent until proven guilty, "an indictment carries a very negative connotation in the court of public opinion, which is the landscape on which reputations are built, maintained or destroyed."
The case is U.S. v. Clemens, 10-cr-00223, U.S. District Court, District of Columbia (Washington).