Citic Securities Steps Up Hong Kong Push as 'Mini-QFII' Nears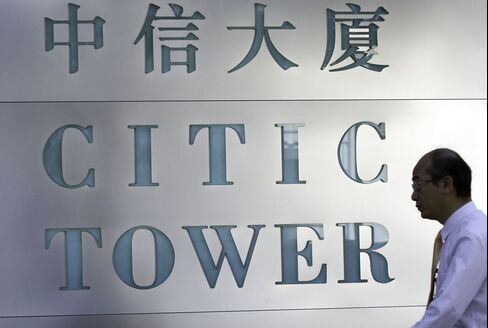 Citic Securities Co. and China Merchants Securities Co. are injecting money into their Hong Kong units as China prepares to allow more foreign investment in its stock and debt markets.
The two brokerages this week announced details on plans to invest a combined $529 million in their subsidiaries in the city. The securities regulator has completed draft rules for a program under which local brokers and fund managers can invest yuan funds raised in Hong Kong in domestic securities, a person with knowledge of the matter said.
The proposal may allow domestic firms to tap into the $11.6 billion of yuan deposits in Hong Kong -- a pool of money that's grown 43 percent this year -- by offering an avenue to invest in Chinese securities. It will run parallel to the qualified foreign institutional investor, or QFII, arrangement that lets overseas asset managers invest in yuan-denominated securities, the person said.
"The mini-QFII program will benefit Chinese brokerage firms' expansion in Hong Kong," said Banny Lam, associate director of research at CCB International Ltd., a unit of China Construction Bank Corp. "They can leverage their China research and investment expertise in providing brokerage services and investment products to Hong Kong investors."
Lam said he expects the China Securities Regulatory Commission to publish rules for the new program within a month. The regulator has sent draft rules to the State Council, the person familiar with the matter said, declining to be identified as no announcement has been made. The person didn't provide further details. A spokeswoman for the watchdog, who declined to be identified, had no comment.
QFII Program
Citic Securities, China's biggest brokerage by market value, said Aug. 17 it plans to invest $400 million in its Hong Kong unit. Two days earlier, Merchants Securities said it got regulatory approval to put HK$1 billion ($129 million) into its subsidiary in the city.
Citic Securities will use the money to expand across businesses ranging from proprietary equities trading to wealth management, according to its statement. Merchants Securities, which raised 11.1 billion yuan ($1.6 billion) in an initial public offering in Shanghai in November, didn't say how it plans to deploy the capital.
Spokespeople at Citic Securities and Merchants Securities declined to comment.
The CSRC has operated the QFII program, under which approved international firms can invest in Chinese equities and bonds, since 2002. Total QFII quotas stood at $17.7 billion at the end of June, according to the China Securities Journal.
Yuan Deposits Surge
The mini-QFII program is among steps that will be "key to watch" as China's government's pushes to expand yuan business in Hong Kong, Goldman Sachs Group Inc. said Aug. 18.
China's central bank said Aug. 17 it will let overseas financial institutions invest yuan holdings in the interbank bond market, a step Citigroup Inc. and Credit Agricole CIB said will boost global demand for the currency.
The move can be seen as the beginning of a "big bang" of wider reforms allowing increased access to China's capital markets for foreign investors, Nomura Holdings Inc. analysts led by Sean Darby wrote in a report.
Yuan-denominated deposits at banks in Hong Kong rose to a record HK$90 billion in June, according to the city's central bank, as more savers bet the Chinese currency will appreciate. The yuan has strengthened 0.6 percent since the People's Bank of China scrapped a two-year dollar peg on June 19 and returned to a system of managing the exchange rate against a basket of currencies.
Overseas Expansion
Citic Securities and its domestic rivals have stepped up expansion outside China in the past two years, putting them into more direct competition with international firms like Goldman Sachs and Deutsche Bank AG.
Beijing-based Citic Securities in May announced plans to combine its global equity brokerage unit and investment-banking operations in Asia with those of France's Credit Agricole SA. Haitong Securities Co., based in Shanghai, in November agreed to pay HK$1.82 billion for a majority stake in Hong Kong's Taifook Securities Co.
"Ultimately, we'll see more Chinese securities companies benefiting from the growing international demand for access to the A-share market," said Peter Alexander, principal at Z-Ben Advisors in Shanghai, referring to yuan-denominated equities traded in Shenzhen and Shanghai. "But it won't happen right away."