Virginia Democrats Swept In With Obama Now Vulnerable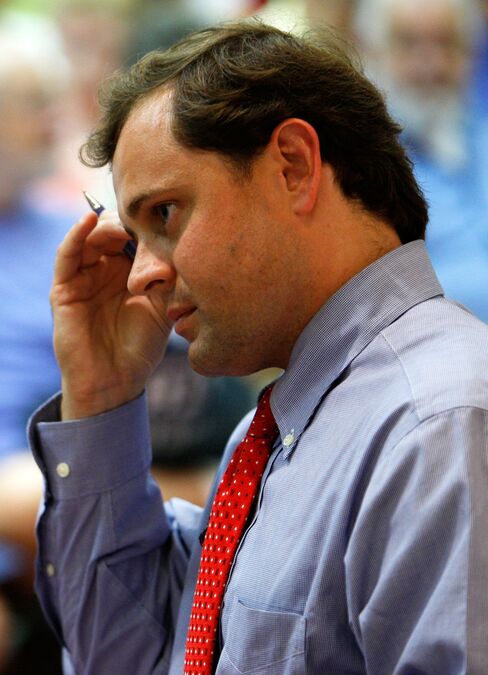 U.S. Representatives Tom Perriello and Glenn Nye have much in common.
They are Democrats elected at age 34 in 2008 from Republican-leaning districts in Virginia's southern tier. Each benefited from the strong turnout that helped Barack Obama become the first Democratic presidential candidate to win Virginia since 1964.
The pair diverged in Washington, with Perriello backing Obama's push for health-care and climate-change legislation while Nye opposed both. Perriello extolled government economic investment while Nye joined the fiscally cautious "Blue Dog" Democratic caucus.
Their differing paths haven't prevented them from ending up in the same political place: ranked among those most at risk of losing re-election this year.
"The general forces are against both of them," said Daniel Palazzolo, a University of Richmond political science professor. "It's a microcosm of what's happening nationally to Democrats in these Republican-leaning districts."
Voter Concerns
In realms where tobacco once flourished, where today a flagship state university and vital military installation are the major employers, voter concerns about unemployment and a federal deficit the Congressional Budget Office today estimated would exceed $1 trillion next year may propel Republican gains in November. And nationwide, the Perriello and Nye races are central to whether the Republicans achieve the net 39-seat pickup they need for a House majority.
Perriello is battling a backlash from constituents who say he doesn't reflect the thinking of a district that includes much of rural south-central Virginia.
"I'm not crazy about health-care reform, it's too massive," said Jim Arrington, 55, a Republican from Rustburg, Va. The self-employed insurance agent said that after supporting Perriello in 2008 he's unlikely to do so again because the lawmaker too often backed bigger government.
Perriello's victory two years ago was driven by a big turnout of black voters and students in Charlottesville, home of the University of Virginia, the district's largest employer. He defeated six-term Republican Virgil Goode by 727 votes.
Donation Advantage
Perriello has the fundraising advantage as he seeks re-election; as of June 30 he had $1.7 million to spend to $216,000 for his opponent, Republican state Senator Robert Hurt. Groups helping Perriello build his war chest include the Service Employees International Union and the League of Conservation Voters.
While breaking from Obama in opposing the financial- industry regulations enacted this summer -- Perriello said it didn't do enough to limit big banks' investments -- he supported the economic stimulus passed in early 2009, along with the health-care and climate measures.
Perriello, a Yale University law school graduate and former national security consultant, is holding 20 town-hall meetings this month to discuss his record. "I feel good about it because I stood up for what I think is right, and now I get a chance to explain that," he said in an interview.
Alternative Energy
At sessions last week, he pressed his constituents to take a long-term view in a district where tobacco growing once drove the economy. He spoke about how stimulus funds are helping with local alternative-energy development, better broad-band access and expanded care at health clinics.
Hurt, 41, is making deficit reduction his campaign's centerpiece. He said in an interview he expects to benefit from voter discontent over "out-of-control spending, the total explosion of power and scope and size of the federal government."
In Nye's re-election bid, the dissimilar course he charted from Perriello has run up against voter anxiety over the economy that may cost him his seat -- concerns accentuated by a Pentagon effort to close a local military installation.
Roy McGilvary, a Norfolk resident and Democrat who recently lost his delivery-service job, said the economic picture has soured him on his party. McGilvary, 45, said that for the first time he likely will vote Republican across his ballot. "I probably will have to go that route," he said.
District Needs
Nye, a former Foreign Service officer who served in Kosovo, Afghanistan and Iraq, has focused on tending to the needs of a district that includes Virginia Beach and in which Naval Station Norfolk is the biggest employer. He said he backed the stimulus partly because it included tax cuts for small businesses hiring unemployed veterans.
"I'm not someone who takes direction from party leaders," he said in an interview. "I take direction from the people I represent."
He is fighting the Pentagon decision announced last week to close the Joint Forces Command, which is located in Norfolk and supports 6,200 area jobs. Nye said he got "zero advance notice" from the Obama administration.
His Republican opponent, Ford Motor Co. auto dealership owner Scott Rigell, pounced on the issue, saying Nye waited too long before establishing a commission of local leaders committed to keeping the command open.
Name Recognition
Rigell, 50, has appeared in auto commercials on local television for 17 years, giving him ready name recognition. After trailing Nye by about $1 million in cash on hand as of June 30, Rigell loaned his campaign $500,000 and promises more. He told 100 donors at a Virginia Beach home last week he would augment their contributions from his own pocket.
Rigell said in an interview the "massive expansion of government" prompted his candidacy.
His dealerships participated in last year's $3 billion "cash for clunkers" federal program aimed at stimulating auto sales. Rigell's press secretary, Joy Weber, said consumers were the beneficiaries of the funds, not dealers.
Jesse Ferguson, a spokesman for the Democratic Congressional Campaign Committee, called Rigell "the worst kind of hypocrite" for campaigning against bigger government while being "happy to rake in the cash" from sales the "clunkers" program generated.
Nathan Gonzales, political editor of the nonpartisan Rothenberg Political Report, termed Perriello and Nye "extremely vulnerable" in November.
"It's highly unlikely they'll both survive a wave like the one that's developing," Gonzales said.
Before it's here, it's on the Bloomberg Terminal.
LEARN MORE