Fight Bioterror, Flu With U.S. Venture Fund, Officials Propose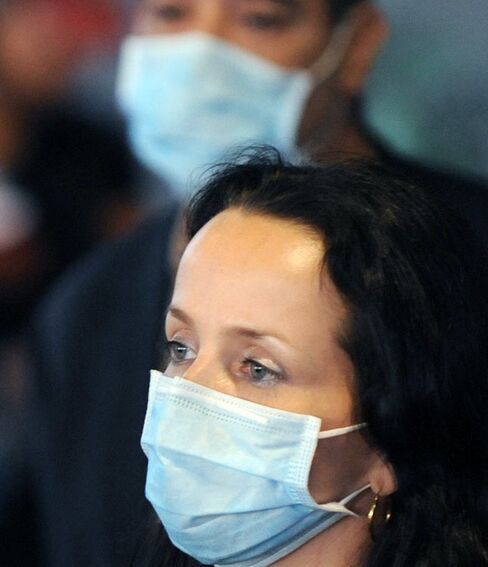 Aug. 19 (Bloomberg) -- A venture capital fund should be created by the U.S. government to invest in companies developing ways to defend the nation from flu pandemics and bioterrorist attacks, U.S. health officials said.
A report from Health and Human Services officials urged development of a $200 million fund that would invest in new ways to thwart potential public health threats from viruses or biological agents. In a separate study, a panel of scientists and technology industry executives, created by President Barack Obama, said the U.S. needs to spend $1 billion annually to expand and modernize vaccine production.
Obama had asked for better ways to protect the U.S. after last season's swine flu pandemic killed about 13,000 Americans. The President's Council of Advisers on Science and Technology concluded that the nation's response was "three to five months slower than ideal" and that new ways should be found to make vaccines quickly.
"Today, we really don't know where our next public health crisis is going to come from," said Health and Human Services Secretary Kathleen Sebelius. "Our enemies are constantly probing for weakness. Our nation must have a system that is nimble and flexible enough to produce countermeasures quickly."
The swine flu pandemic left 13,000 Americans dead, including a disproportionate number of children and young adults compared with usual seasonal influenzas. Initial projections of the death toll were as much as 10 times higher, leading to concern when vaccine manufacturing was delayed by problems related to outdated technology and science.
Google, Yale
The President's Council, whose members include Eric Schmidt, chief executive officer of Google Inc. and Yale University President Richard Levin, had warned Obama in August 2009 that the H1N1 virus may kill from 30,000 to 90,000 Americans after infecting up to half the population and hospitalizing 1.8 million. The deaths would be in addition to the more than 30,000 who die from seasonal flu, the panel said.
Although the swine flu virus, H1N1, didn't turn out to be so deadly, future pandemics may be severe so the nation needs to invest in vaccine production and technology to speed up manufacture and delivery, according to the report.
"In a serious pandemic, cutting even a few weeks off the vaccine production schedule can translate into saving thousands of lives," said Harold Varmus, president of Memorial Sloan-Kettering Cancer Center in New York, who supervised work on the report. "The good news is we now know how to reduce the likelihood of such delays with new and improved technologies."
Speeding Vaccine Production
Drug companies grew the H1N1 virus needed to make the vaccine using egg cultures, a traditional approach too slow to produce enough doses quickly. Both reports recommended a move away from egg-based production to cell-culture systems and recombinant vaccines using genetic engineering tools.
The health agency said it would use $1.9 billion already appropriated to deal with pandemic preparedness. In addition to the strategic investment firm, the report recommends the creation of Centers for Innovation to with industry promoting flexible manufacturing technology able to respond to public health threats.
The proposed investment firm would be analogous to the organization known as In-Q-Tel, founded by the Central Intelligence Agency in 1999. That operation makes strategic investments in technology startups developing products that may benefit the intelligence community, such as tracking devices, translation tools and cyber-security systems.
In-Q-Tel Model
In-Q-Tel, led by Christopher Darby, who came from Intel Corp. in 2006, has a network of more than 200 private venture-capital firms that co-invest in the companies in its portfolio, according to the organization's website. It has invested in more than 150 companies, beating traditional venture investors to technologies such as the mapping software that's become Google Earth.
The president's council also recommended that federal agencies collaborate with vaccine makers to enlarge and update production facilities and fund new vaccine research. That study supported the use of more live, weakened viruses instead of the killed viruses usually relied on for seasonal flu vaccines.
The group also urged the U.S. to conduct research into the use of chemical additives that could increase the available number of doses in future pandemics.
The U.S. decided during the H1N1 outbreak not to use vaccines with adjuvants, which are additives used to boost potency of the shots, because public health officials were concerned Americans would shy away from getting shots that contained chemicals not yet approved for the regular seasonal inoculations. Using adjuvants would have increased the supply because people would have needed only one shot instead of two.
One recommendation in the health agency report was for the Food and Drug Administration to work with scientists early in the process of developing new drugs and technologies and upgrade its regulatory science to avoid what FDA Commissioner Margaret Hamburg called "unacceptably long delays."
To contact the reporter on this story: Pat Wechsler in New York at pwechsler@bloomberg.net; Ellen Gibson in New York at egibson9@bloomberg.net
To contact the editor responsible for this story: Reg Gale in New York at rgale5@bloomberg.net