Obama Says Jobless Claims Show Need for Business Aid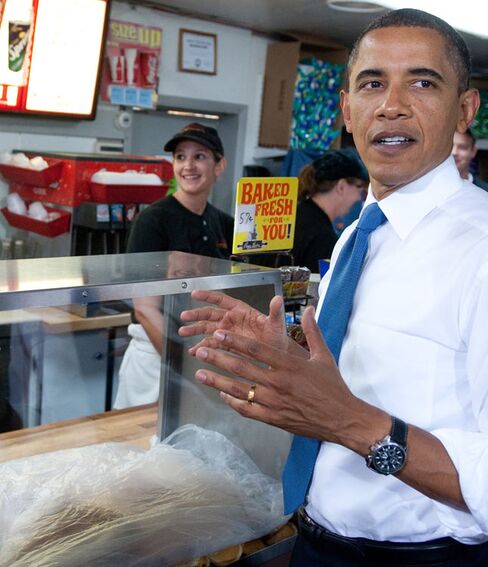 President Barack Obama said the jump in unemployment claims shows the urgent need for congressional action on legislation to cut taxes and ease credit for small businesses.
Obama once again called on Republicans to stop blocking the measure and said lawmakers should take up the bill when they reconvene in September.
"Small businesses and community banks that loan to small businesses have been lagging behind," Obama said at the White House before he and his family leave for a holiday on Martha's Vineyard in Massachusetts. "If we want this economy to create more jobs more quickly, we need to help them."
Initial jobless claims rose by 12,000 to 500,000 in the week ended Aug. 14, the highest level since November, the Labor Department reported today. That was higher than all estimates of economists surveyed by Bloomberg News.
Separately, the Federal Reserve Bank of Philadelphia's general economic index fell to minus 7.7 this month, the lowest reading since July 2009, from 5.1 in July. Readings less than zero signal contraction in the area covering eastern Pennsylvania, southern New Jersey and Delaware.
The economy is a top issue for voters as campaigns get under way for congressional and state elections in November. Obama returned last night from a three-day, five-state trip that combined events where he defended and promoted his economic policies with fundraising for Democratic candidates.
Criticizing Opponents
His remarks today, which lasted just under 4 minutes, repeated points he made during the trip, including criticizing opponents for acting out of political interests.
"There will be plenty of time between now and November to play politics," Obama said. "Let's put aside the partisanship for a while and work together."
The legislation Obama is promoting would ease the terms for loans guaranteed by the Small Business Administration and provide $12 billion in tax breaks to small businesses. It would also provide $30 billion to banks with less than $10 billion in assets to encourage lending to small businesses.
The legislation was faulted by Republicans such as Senator Richard Shelby of Alabama for being a government rescue similar to the $700 billion bank bailout of 2008. The program might induce banks to make risky loans, critics said. Action on it was blocked by Republicans before the Senate recessed for August.
Obama said today's Labor Department report "compels us to act." The small-business package must be Congress's "first business out of the gate" after the August recess, he said.
Before it's here, it's on the Bloomberg Terminal.
LEARN MORE