McDonald's Yuan Bonds Set Benchmark for China: Credit Markets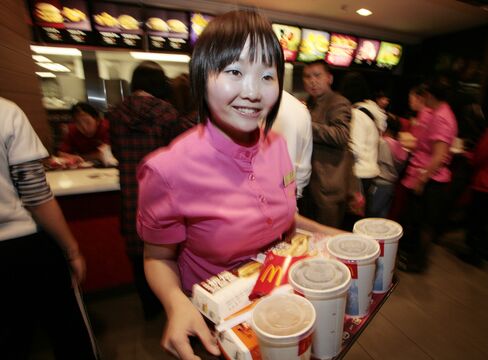 McDonald's Corp.'s yuan bond sale, the first by a foreign company in Hong Kong, may pave the way for a new global debt market as China seeks to capitalize on its status as the engine of the world's economic recovery.
McDonald's, which opened its first 1,000 restaurants in China faster than any other country outside the U.S., sold 200 million yuan ($29 million) of 3 percent notes due in September 2013. Bentonville, Arkansas-based Wal-Mart Stores Inc., the world's largest retailer, said in March it was considering selling bonds in yuan.
China, the fastest-growing major economy, changed rules in February to let foreign companies issue yuan-denominated bonds through Hong Kong to strengthen the former British colony's position as a financial center and promote the Chinese currency for global commerce. Yuan bonds issued by Chinese companies have returned 6 percent this year, their best performance since 2005, according to a Bank of America Merrill Lynch index tracking 1.38 trillion yuan of debt.
"This is going to become a popular trend," said Donald Straszheim, a Los Angeles-based senior managing director and head of China research at International Strategy & Investment Group. "There are hundreds of global companies wanting to do more business in China and they will want to be involved in the country's evolving credit market."
'Big Bang'
Oak Brook, Illinois-based McDonald's issue, the first by a nonfinancial company from outside China and Hong Kong, follows a 1.38 billion yuan deal by Gordon Wu's Hopewell Highway Infrastructure Ltd. Bank of East Asia Ltd. and HSBC Holdings Plc's China unit became the first non-Chinese banks to sell yuan bonds in 2009, Bloomberg data show. Bank of Tokyo-Mitsubishi UFJ (China) Ltd. sold 1 billion yuan of notes in China in May.
China is on the cusp of a "big bang" of reforms that will give foreign investors greater access to China's capital markets, Nomura Holdings Inc. analysts led by Hong Kong-based Sean Darby wrote in a report on Aug. 18.
Elsewhere in credit markets, a gauge of U.S. corporate credit risk rose to the highest in a month after data yesterday spurred concern the economic rebound may be flagging. The Markit CDX North America Investment Grade Index Series 14, which investors use to hedge against losses on corporate debt or to speculate on creditworthiness, climbed 1.7 basis points to a mid-price of 110.4 basis points as of 12:01 p.m. in New York, according to Markit Group Ltd.
Manufacturing Data
The index climbed after reports showed jobless claims jumped to the highest level since November and a manufacturing in the Philadelphia region unexpectedly shrank in August for the first time in a year. The manufacturing data "spooked investors," said Guy LeBas, chief fixed-income strategist at broker dealer Janney Montgomery Scott LLC.
The Markit iTraxx Crossover Index of debt swaps on 50 mostly junk-rated European companies climbed 12.97 basis points to 507.3, paring the gauge's decline in the past week to 3 basis points, according to Markit Group Ltd.
Credit-default swaps pay the buyer face value if a borrower fails to meet its obligations, less the value of the defaulted debt, and typically rise as investor confidence deteriorates. A basis point equals $1,000 annually on a contract protecting $10 million of debt.
The extra yield investors demand to own company bonds instead of government debt was unchanged at 177 basis points, according to the Merrill Global Broad Market Corporate Index. In emerging markets, debt spreads rose 1 basis point to 272, JPMorgan Chase & Co.'s Emerging Market Bond index shows.
Goodyear Add-On
Goodyear Tire & Rubber Co., the largest U.S. tire maker, sold $100 million of debt in a reopening of its 8.25 percent notes due in 2020, according a person familiar with the transaction who declined to be named citing lack of authorization to speak publicly on the matter.
The company sold $900 million of the 10-year 8.25 percent debt on Aug. 10, according to data compiled by Bloomberg.
McDonald's yuan bonds are its smallest debt issue since 2004, when it raised $25 million from 5.375 percent notes due 2016, which were bought back, according to data compiled by Bloomberg. McDonald's $500 million of 4.3 percent 2013 notes were last quoted at 108.34 cents on the dollar to yield 0.942 percent, according to bond-price reporting system Trace.
"There are a lot of companies expressing interest in issuing yuan bonds," said Per Nordstrom, head of EMTNs Asia at Standard Chartered Plc, who worked on the sale. "I'm expecting the renminbi offshore market to be very popular."
McDonald's sold its bonds in a private placement to Hong Kong institutional and professional investors, it said in a statement yesterday. Standard Chartered Plc managed the sale.
'Growth in China'
"This gives us access to new funding to support growth in China," said Lisa Howard, a spokeswoman for the restaurant chain. "We are very confident in the Chinese market and have a strong plan to grow our business in China." Fitch Ratings graded the 200 million yuan debt at A, its sixth-highest investment grade.
Money raised will provide working capital for expansion in China, where the company will open as many as 175 restaurants this year, according to the statement.
"Consumer demand is strong in that part of the world, and there's opportunity to open up more stores in some of the more inland-type cities. It seems like a good move on McDonald's part," said Nicholas Reitenbach, New York-based senior international portfolio manager at Wilkinson O'Grady & Co. Inc., which has about $1.8 billion in assets.
Currency Speculation
A market in yuan-denominated debt issued by foreign companies would give investors the chance to speculate on China's currency, which is forecast by economists to strengthen, said Georg Grodzki, head of credit research at Legal & General Investment Management.
"For many investors this type of product would be more appealing and suitable than Chinese corporate credit risk and almost allows a pure currency play with the benefit of some extra yield," said London-based Grodzki, who helps oversee 300 billion pounds ($468 billion) of investments. "Liquidity in corporate yuan debt remains to be tested and currency convertibility may cause issues. Investors should be mindful of such risks and prepare a plan B."
China is seeking to broaden use of the yuan, also known as the renminbi, after first approving the currency to settle cross-border trade with Hong Kong in June 2009.
The central banks of China and Hong Kong signed agreements on July 19 to ease restrictions on yuan transfers between banks and companies in the city, and also agreed the ex-colony would have no restrictions on yuan deposit holders transferring cash to buy wealth-management products.
Yuan Investments
The People's Bank of China in Beijing said Aug. 17 it will let overseas financial institutions invest yuan holdings in the onshore interbank bond market, while keeping limits on the conversion of foreign currency for such investments.
China overtook Japan in the second quarter to become the world's second-biggest economy, growing 10.3 percent.
The central bank set the yuan's reference rate at 6.7884 per dollar today. The yuan has risen 0.5 percent against the dollar since China ended a two-year peg versus the U.S. currency on June 19.
Trading in yuan-denominated corporate bonds issued by Chinese companies rose to $613.77 billion in the second quarter, a 43 percent increase from the previous three-month period, according to the Asian Development Bank in Manila. Chinese companies had $492 billion of yuan debt outstanding at the end of the first quarter, up 67.5 percent from a year earlier, ADB data show.
Before it's here, it's on the Bloomberg Terminal.
LEARN MORE