London Restaurant Prices Increase at Slowest Rate in a Decade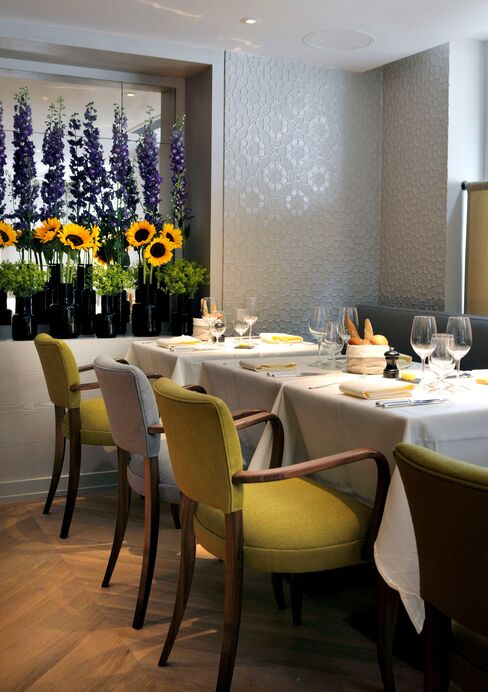 London restaurant prices are rising at the lowest rate in more than a decade as the number of venues increases and restaurateurs get smarter about holding onto customers, according to "Harden's London Restaurants."
The average bill for dinner for one in the 12 months to July 31 rose 2.5 percent from a year earlier to 41.75 pounds ($65.31), according to the dining guide. The year-earlier comparison was based on a lower rate of value added tax, cutting the effective increase to just 0.3 percent, Harden's said.
The number of restaurant openings accelerated to 140 from 121 a year, while closures rose to 72 from 64. The guide's authors said the resilience of the industry reflected more flexibility by restaurateurs as well as low interest rates.
"For decades, it was accepted that good restaurants don't advertise," co-editor Richard Harden said today in an e-mailed press release. "But -- via discount sites, targeted e-mails and social media -- the Internet has transformed the ability for restaurants to market themselves more subtly."
Diners unfamiliar with discount Websites may be surprised. Toptable.com, for example, currently features offers for 10 London establishments with Michelin stars, including Gordon Ramsay's Maze, where you can get a four-course meal for 28.50 pounds. Other eateries discount food by up to 50 percent.
Other examples of the value currently available at gourmet establishments include the 22 pounds lunch at Koffmann's at the Berkeley and the 25 pounds lunch at Gordon Ramsay's Petrus.
The 0.3 percent cost increase compares with 4.7 percent in 2008; 1.9 percent in 2007; 3.0 percent in 2006. 4.1 percent in 2005; 5.6 percent in 2004; 1.9 percent in 2003; 4.2 percent in 2002; about 3 percent in 2001; and about 4 percent in 2000.
"Harden's London Restaurants" will be published in September in association with Remy Martin Fine Champagne Cognac.
Openings and closings this millennium, according to Harden's:
12 Months to Mid-     Openings   Closing
2000                  120        59
2001                  131        65
2002                  121        66
2003                  134        113
2004                  133        82
2005                  142        67
2006                  136        66
2007                  158        87
2008                  111        71
2009                  121        64
2010                  140        72
(Richard Vines is the chief food critic for Muse, the arts and leisure section of Bloomberg News. Opinions expressed are his own.)