JPMorgan's Henderson Says China May Rival BHP Bid for Potash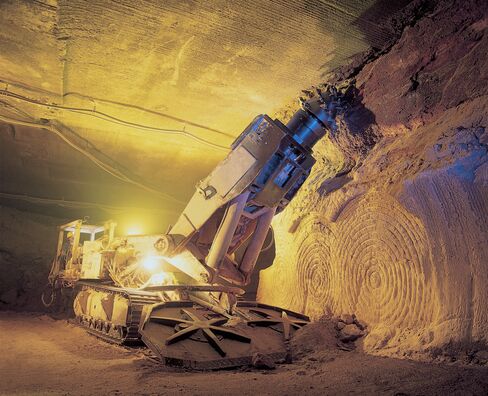 Aug. 19 (Bloomberg) -- Ian Henderson, manager of $7 billion in resource assets at JPMorgan Chase & Co., said China may bid for Potash Corp. of Saskatchewan Inc., after a $40 billion BHP Billiton Ltd. offer, while a Brazilian proposal is less likely.
China is "dependent upon potash exports so they are a big customer of Potash Corp.," Henderson, who manages mining stocks including BHP and Brazil's Vale SA, said today on Bloomberg Television's 'The Pulse with Andrea Catherwood.' "Brazil does have its own potash reserves and these can be developed and I think Vale is increasing their own production plans already."
Potash Corp., the world's largest fertilizer maker, this week rejected a $130-a-share offer from BHP, describing the bid as "grossly inadequate." Rival bidders may include Vale, Rio Tinto Group and groups in Russia and China, the world's biggest user of fertilizer with about 30 percent of global consumption, according to Macquarie Group Ltd. analysts.
In the absence of a higher BHP bid, Potash Corp. sees the best alternative offers coming from businesses backed by China or India, or companies such as Vale, said two people familiar with the matter. The likeliest from China are Sinochem Group, the nation's largest chemical trader, China Investment Corp., the sovereign wealth fund, or Sinofert Holdings Ltd., they said.
"China has been acquiring production across a number of commodity classes," Macquarie analysts led by Duncan McKeen wrote on Aug. 17. "Given that it is still a large net importer of potash, it may be a logical buyer of potash production."
A concern for Potash Corp. would be that Chinese companies move too slowly for the Canadian takeover code, which may force a potential acquirer to act within a few months, they wrote in a research report. UBS AG said in an Aug. 17 note that it doesn't expect Vale to lodge a competing offer.
Hostile Bet
BHP, the world's biggest mining company, has arranged $45 billion of loans for its hostile bid, the most debt to finance a takeover since February 2008. Melbourne-based BHP is seeking to take control of Potash Corp. to become the leading producer of fertilizer, betting on rising demand as global food needs grow.
"What we've got on the table is a full offer and that's the only thing that I can talk about," BHP Chief Executive Officer Marius Kloppers said on a conference call with analysts yesterday. "I can't speculate about anything else."
Demand for potash, mined from deposits left by evaporated seas, will rebound to 50 million metric tons this year from less than 30 million tons in 2009, Saskatoon, Saskatchewan-based Potash Corp.'s CEO Bill Doyle said on a conference call Aug. 17. Potash is a form of potassium mined in countries including Canada, Brazil, Germany and the U.S. and used by farmers to help boost crop yields.
The potash market is bottoming after prices slumped more than 50 percent amid the global economic crisis. Saskatchewan prices rallied to $374 a ton in the second quarter, according to Salman Partners, from $359 a ton in the prior three months. Potash Corp. has about 20 percent of global output capacity.
"It's like the Ritz, there is only one Ritz hotel around and there is no doubt about it that this is a fantastic asset," Henderson said. "Clearly 2010 has been a huge recovery year for the potash market."
To contact the reporter on this story: Jesse Riseborough in London at jriseborough@bloomberg.net;
To contact the editor responsible for this story: Amanda Jordan at ajordan11@bloomberg.net