Intel to Buy McAfee for $7.68 Billion to Add Software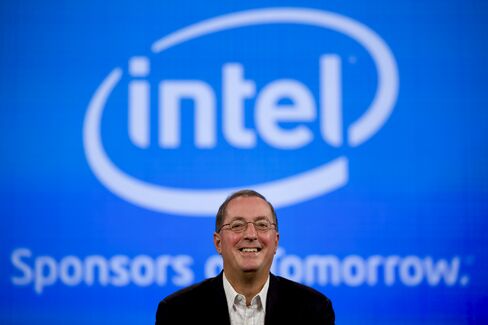 Intel Corp. agreed to buy McAfee Inc. for $7.68 billion, its largest acquisition, adding security software to its chipmaking arsenal.
McAfee investors will receive $48 a share in cash, Santa Clara, California-based Intel, the world's largest chipmaker, said in a statement today. That's 60 percent more than McAfee's closing price yesterday. Both boards have unanimously approved the deal, Intel said.
Buying McAfee, which trails Symantec Corp. in security software, gives Intel a leg up on rivals that don't provide computer protection, said Hans Mosesmann, an analyst at Raymond James Associates in St. Petersburg, Florida. The deal may also help Intel Chief Executive Officer Paul Otellini in his drive to expand beyond PCs by breaking into mobile handsets and landing more chips in other mobile devices.
"Security is becoming a really big deal," Mosesmann said. "The security threats that are out there are not going away -- you could argue that they are going to get worse -- and having a tightly coupled hardware and software is a strategic advantage."
McAfee, also based in Santa Clara, rose $17.08, or 57 percent, to $47.01 in New York Stock Exchange composite trading at 4 p.m. Intel declined 69 cents, or 3.5 percent, to $18.90 on the Nasdaq Stock Market.
Faster Systems, Higher Margins
Adding McAfee may help Intel generate wider profit margins and crank out chips that help computers run more efficiently, analysts said. Intel expects a record 67 percent gross margin this quarter. McAfee reported a gross margin of 73.3 percent in its most recent period.
Integrating McAfee into its hardware may make Intel's systems operate faster or boast longer battery life, said Mosesmann, who doesn't own the shares and rates Intel "outperform." Software can run more quickly when it's woven directly into a chip and doesn't have to go through other programs. It's also harder for hackers to circumvent.
Other companies are unlikely to compete with Intel's offer because its "deep pockets" would help it outbid any rivals, Mosesmann said. Intel has about $18 billion in cash.
Computer Threats
Symantec, based in Mountain View, California, may become a target to larger technology companies after Intel's McAfee purchase, Cross Research analyst Rich Williams said in an interview. Symantec climbed 78 cents, or 6.2 percent, to $13.37 on the Nasdaq. That was its largest gain since October.
Security software is becoming more valuable as an increasing number of devices adopt wireless technology that makes them vulnerable to hackers, said Williams, who is based in Livingston, New Jersey, and doesn't own the shares. He advises investors to buy McAfee and Symantec shares.
While enhancing Intel's chips, security software may also help it crack new markets such as mobile phones, said Renee James, who leads the company's software business. Although Intel's chips run more than 80 percent of personal computers, they aren't in any mobile phones now on the market.
High Premium
Intel chips with built-in security software will debut in the first half of next year, James said. Intel projects that McAfee can increase its sales in "double digits," she said. McAfee will continue as an independent company run by current Chief Executive Officer Dave DeWalt, and it will keep selling its stand-alone software products, James said.
"As we look at all of the growth areas for Intel silicon, one of the consistent purchase criteria for both IT managers and consumer is security," James said in a phone interview. "This is a pretty natural step for us."
As an increasing array of devices, including televisions and other home-entertainment equipment, connect to the Internet, the need for security software is growing, DeWalt said.
Intel is paying a higher-than-average premium for McAfee, Bloomberg analytics show. In the last five years there have been 171 acquisitions in the Internet security business, with an average premium of 22.3 percent, according to Bloomberg analytics. Intel also is paying 3.29 times McAfee's revenue, compared with a five-year median of 2.07 times revenue.
Intel was advised by Goldman Sachs Group Inc. and Morrison & Foerster LLP. McAfee's advisers were Morgan Stanley and Wilson Sonsini Goodrich & Rosati.