Fed Buys $3.609 Billion of Notes to Keep Yields Low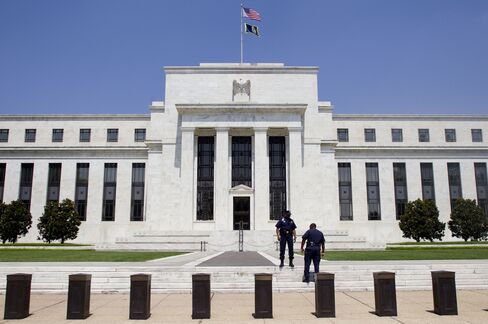 The Federal Reserve bought $3.609 billion of Treasuries as part of a program to reinvest principal payments on its mortgage holdings into long-term government debt to prevent money from being drained out of the financial system.
The Fed acquired 7 of the 27 maturities listed for possible purchase. The securities mature from November 2016 to May 2017, the New York Fed said in a statement today.
The purchases brought the total to $6.16 billion since policy makers began the program on Aug. 17, the first outright acquisition of U.S. debt by the Fed since October. The central bank is seeking to keep debt in the System Open Market Account, or SOMA, at about $2.054 trillion by using the proceeds of principal payments from agency mortgage-backed securities and agency debt holdings while not exceeding its threshold for any one maturity.
"They're avoiding issues that they have significant holdings in," said Ian Lyngen, a government bond strategist at CRT Capital Group LLC in Stamford, Connecticut. "The exclusions list maps almost perfectly with the issues they have 35 percent or near 35 percent holdings in."
Treasury two-year note yields fell to a record low of 0.4715 percent after the Philadelphia Fed's general economic index unexpectedly dropped in August, signaling the manufacturing rebound is slowing. The benchmark 10-year note climbed for a second day, pushing the yield as low as 2.56 percent.
'Bullish Case'
"The big story is we had the higher-than-expected initial jobless claims, accented by the unexpected decline in the Philadelphia Fed index," Lyngen said. "If anything, this adds to the bullish case for Treasuries and that's pushed yields even lower."
Dealers tendered $21.89 billion in securities today, compared with $20.95 billion on Aug. 17, according to the New York Fed's website.
The Fed last week announced nine outright purchase operations, including one for Treasury Inflation Protected Securities, for the month ended Sept. 13, for an estimated $18 billion. The Fed will report its purchase schedule in one-month increments, with amounts based on the principal payments from the Fed's agency debt and agency mortgage-backed securities.
The Fed maintains a 35 percent per security limit of the amount outstanding for each specific Treasury it holds in the account. The central bank makes the securities available for loan to dealers against Treasury general collateral on an overnight basis. Dealers bid in a multiple-price auction held every day at noon New York time through its securities lending program.