Roger Clemens Indicted for Obstruction, Perjury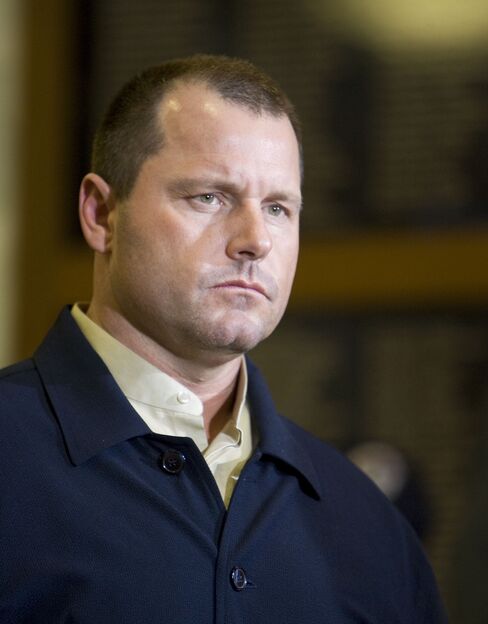 Aug. 19 (Bloomberg) -- Roger Clemens, who won more than 300 games and a record seven Cy Young Awards as the best pitcher in his league, was indicted on charges of lying to the U.S. Congress when he denied using steroids and other drugs to boost his baseball performance.
Clemens, 48, was accused by a federal grand jury in Washington today of six counts related to obstructing Congress, making false statements and perjury.
The right-handed pitcher, known as "the Rocket" for his fastball and penchant for throwing close to hitters, has repeatedly denied using banned drugs. He is the latest former All-Star to be accused of relying on banned substances for a boost in what has become known as Major League Baseball's steroids era from the late 1980s through the mid-2000s.
The indictment came more than two years after he told a U.S. congressional committee that he never used banned substances.
"Americans have a right to expect that witnesses who testify under oath before Congress will tell the truth," U.S. Attorney Ronald C. Machen Jr. said in a statement.
Clemens could face a maximum five-year prison sentence on each count.
Inquiry Opened
Phone messages seeking comment from Clemens's lawyer, Rusty Hardin, weren't immediately returned. Major League Baseball spokesman Pat Courtney declined to comment.
Clemens has denied drug use since former Senator George Mitchell released his report on steroids in the MLB on Dec. 13, 2007.
The Federal Bureau of Investigation opened an inquiry in February 2008 after a congressional committee told Attorney General Michael Mukasey in a letter that Clemens may have lied under oath during the panel's probe of drug use in MLB.
Clemens's denials about using performance-enhancing drugs were contradicted by the testimony of his former trainer Brian McNamee and ex-teammate Andy Pettitte, House Oversight and Government Reform Committee Chairman Henry Waxman and former ranking committee Republican Tom Davis said in the letter to Mukasey.
McNamee testified that he injected Clemens 20 times with steroids and HGH. Pettitte told the committee in a deposition and affidavit that Clemens admitted in 1999 or 2000 that he used HGH.
'No Role'
"I have never used steroids, human growth hormone, or any other type of illegal performance-enhancing drugs," Clemens said in testimony prepared for delivery to the congressional committee. "I think these types of drugs should play no role in athletics at any level."
Clemens, who won the World Series with the New York Yankees in 1999 and 2000, testified that McNamee only injected him with vitamin B-12 and the painkiller Lidocaine. Clemens told Congress that Pettitte, a longtime friend who played alongside him with the Yankees and Houston Astros, "misremembers" a conversation they had about HGH.
"In truth and in fact, as Clemens well knew when he made this sworn statement, Clemens knowingly received injections of anabolic steroids while he was an MLB player," according to the 19-page indictment.
Other Players
Baseball picked Mitchell in March 2006 to investigate steroid use under pressure from Congress following reports that linked home run record-holder Barry Bonds to steroids. After 20 months, Mitchell produced a 311-page report that connected seven Most Valuable Players and two Cy Young award winners to the drugs.
Miguel Tejada, now with the San Diego Padres, pleaded guilty last year to lying to Congress about his knowledge of steroid use by a teammate. He was sentenced to 12-months probation in March of 2009.
Three-time Most Valuable Player Alex Rodriguez admitted using steroids from 2001 to 2003. Bonds's perjury trial in a steroids case is set to begin in March.
"You can't lie to Congress and then just go back to Texas and think that all is good, which is essentially what Roger did," Earl Ward, a lawyer for McNamee, said in a telephone interview. "He lied on a national stage and now he's paying the price for that."
Hall of Fames Chances
It also again raises the question of how allegations of steroid use may affect the Hall of Fame chances of a player who would be a shoo-in based solely on his on-field performance.
The Hall candidacies of Bonds, with a record 762 homeruns, and Sammy Sosa, who ended his career in 2007 with 609 home runs, remain in doubt because of allegations of steroid use. Both have denied using banned substances. Eligibility for the Hall begins five years after a player retires.
The first potential Hall of Fame entrant whose career was clouded by steroid allegations was Mark McGwire, who ranks ninth on the home run list with 583.
McGwire in January was named on almost 24 percent of Hall ballots from members of the Baseball Writers Association of America, his best result in four years of eligibility. Induction requires 75 percent of the vote.
A week after this year's vote, McGwire admitted that he used steroids during his career.
The case is U.S. v. Clemens, 10-cr-00223, U.S. District Court, District of Columbia (Washington).
To contact the reporters on this story: Justin Blum in Washington at jblum4@bloomberg.net; William McQuillen in Washington at bmcquillen@bloomberg.net.
To contact the editor responsible for this story: David Rovella at drovella@bloomberg.net