Comcast Shouldn't Link NBC, Cable Sales, Group Says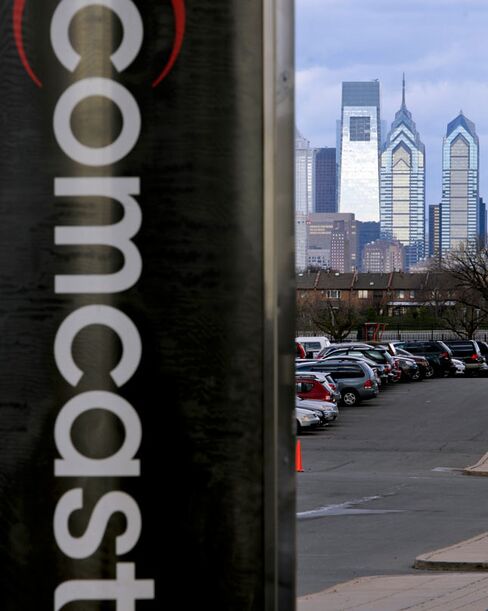 Aug. 19 (Bloomberg) -- Comcast Corp. should be barred from packaging NBC stations with popular cable channels when selling programming to video providers, an industry group told regulators reviewing the company's purchase of NBC Universal.
The Federal Communications Commission needs to restrict Comcast, the biggest U.S. cable company, from selling the TV stations or nine regional sports networks in a bundle with national cable channels it would own such as Bravo and USA Network, the American Cable Association said in a statement.
The FCC requirement would "prevent the media giant from harming competitors and their subscribers," Matt Polka, president of the Pittsburgh-based organization, said in an e-mail. The group said 150 of its members are in communities served by NBC stations or Comcast sports networks.
The group is seeking to break up the channel packages media companies typically assemble, and "it's improper to apply an industrywide issue to only one company," Sena Fitzmaurice, a Washington-based Comcast spokeswoman, said in an interview.
The FCC set today as a deadline for comments on Comcast's $28 billion deal to buy the General Electric Co. media unit. The Justice Department also is reviewing the merger, which was proposed in December.
Comcast would gain control of NBC's television network; NBC TV stations in cities such as New York, Los Angeles and Chicago; cable channels; the Telemundo Spanish-language network and local stations; and a library of more than 4,000 movies.
'Reinvigoration of Broadcasting'
The merger "will bring about a reinvigoration of broadcasting through an infusion of new capital and energy into NBC," Comcast Executive Vice President David Cohen said today in a blog posting.
Philadelphia-based Comcast has pledged good-faith negotiations to carry NBC's competitors on its cable systems, and promised not to shift sports events such as the Olympics and National Football League games carried by NBC to cable.
The FCC should approve the merger ''without further delay,'' Alfred Liggins, chief executive officer of Radio One Inc., owner of stations and a video channel serving a black audience, said in a letter posted on the agency's website. Comcast carries the company's TV One channel and ''has a history of giving diverse voices a megaphone," Liggins said in the Aug. 18 letter.
Opponents say Comcast-NBC will have an incentive to raise prices and withhold programs from rival
"Comcast will use leverage gained from the merger to engage in anti-competitive tactics," four advocacy groups said in a document prepared for filing at the FCC.
Online Competition
The merger would eliminate online competition between Comcast and NBC Universal properties and hurt broadcasters vying for local advertising with NBC units and Comcast, said Free Press, Consumers Union, Consumer Federation of America and Media Access Project.
NBC has long-term commitments to provide content to the Hulu online service, partly owned by GE, and Comcast intends to expand programming for online viewers, the company said in documents prepared for filing at the FCC.
The merger won't diminish competition in local advertising because the markets for cable and broadcast advertisements are different, Comcast said in the documents.
DirecTV, the largest U.S. satellite-television provider, said Comcast could limit access to 3-D or high-definition versions of NBC shows and give competitors only standard-definition content. The company outlined its arguments in an e-mailed news release.
Comcast fell 27 cents to $17.84 at 4 p.m. New York time in Nasdaq Stock Market trading.
Bloomberg LP, the parent company of Bloomberg News and Bloomberg Television, has filed papers opposing the merger as it is currently proposed.
To contact the reporter on this story: Todd Shields in Washington at tshields3@bloomberg.net
To contact the editor responsible for this story: Larry Liebert at lliebert@bloomberg.net.