CIC Said to Consider China Asset for Investments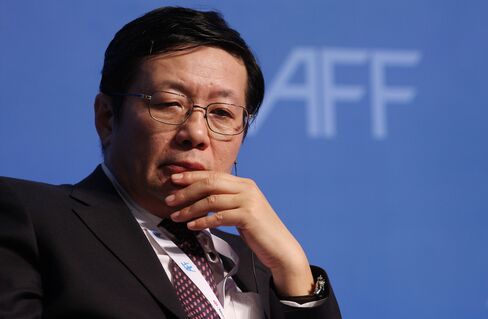 China's $300 billion sovereign wealth fund may pick China Asset Management Co., the country's largest fund manager, to oversee part of its international investments, said a person with direct knowledge of the matter.
China Investment Corp., which is responsible for managing part of the nation's foreign-exchange reserves, would invest through China Asset's Hong Kong unit, the person said, requesting anonymity as no announcement has been made. Beijing- based China Asset oversaw more than 300 billion yuan ($44 billion) on Dec. 31, according to its website. The person didn't say how much of CIC's money the firm will manage.
The selection would mark the first time CIC, which posted return on equity of 12.9 percent last year, picked a Chinese firm to manage money on its behalf, the person said. CIC Chairman Lou Jiwei said a year ago that the fund is investing "billions" in hedge funds and private-equity firms as it shifts holdings away from cash.
"CIC is in the process of expansion with its overseas investments in various parts of the world, and it makes sense for it to pick a local money manager to invest in certain types of overseas assets," said Peter Alexander, Principal at Z-Ben Advisors Ltd.
A spokeswoman for China Asset, who declined to be identified citing company policy, had no comment. Press officials at Beijing-based CIC didn't return calls.
$3.5 Trillion Pool
The proliferation of sovereign wealth funds in Asia and the Middle East over the past decade has presented international money managers with an opportunity to swell their assets.
Globally, sovereign wealth fund assets climbed 9 percent in 2009 from a year earlier to $3.5 trillion, London-based research firm Preqin Ltd. said in March. The funds have an important role to play in markets as they are free to invest in riskier, less liquid and alternative investments, and unlike other institutional investors such as pension funds, many don't have liabilities to meet and aren't subject to withdrawals by external investors, according to the report.
More sovereign wealth funds are likely to invest in alternative assets such as hedge funds and private equity, Preqin said.
China Asset would probably focus on Chinese equities traded in Hong Kong and New York, Alexander said. The Hang Seng China Enterprises Index of Chinese companies listed in Hong Kong has more than doubled in the past five years.
More Money
CIC had 25 percent of its global portfolio in public-equity markets, Executive Vice President Jesse Wang said at the Asia Banking and Finance Conference in June. It held about 18 percent of investments in fixed-income securities and 8.8 percent in inflation-linked products, he said. Almost 7 percent was in private-equity funds, according to Wang.
Wang said CIC is asking the Chinese government for more money, adding the economic recovery was "on track." At the time, he predicted the Standard & Poor's 500 Index would advance about 18 percent by the end of this year. The S&P 500 has climbed 3.6 percent since then.
CIC picked Morgan Stanley and Blackstone Group LP to manage some of its assets, the Wall Street Journal reported in July 2009, citing unidentified people. The person didn't identify any foreign companies managing money on CIC's behalf.
In 2008, China's National Council for Social Security Fund picked Bosera Asset Management Co. as one of 12 outside money managers to handle overseas investments. Bosera's investments on behalf of the national pension fund would be focused on equities traded overseas, according to an announcement by NCSSF in April.