Barrick's Munk Sees No Need to Hedge Against Gold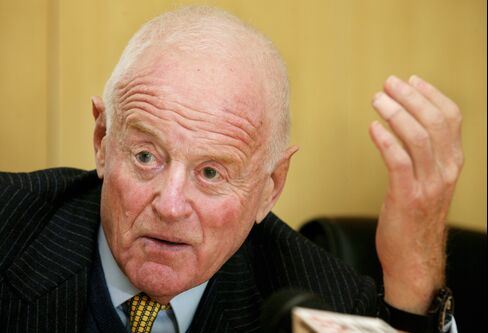 Barrick Gold Corp. Chairman Peter Munk said gold prices will extend gains as economies remain unstable and there's no reason to hedge against a decline.
Barrick Gold, the world's largest producer of the metal, spent almost $5 billion last year to end its hedges against lower prices. Gold, which has gained 12 percent this year and reached a record $1,265.30 an ounce in June, was trading close to its highest in seven weeks yesterday. Gold for immediate delivery was little changed at $1,229.30 an ounce at 10:23 a.m. in London.
The commodity still has room for growth as economies in some regions remain weak. In the Balkan region, where Munk is investing in a seaside resort in Montenegro, forecasts by the International Monetary Fund show the recovery will lag western Europe's emergence from the global slump. Montenegro's gross domestic product may shrink 1.7 percent, while Croatia's GDP will rise 0.2 percent, the IMF said on its website.
"Economic conditions are more likely to increase gold prices than the other way around," said Munk in an interview on his yacht in Montenegro. "We hedged for 10 years and it paid off. Conditions were so dramatically different a decade ago, two decades ago."
Investors tend to buy "safe haven" holdings such as gold during economic or political uncertainty because they are more immune to shocks than stocks and bonds.
Founded in 1983, Barrick has interests in mines in North America, South America, Australia Pacific and Africa. There are also six planned projects from Pakistan to Alaska. Barrick's second-quarter profit rose 59 percent year-on-year, prompting the company to raise its dividend 20 percent.
Its gold reserves total almost 140 million ounces, the largest unhedged reserves in the industry, according to the company. The locations also contain 6.1 billion pounds of copper reserves and 1.06 billion ounces of silver within the gold reserves.