Asian PC Makers Signal U.S. Consumer Spending Slump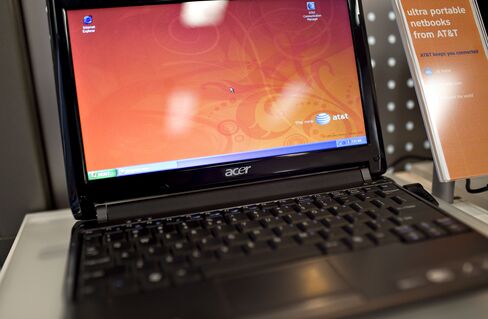 For signs of the flagging health of U.S. consumer spending, look no further than Taiwan.
At Taipei-based Acer Inc., the world's second-largest maker of computers, sales plunged 38 percent in July from a year earlier. Micro-Star International Co., a maker of boards that connect computer components, recorded a 15 percent drop.
Sales at Asian computer makers, which account for more than 80 percent of computer and parts imports into the U.S. each year, indicate American shoppers aren't likely to boost the spending that accounts for 70 percent of the world's largest economy. Already, consumption is growing at the slowest pace of any recovery since 1945.
"We'll see slower growth in orders in Asia as retailers in the U.S. want to keep supplies lean," said Jonathan Basile, an economist at Credit Suisse in New York. "Consumers will remain cautious about purchases until there's enough good news on employment and enough incentive to part with their money."
Consumer spending unexpectedly failed to grow in June, according to an Aug. 3 Commerce Department report, hurt by an unemployment rate stuck near a 26-year high. Household outlays in the second quarter grew 1.6 percent, about half the average 3 percent pace in the past three decades.
As retailers reduce orders, shares of companies that make semiconductors are weakening. The Semiconductor HOLDRs Trust exchange-traded fund is down 7.6 percent since July 19, compared with a 0.4 percent gain in the Standard & Poor's 500 Index at 4:15 p.m. in New York.
Rippling Overseas
The pullback, rippling through to overseas manufacturers and suppliers, underscores concerns about the outlook for U.S. economic growth as government stimulus measures wane.
Economists in a Bloomberg News survey this month lowered their forecasts for growth to an average 2.55 percent annual rate for the second half of the year, down from a 2.8 percent projection a month earlier.
Consumers are cutting back on purchases of electronics at retailers including Costco Wholesale Corp., the largest U.S. warehouse-club chain.
Issaquah, Washington-based Costco's sales of electronics at stores open at least a year had a "slight" drop in July from a year earlier as television purchases slowed and PC demand "came in flat," Bob Nelson, vice president of financial planning and investor relations, said on a conference call on Aug. 5.
U.S. retail sales of PCs rose 8 percent in the second quarter from a year earlier, cooling from 21 percent growth in the April to June quarter of 2009, according to NPD Group, a Port Washington, New York-based market-research firm. In the first month of this quarter, sales were up 2.7 percent from July 2009, said NPD, which tracks retail data.
Pause for PCs
"For PCs, there is a pause," said Stephen Baker, a Reston, Virginia-based analyst for NPD. "Sales growth is slower now than it has been in recent months. It may be mid to late 2011 before PC sales start to pick up."
Tristan Gerra, an analyst at Robert W. Baird & Co., last week cut his ratings on Intel Corp., whose chips run more than 80 percent of the world's personal computers, following an earlier downgrade on Texas Instruments Inc.
"Everything is slowing down," said Gerra, adding the slowdown in orders for chips extended into August and that the "initial visibility of orders into September is getting worse."
UBS AG last week halved its third-quarter volumes forecast for Asian computer makers, known as original design manufacturers, predicting a 6 percent quarterly increase instead of 12 percent projected six weeks earlier.
Reducing Debt
Applications for unemployment benefits unexpectedly jumped last week to the highest level since November, showing companies are stepping up firings as the economy slows. Initial jobless claims rose by 12,000 to 500,000 in the week ended Aug. 14, according to Labor Department figures.
Americans are cutting back on spending as they seek to reduce debts and build up savings. Consumer indebtedness totaled $11.7 trillion at the end of June, a decline of 1.5 percent from the previous three months and down 6.5 percent from its peak in the third quarter of 2008, a survey by the Federal Reserve Bank of New York showed this week.
Fed policy makers last week said the recovery was "more modest" than they projected, prompting them to take additional steps to revive growth.
Soft Months
To be sure, the introduction of products such as Apple Inc.'s iPad has "reinvigorated" demand in the so-called tablets category even as sales growth is easing for personal computers, said Shawn DuBravac, chief economist at the Consumer Electronics Association in Arlington, Virginia.
JPMorgan Chase & Co. analyst Mark Moskowitz on Aug. 17 cut his estimates for PC shipments this year and next, based on slowing consumer demand in the U.S., Europe and China, and weak sales in July.
"Two soft months out of the last three does point to a decelerating demand environment," Moskowitz said in a research note. July's shipment numbers are "fanning investor concerns that the PC market is heading into a tailspin."
Company News: INTC US CN TXN US CN SMH US CN COST US CN 2353 TT CN 2377 TT CN 2361 TT CN