Pfizer Menopause Drug Didn't Cause Cancers, Jury Says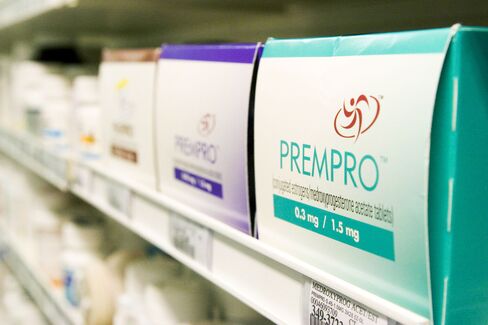 Pfizer Inc.'s menopause drug Prempro didn't cause two women's cancers, and the drugmaker doesn't have to pay damages over those illnesses, a jury decided.
Jurors in state court in Philadelphia deliberated about four hours before concluding today that Prempro wasn't a "factual cause" of Sharon Buxton's and Joy Henry's breast cancers. The women sought at least $100,000 in damages.
"While we have great sympathy for Mrs. Buxton, Mrs. Henry and their families, we believe the verdicts in this case confirm our position," Pfizer said in a statement. "The vast majority of women who take hormone therapy do not get breast cancer."
Until 1995, many menopausal women combined Premarin, Wyeth's estrogen-based drug, with Upjohn Co.'s progestin-laden Provera, to relieve their symptoms. Wyeth later combined the two hormones in Prempro.
Pfizer, the world's largest drugmaker, completed the $68 billion purchase of Wyeth last year. It acquired Upjohn in 2003 as part of a $54 billion buyout of Pharmacia Corp.
More than 6 million women took hormone drugs to treat menopause symptoms such as hot flashes and mood swings before the Women's Health Initiative, a National Institutes of Health-sponsored study, concluded they posed an increased cancer risk.
Victoria Davis, a spokeswoman for New York-based Pfizer, said in an interview that the study also showed that "99.6 percent of users" didn't get breast cancer.
Jury Trials
Wyeth has lost seven of the 12 Prempro cases decided by juries since trials began in 2006. The drugmaker got some of those verdicts thrown out at the post-trial stage or had awards reduced.
A judge in Philadelphia refused in May to throw out a $9.4 million jury award to a woman who blamed Prempro for her breast cancer. The case is on appeal.
Buxton, 66, took Prempro for six years before the retired scheduler for a surgical practice developed breast cancer, court filings show. Henry, a 76-year-old owner of a moving company, took the drug for eight years before being diagnosed with the disease.
Beth Wilkinson, an attorney for Pfizer, said in a phone interview that the trial with two plaintiffs was "incredibly challenging." Her team was helped by being "allowed to focus on the science first" and show jurors that "there's no evidence that Prempro causes breast cancer" based on testimony from practicing cancer doctors, she said.
Zoe Littlepage, a lawyer for Buxton and Henry, didn't immediately return a phone call or an e-mail seeking comment on the verdict.
Pfizer, which reported $50 billion in sales last year, fell 17 cents to $16.10 in New York Stock Exchange composite trading at 4 p.m. The shares have dropped 11 percent this year.
The case is Buxton v. Wyeth, 00202, Court of Common Pleas (Philadelphia).
Before it's here, it's on the Bloomberg Terminal.
LEARN MORE