EMI Full-Year Loss Narrows; Company Cites Debt Worry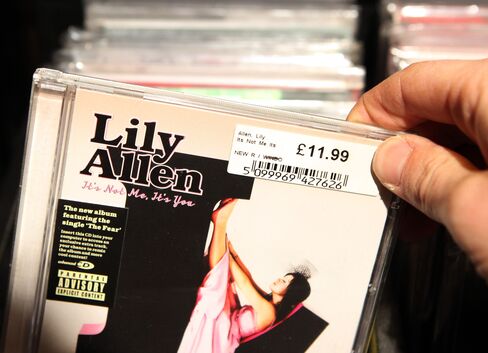 EMI Group Ltd, the music company behind artists including Coldplay, Lily Allen and Depeche Mode, reported a narrower full-year loss helped by a smaller total writedown and lower interest charges.
The loss for the year ended March 31 was 512 million pounds ($802 million) compared with 1.57 billion pounds a year earlier, Maltby Capital, EMI's holding company controlled by Guy Hands's Terra Firma Capital Partners Ltd., said in a statement today. EMI, bought by Hands in 2007 at the height of the buyout boom, wrote down assets by 602 million pounds, compared with 1.04 billion pounds a year earlier.
The "principal uncertainty" is whether the company will be able to raise more funds to comply with loan covenants, according to the statement. EMI this year convinced its investors to inject 105 million pounds after breaking debt agreements and it will require more funds next year to meet obligations with Citigroup Inc., its principal lender.
"This debt was never meant to be in place today," EMI spokesman Neil Bennett said by phone. "When it was arranged in 2007 it was under very different circumstances and is inappropriate today."
Hands initially sought a total of 360 million pounds from investors to help EMI meet its covenants until 2015, a person briefed on the plan said in April.
EMI's bank loans and overdrafts as of March 2010 totaled 3.04 billion pounds. Finance costs fell, helped by a 73 million-pound gain on foreign currency borrowings, versus a loss 297 million pounds a year earlier.
Beatles Catalog
Full-year revenue rose 5.2 percent to 1.65 billion pounds, while earnings before interest, taxes, depreciation and amortization, and before restructuring costs, increased 14 percent to 334 million pounds.
EMI Music, which represents artists including Robbie Williams and Keith Urban, has sold more than 13 million albums of the Beatles' re-mastered catalog, and had "strong sales" from artists including Katy Perry and Lady Antebellum, according to today's statement.
"The debt and covenants should not overshadow the operational achievements in the business," Bennett said.
While EMI faces a challenge in the decline of physical sales, which hasn't been offset by growth in digital revenue, the company increased its global market share by 1 percent to 10.4 percent, it said.
Rights management
EMI is continuing to push into new streams of revenue including merchandising, live performance and various digital platforms.
Revenue at EMI Music climbed 6.5 percent to 1.17 billion pounds and sales at EMI Music Publishing gained rose 2.1 percent to 478 million pounds.
EMI has been repositioning itself as a "comprehensive rights management company" and in June named Roger Faxon as chief executive officer. Faxon, who previously headed EMI's New York-based publishing business since 2007, now oversees the recording and publishing units.
Faxon's appointment was announced several months after former CEO Elio Leoni-Sceti stepped down.