Deere Profit Tops Estimates on Farm Equipment Demand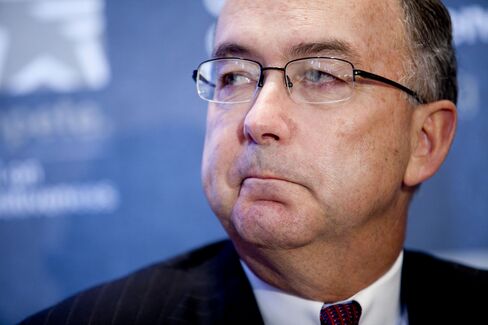 Deere & Co., the world's largest farm-equipment maker, reported a 47 percent jump in fiscal third-quarter earnings, while tempering investor expectations for the fourth quarter amid weakening demand in Western Europe.
Net income climbed to $617 million, or $1.44 a share, in the third quarter ended July 31, amid strength in the U.S. farming industry, the Moline, Illinois-based company said in a statement today. The average of 17 analyst estimates compiled by Bloomberg was for profit excluding some items of $1.22.
Deere fell in New York trading after saying fourth-quarter earnings will be $375 million, less than the average estimate from analysts for $389.4 million, excluding items. Deere, led by Chief Executive Officer Sam Allen, said full-year sales will rise 5 percent to 10 percent in the U.S. and Canada on "solid" commodity prices, while Western Europe sales will fall as much as 20 percent.
"While the company's guidance looks a tad light relative to expectations, this is a conservative management team and is probably trying to set a reasonable bar to exceed," Joel Levington, managing director of corporate credit at New York-based Brookfield Investment Management Inc., said in an e-mail.
Third-quarter sales gained 18 percent to $6.22 billion, Deere said. Net income in the year-earlier period was $420 million, or 99 cents a share.
Deere fell $1.25, or 1.9 percent, to $65.98 at 4:15 p.m. in New York Stock Exchange composite trading. It has gained 22 percent this year.
Crop Prices
Investors may be expecting Deere to benefit too quickly from rising crop prices, said Stephen Volkmann, an analyst for Jefferies & Co. in New York who has a "buy" rating on the shares. Wheat futures in Chicago reached a 23-month high Aug. 6, as a drought in Russia increases demand for U.S. grain exports. Corn futures have also gained this month.
"It was a little too soon to see benefits from recent strength in crop prices," Volkmann said in an interview today. "It takes a few quarters."
Third-quarter revenue in Deere's agriculture and turf division rose 12 percent to $5.2 billion, the company said. The unit's operating profit jumped 72 percent to $824 million.
Construction and forestry sales increased 59 percent to $1.01 billion while operating profit reached $66 million, compared with a $28 million loss a year earlier.
Operating income is the total amount of money a company makes through its earning assets and services.