Colombia Court Halts U.S. Accord Behind Regional Spat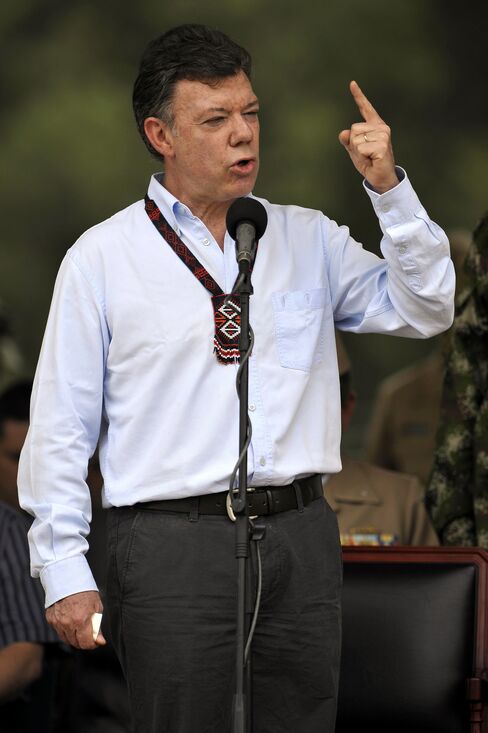 Colombia's Constitutional Court blocked an accord that grants U.S. armed forces access to several military bases in the country because it wasn't approved by the legislature.
The court, in a 6-3 decision last night, said the agreement is not covered by any international treaty, as former President Alvaro Uribe had argued. The year-old agreement to allow U.S. personnel and equipment inside seven bases prompted Venezuelan President Hugo Chavez to freeze trade with Colombia and order troops to their shared border.
The Colombian government will respect the court's ruling, Defense Minister Rodrigo Rivera said in a written statement. The statement didn't say whether the government would seek to ratify the accord in congress, though it "reiterated the fundamental importance" of several decades of U.S. support in the country's fight against terrorism and drug trafficking.
In addition to Chavez, more moderate regional leaders have also assailed the military pact. Brazilian President Luiz Inacio Lula da Silva said it was a throwback to the Cold War. A group of South American nations that held a summit in Argentina last August sought assurances from President Barack Obama that U.S. troops wouldn't be used beyond Colombia's borders.
U.S. Presence
"Politically, the court's decision is a blow to both governments because it gives the impression -- deserved or no -- that the Obama and Uribe administrations sought to do something that violated Colombia's Constitution," said Adam Isacson, senior associate at the Washington Office on Latin America, a policy group, in an e-mailed statement. "Operationally, however, the defense accord's suspension will not affect the U.S. presence in Colombia."
President Juan Manuel Santos, who helped negotiate the accord as Uribe's defense minister and whose party is the largest in congress, has taken steps to improve relations with Chavez.
Last week, he hosted the Venezuelan leader for a one-day summit to reignite trade links. Exports to Venezuela plunged 72 percent to $760 million in the first six months of 2010 from $2.69 billion in the same period of 2008.
The U.S. has tried to defuse regional tensions, saying the number of its troops and civilian contractors in the country won't surpass 1,400. That was the cap set under Plan Colombia, the U.S. program that has provided more than $7 billion in anti-narcotics and counterinsurgency aid to Colombia since 2000.
The U.S. government's interests haven't changed in light of the court ruling and it will consult with Santos on the matter, U.S. State Department spokesman Philip Crowley said.
We "look to Santos to take appropriate action," Crowley said during a briefing today in Washington D.C.
The court, in yesterday's ruling, said any U.S. troops operating out of the seven bases covered by the accord must be withdrawn.
The peso weakened 0.3 percent to 1811.75 per dollar at 3:36 p.m. New York time from 1807.00 yesterday.
Before it's here, it's on the Bloomberg Terminal.
LEARN MORE