Brazil CPI Debt Cheapest in 14 Months: Brazil Credit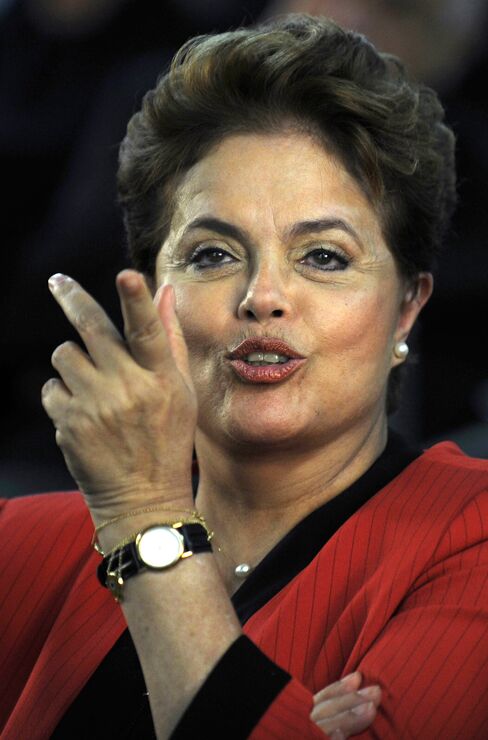 The cheapest Brazil inflation-linked bonds in 14 months are prompting Bank of America Corp. and SulAmerica Investimentos to recommend the debt on concern President Luiz Inacio Lula da Silva's successor will fail to keep consumer prices in check.
The gap between yields on Brazil's 6 percent inflation- linked bonds due in 2015 and its 10 percent fixed-rate notes maturing in 2014 fell to 542 basis points, or 5.42 percentage points, today from a 17-month high of 624 on May 6.
While slowing growth in Latin America's biggest economy is pushing down investors' inflation expectations, the next administration may step up spending and reignite consumer price increases, said Marcelo Saddi Castro, who oversees 18 billion reais ($10.3 billion) as chief investment officer at SulAmerica Investimentos in Sao Paulo.
"Certainly there is this risk that if the new government wants the economy to grow faster than its potential, that would probably generate inflation," Saddi Castro said in a telephone interview. "In this scenario, these inflation-linked securities are fantastic."
Dilma Rousseff, the leading candidate in polls for the October vote, vowed to cut tax rates and "continue changing with more growth and social inclusion" when she was confirmed as the candidate of Lula's Workers' Party on June 13.
"There is no reason to fear an increase in inflation from higher public spending," Jose Eduardo Dutra, Rousseff's chief campaign coordinator and head of the Workers' Party, said in e-mailed comments yesterday. "We have reaffirmed our commitment to fiscal responsibility, as we did during both of President Lula's terms."
Serra's Pledge
Rousseff's main rival, opposition candidate Jose Serra, vowed to bolster the economy in a "sustainable way" in a speech accepting his party's nomination on June 12.
A press official for Serra, 68, reiterated comments made on Aug. 11 to GloboNews TV channel, where the candidate said "the three economic pillars -- floating exchange rate, fiscal responsibility and inflation targeting -- must be maintained."
Inflation fell to the slowest two-month pace in four years after central bank President Henrique Meirelles, 64, increased the benchmark lending rate to 10.75 percent from a record low 8.75 percent in April. Consumer prices rose 0.01 percent in July after posting no increase in June, cutting the annual inflation rate to a six-month low of 4.6 percent.
Breakeven Rate
Industrial output fell 1 percent in June from the previous month while Brazil's retail sales slowed in June.
"We don't know who will be in charge of monetary policy" after elections, said David Beker, the head of Latin America strategy at Bank of America in New York. Inflation-linked debt "would be a good hedge," he said.
The difference between inflation-linked and fixed-rate bonds, known as the breakeven rate, may increase as much as 100 basis points as elections near, Beker said.
Rousseff, 62, Lula's former cabinet chief, widened her lead to 11 percentage points over Serra, putting her in position to win in the first round of the election, according to an Ibope poll published yesterday by the TV Globo network. The nationwide poll of 2,506 people was taken between Aug. 12 and Aug. 16 and has a margin of error of two percentage points, according to Globo.
No 'Major Shocks'
The elections are unlikely to boost inflation expectations after the central bank said in the minutes of its July 20-21 meeting that it eased the pace of rate increases because inflation was slowing. The bank raised the rate, known as the Selic, by 50 basis points at the meeting after increasing it 75 basis points in April and June.
"We don't expect any major shocks around the Brazil election," Paul Biszko, a senior emerging markets strategist at Royal Bank of Canada in Toronto, said in an interview. "Inflation expectations have stabilized, with the slowdown in economic indicators that we've seen over the past months."
Yields on Brazil's 6 percent inflation-linked bonds due in May 2015 fell 56 basis points in the past three months to 6.09 percent through yesterday. The decline was almost half that of the country's 10 percent fixed-rate notes maturing in January 2014 that yield 11.51 percent.
Yields on interest-rate futures due in January fell one basis point to 10.73 percent by 5 p.m. in New York.
Credit Default Swaps
The real gained 0.1 percent to 1.7531.
The extra yield investors demand to hold Brazilian dollar bonds instead of U.S. securities narrowed three basis points to 196, according to JPMorgan Chase & Co.
The cost of protecting Brazilian debt against non-payment for five years with credit-default swaps rose one basis point to 117, according to data compiled by CMA DataVision. Credit- default swaps pay the buyer face value in exchange for the underlying securities or the cash equivalent should a government or company fail to adhere to its debt agreements.
While inflation has been above the government's 4.5 percent target since the beginning of the year, under Lula and Meirelles annual consumer price increases dropped to 4.6 percent from 12.5 percent in 2002 and benchmark rates declined by more than half from 25 percent. Brazil received investment-grade credit ratings from Moody's Investors Service in September 2009.
Meirelles said April 1 that he would remain in his post until the end of Lula's term. Lula, 64, is ineligible for a third term. He chose to grant the central bank "operational autonomy." There is no law in Brazil giving the bank independence from the government.
"The whole situation will be changing after elections -- who will be replacing Meirelles? How independent will the central bank be?" said Beker. "The uncertainty means higher risk premium."