Kloppers Goes Hostile as Potash's Doyle Fights Bid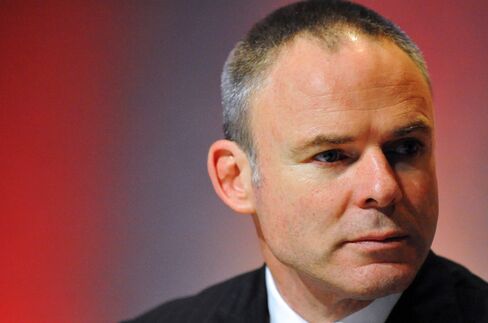 BHP Billiton Ltd. Chief Executive Officer Marius Kloppers flew to Chicago to deliver the letter containing his $40 billion offer to Potash Corp. of Saskatchewan Inc. CEO Bill Doyle. The reply was a blunt rejection.
In explaining the Aug. 12 meeting on a conference call two days ago, Doyle, 60, said the "highly opportunistic" approach "grossly undervalues" the world's largest fertilizer producer. Kloppers yesterday took the $130-a-share offer direct to Potash Corp.'s shareholders, starting his second hostile takeover since 2008, when he failed to buy Rio Tinto Group.
"It's all antagonistic, get under the skin of the opponent," said Shaun Manuell, head of asset management at Equity Trustees Ltd., which manages the equivalent of $1.3 billion including shares in BHP, the biggest mining company. "Personalities always get involved in these sorts of things."
Doyle, who has worked at Potash Corp. since 1987, said he was "fully confident" of being able to compete against BHP after the Melbourne-based company agreed in January to buy Canada's Athabasca Potash Inc. for C$341 million ($331 million). "BHP doesn't walk on water," he said. The two men are battling for top position in an industry where demand in Asia, Brazil and North America grew by 85 percent over the past 20 years.
Biggest Bid
Under Kloppers, a 47-year-old South African who holds a Ph.D. in materials science from the Massachusetts Institute of Technology, BHP has posted an annual return of minus 2.8 percent since his appointment in October 2007. Doyle, a graduate of Georgetown University in Washington, returned 25 percent annually since he became CEO of Saskatoon, Saskatchewan-based Potash Corp. in July 1999.
The acquisition would be BHP's biggest since buying WMC Resources Ltd. in 2005 and follows the scrapping of its $66 billion offer for Rio. Kloppers, who yesterday said the purchase would diversify sales, is seeking to benefit from surging demand for fertilizer as food needs grow. The global population is set to reach 9.1 billion in 2050, according to the United Nations.
"He's offered a fair price for what is a 20 percent share of global production of this strategic commodity," Tim Morris, an equities analyst at Wise-Owl in Sydney, told Rishaad Salamat in an interview on Bloomberg News Asia. Wise-Owl has a "buy" rating on BHP. "It's very consistent with his expansion strategy of grabbing a larger share of commodities where he's a price maker rather than a price taker."
Chicago Meeting
Doyle met Kloppers near Chicago on Aug. 12. Kloppers handed over a letter setting out the terms of the proposal and requesting a response by Aug. 18, according to a separate letter sent by BHP Chairman Jac Nasser to Potash Corp. Chairman Dallas Howe on Aug. 13 and posted on Potash's website.
"Bill is a very well known figure, a well admired and well respected figure in the fertilizer industry," Kloppers said yesterday on a call with reporters. "I really met Bill for the first time when I saw him in Chicago. He was what the industry says he is -- a statesman."
In May, asked about a potential BHP bid, Doyle said: "If anyone takes a run at us, it won't be cheap."
In the absence of a higher bid from BHP, Potash Corp. sees its best alternative offers coming from companies backed by China or India, or mine operators such as Brazil's Vale SA, said two people familiar with the matter.
Chinese Approach
The likeliest options in China are Sinochem Corp., the nation's largest chemical trader, China Investment Corp., the Chinese sovereign wealth fund, or Sinofert Holdings Ltd., the people said. A concern for Potash Corp. would be that Chinese companies move too slowly for a Canadian takeover code that may force a potential acquirer to act within a few months, they said.
BHP, Vale and Rio, the three biggest mining companies, see fertilizers as a way to diversify away from iron ore and coal, Mark Gulley, an analyst at Soleil Securities Corp., told Pimm Fox on Bloomberg Television's Taking Stock. Rising food demand and adverse weather have driven up prices for corn, soybeans and wheat as much as 40 percent since June, and potash use may grow at least 10 percent next year, according to Doyle.
"This is clearly the opening shot and we believe BHP is both willing and clearly able to pay more," Macquarie Group Ltd. analyst Duncan McKeen wrote in a report. The likely upper limit is $160 to $165 a share, he said. Possible rivals include Vale and Rio, and buyers from Russia and China, Macquarie said.
Top of League
Potash Corp. rose 3.3 percent to $147.93 yesterday in New York, valuing the company at $44 billion. BHP fell 1.3 percent to $37.93 at 10:03 a.m. Sydney time on the Australian stock exchange.
Buying Potash Corp. would propel BHP to the top of the league of producers of the mineral, a form of potassium mined in Canada, Brazil, Germany and the U.S., and used by farmers to help boost crop yields by improving the ability of plants to withstand dry soil conditions.
"Investors can appreciate the potential for long-term demand for agricultural chemicals to grow, and as a consequence, can identify with BHP's desire to move into this area," said Angus Gluskie, who oversees $300 million including BHP at White Funds Management Pty in Sydney. "Investors also recognize that agricultural chemicals are notoriously volatile in price and they are yet to be convinced that the supply and demand balance in this area will prove to be sufficiently favorable."
Jansen Potash
BHP, which owns the Jansen potash project in Saskatchewan, may be paying too much for Potash Corp., Citigroup Inc. analyst Clarke Wilkins wrote in a report.
Kloppers said yesterday BHP had invested almost $1 billion to date in Jansen. Doyle this week described BHP's investment in the site as a "smokescreen" and a "charade."
Given the size of a Potash Corp. transaction, the "execution risk is something that the market is probably nervous about, and that's fair," said Prasad Patkar, who helps manage about $1.6 billion, including BHP shares, at Platypus Asset Management Pty in Sydney. "The fact they've taken an M&A approach is a slight surprise, as opposed to their own organic route."
BHP is being advised by JPMorgan Securities Inc., TD Securities Inc., Banco Santander SA, Barclays Capital, BNP Paribas and Royal Bank of Scotland Group Plc. Bank of America Merrill Lynch, Goldman Sachs Group Inc. and RBC Capital Markets Ltd. are advising Potash Corp.