Saks Rises as Loss Less Than Analysts Estimated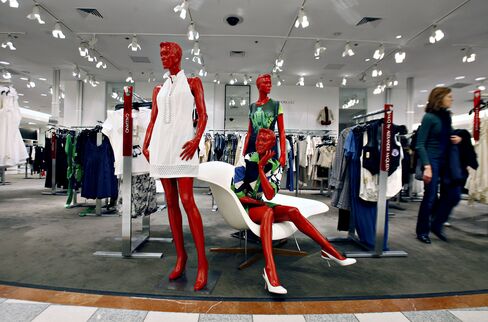 Saks Inc., the New York-based luxury retail chain, rose in New York trading after reporting a second-quarter loss that was narrower than analysts estimated.
Saks lost 13 cents a share, excluding store-closing and severance costs, beating the average estimate of a 17-cent loss by analysts in a Bloomberg survey.
The company discounted fewer items, widening gross margin, or earnings left after subtracting the cost of goods, to 37.3 percent of sales compared with 30.3 percent in the year-ago period. Robert Drbul, an analyst at Barclays Capital in New York, estimated 36 percent. Revenue gained on demand for women's shoes, handbags and sportswear.
Comparable-store sales will rise in the mid-single-digit percentage range for the year ending in 2011, Saks reiterated today. That compared with an earlier forecast of growth in the low-to-mid-single-digit range. Saks forecast full-year gross margin to improve to 39.5 percent.
The shares gained 20 cents, or 2.6 percent, to $7.81 at 4:15 p.m. in New York Stock Exchange composite trading, and earlier traded as high as $8.02. They have increased 19 percent this year.
The net loss was $32.2 million, or 21 cents a share, in the three months ended July 31, compared with a loss of $54.5 million, or 39 cents, a year earlier, Saks said today in a statement.
Second-quarter sales rose 5.1 percent to $593.1 million, Saks said Aug. 5. Same-store sales increased 4.6 percent.
The company also said today it is closing Saks Fifth Avenue stores in Plano, Texas, and Mission Viejo, California. It said on a conference call today it's unlikely to see a lot more closings. Saks operates 50 Saks Fifth Avenue Stores and 55 Off 5th stores.