Obama Calls on Republicans to Back Small Business Aid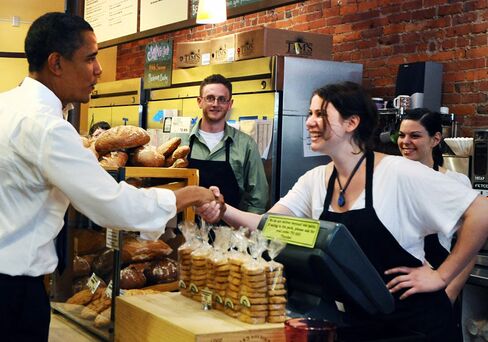 President Barack Obama kept up criticism of his Republican opponents today for blocking legislation that he said would make it easier for small businesses to get loans.
In the midst of a three-day, cross-country trip to defend his economic policies and raise money for Democratic candidates facing re-election races in November, Obama said opponents are blocking the measure for political purposes. He called on the Senate to take action when it returns to work in September.
The financial crisis has dried up credit for small businesses, which are responsible for most hiring in the U.S., and they need help, he said.
"We've all got a stake in helping our small businesses succeed," Obama said after a discussion with business owners at the Grand Central Bakery & Café in Seattle. "Our economic recovery depends on it."
The economy will likely be the top issue in the election, with Republicans trying to regain control of Congress. Republican lawmakers are critical of Obama's efforts to overhaul health-care policy and financial regulations, as well as the $862 billion stimulus measure, as economic growth and hiring have fallen short of some administration projections.
The legislation Obama is promoting would ease the terms for loans guaranteed by the Small Business Administration, providing $12 billion in tax breaks and issuing grants to states to provide business loans.
Community Banks
It would also provide $30 billion to banks with less than $10 billion in assets to encourage lending to small businesses. The cost of paying back those capital infusions would decline based on the level of small-business lending by the bank. The aid would spur $300 billion in lending, according to the administration.
The legislation was faulted by Republicans such as Senator Richard Shelby of Alabama for being a government rescue similar to the $700 billion bank bailout of 2008. The program might induce banks to make risky loans, critics said. It was blocked by Republicans before the Senate recessed for August.
Auto suppliers, community banks and franchise owners banded together to push for the provision to boost lending, saying it is crucial to letting them expand and hire new employees. Democratic leaders will try to get the bill passed when lawmakers return to Washington in September.
Aircraft Intrusion
While Obama was in Seattle, an aircraft briefly flew into the restricted zone imposed over the city because of the president's visit. Fighter jets from the Air National Guard wing in Portland were dispatched to the area, creating a sonic boom over Seattle that prompted calls to authorities, Captain Craig Savage, a spokesman for the North American Aerospace Defense Command, said.
The aircraft left the restricted area before the fighter jets arrived and there was no interception, he said.
Joining Obama in Seattle was Democratic Senator Patty Murray, who is up for re-election this year. The state's residents are voting in a primary today in which Murray will appear on the ballot with Republican challengers, with the top two vote-getters going on to the general election in November.
Senate Contest
Polls in the state show Murray likely will face Republican Dino Rossi, a former state lawmaker. Former Washington Redskins tight end Clint Didier is another Republican candidate in the Senate race.
The most recent poll in the state, a July 27-Aug. 1 survey by Public Policy Polling, showed Murray with 47 percent support, Rossi with 33 percent and Didier with 10 percent.
Deputy White House press secretary Bill Burton told reporters that Obama is "confident" that Democrats will maintain their majorities in the House and Senate after the November elections.
At a fundraiser for Murray, Obama kept up his attack on Republicans, saying that "on issue after issue they have sided with special interests over middle-class families."
Obama raised $1.3 million today for Murray and Washington state Democrats.
Tomorrow, he will discuss the economy in Columbus, Ohio, and raise money for the Ohio Democratic Party before traveling to Miami for a similar fundraiser for Florida Democrats. He also raised money for Democratic candidates yesterday in Milwaukee and Los Angeles.
So far this month, Obama has raised more than $6 million for Democratic candidates and party organizations.
All 435 members of the House of Representatives face elections this year, as well as more than one-third of the Senate. Democrats now have majorities in both chambers.
"Everybody's going to have a tough race across this country because we're going through tough times," Obama said yesterday at the Milwaukee event, which raised money for Mayor Tom Barrett's campaign for governor and for the state Democratic Party organization.