Emerson Seeks Margin Boost as Sale Pares Motor Assets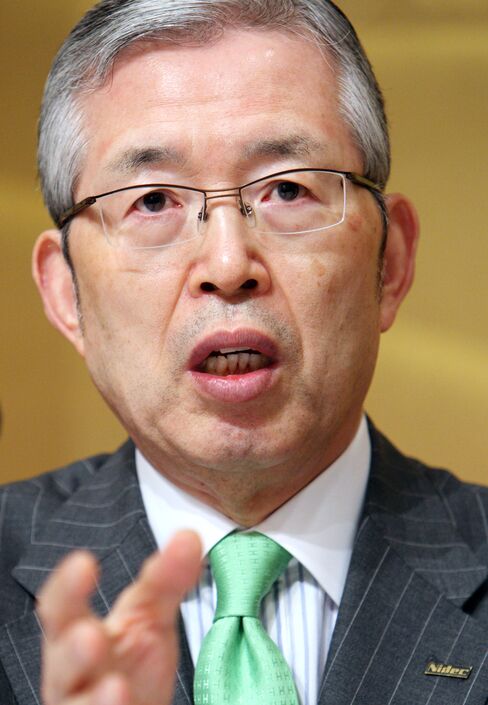 Emerson Electric Co.'s agreement to sell two motors businesses to Nidec Corp. extends a shift in focus to operations with higher profit margins, the company's mergers and acquisitions chief said.
"We are moving Emerson to a new tier," Executive Vice President Craig Ashmore, 48, said today in a telephone interview after Nidec agreed to buy Emerson's appliance-motor unit and commercial and industrial motor division. "The growth rate and the margin and so forth just wasn't right for us any more."
Emerson sold its European appliance-motor and pump assets about two years ago. The company's businesses include electrical equipment for commercial users, climate-control technology and industrial automation.
The operations being bought by Kyoto, Japan-based Nidec represented more than $800 million in fiscal 2009 revenue for St. Louis-based Emerson, which reported sales of $20.9 billion. Terms weren't disclosed.
Emerson is seeking growth of as much as 7 percent, with operating margins of at least 15 percent, according to David Baldridge, a spokesman. The units being sold to Nidec have been expanding at 2 percent to 4 percent a year, with margins of less than 10 percent, Baldridge said.
Two Purchases
The push to find bigger sales gains helped spur two purchases within the 10 months: Avocent Corp. for $1.2 billion in October and Chloride Group Plc for $1.5 billion last month. Both acquisitions were for the unit that builds backup power systems for customers such as computer data facilities.
"Emerson is making a bet on data centers," Ajay Kejriwal, an analyst with FBR Capital Markets, said in an interview. "It's a strategy they put in place in the past several years."
Kejriwal, who is based in New York, rates Emerson as "market perform." Emerson fell 6 cents to $48.60 at 4 p.m. in New York Stock Exchange composite trading. Nidec rose 3.4 percent to close at 7,390 yen on the Osaka Securities Exchange.
Emerson probably will "dial back" acquisition spending in fiscal 2011, which starts in October, Ashmore said. Chloride was the largest purchase in company history, with Avocent ranks as the third-largest, according to spokesman Mark Polzin.
Nidec, a maker of mini motors for computers, said it wants to more than triple sales by expanding into home appliances outside Asia. The company's strategy is to use mergers and acquisitions to boost annual sales to 2 trillion yen ($23.4 billion) by the year ending March 2016.
1,700 U.S. Workers
The operations being bought from Emerson employ about 6,000 workers with facilities mainly in the U.S., Mexico, U.K. and China. About 1,700 of the workers are in the U.S. The businesses will be run by Nidec from a building on Emerson's St. Louis campus.
Emerson's appliance motors and controls business makes parts used in clothes washers and dryers, dishwashers and refrigerators. The commercial and industrial motors business makes motors used in water treatment, mining, air conditioning condensers and commercial refrigeration.
"We have de-emphasized the appliance and motors segment," Ashmore said. "We are rotating out of our appliance-related assets."
Emerson will continue to operate some motors businesses, including its large-motor business based in Europe, and a U.S. unit whose products include ceiling fans.
Before it's here, it's on the Bloomberg Terminal.
LEARN MORE