London Finance Vacancies Up 7%, Morgan McKinley Says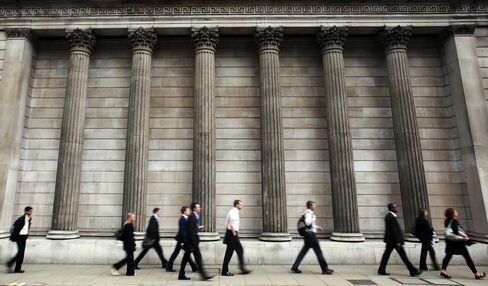 Job vacancies at London's financial-services companies rose 7 percent last month as firms sought to replace workers lost during the credit crisis.
The number of openings in the City, as London's main financial district is known, rose to 6,048 in July from 5,645 in June, U.K. recruitment consultant Morgan McKinley said in a statement today. The number of people looking for work fell 16 percent in July, according to the survey.
The increase in open positions "is a good indication that institutions will continue to recruit, although we are expecting fluctuations at hiring levels over the remainder of the year," Andrew Evans, managing director of Morgan McKinley's financial-services unit, said in the statement. "This outlook must be balanced with caution."
Barclays Capital, the investment-banking unit of London- based Barclays Plc, added about 3,600 people in the 12 months to June 30, while Zurich-based Credit Suisse Group AG hired 1,800 for its securities unit and Royal Bank of Scotland Group Plc added about 1,100. In March, UBS AG Chief Executive Officer Oswald Gruebel said the Zurich-based bank hired about 350 fixed-income traders over the preceding 12 months.
The average salary for those hired in the City in July fell 3 percent from the previous month to 51,429 pounds ($80,573), the survey showed.
Job Cuts Loom
Investment banks may start shedding jobs again if the slowdown in revenue seen in the first half of 2010 continues, said John Purcell, managing director at executive search firm Purcell & Co. in London.
Credit Suisse and Barclays said on Aug. 11 they plan job cuts in their securities units. Credit Suisse said it will eliminate 75 posts in the U.K. Barclays Capital is cutting 300 administrative jobs, a person with knowledge of the matter said at the time. Barclays plans to recruit in its growth areas, a spokesman said.
Barclays Capital said earlier this month that income from trading bonds and commodities fell 40 percent in the first half amid the sovereign debt crisis. Fixed-income, currencies and commodities trading was the biggest revenue contributor at investment banks from Deutsche Bank AG to Goldman Sachs Group Inc.