Foxconn Holds Rallies to Boost Morale After Suicides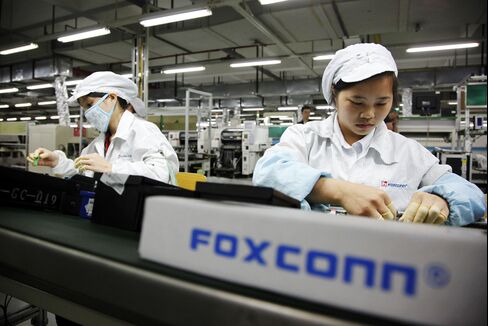 Foxconn Technology Group, maker of Apple Inc. iPhones and Sony Corp. games consoles, is holding morale-boosting rallies and taking down some safety nets, three months after a spate of suicides at the company.
"Foxconn feels it's perhaps time to look back and to learn from the tragedies and to send an important message to their employees that they are not alone," Burson-Marsteller, a public relations agency, wrote in an e-emailed rally invitation on the Taipei-based company's behalf.
The company, whose flagship Hon Hai Precision Industry Co. supplies to Apple, Sony and Dell Inc., more than doubled wages for employees in Shenzhen and hired counselors after at least 10 workers killed themselves this year, prompting investigations by clients including Apple. Chairman Terry Gou denied Foxconn, which houses many of its 800,000 Chinese workforce in dormitories, was running a sweatshop and opened the largest plant to the media.
"This event will help boost morale, as it's important for them to make the younger workers not feel so isolated," said Arthur Hsieh, who rates Hon Hai "buy" at UBS AG in Taipei. "They've also been backing up the talk with action, such as moving production bases away from Shenzhen."
As many as 50,000 workers at the company's facilities across China may attend the planned morale rallies, the company wrote in an e-mail to Bloomberg News.
Removing Some Nets
Foxconn is removing safety nets at its Taiyuan Campus in China's northern Shanxi province because most of the workers are local and have the support of family and friends, Louis Woo, special assistant to the chief executive officer, said by phone today. Nets will remain in place at other facilities for now, he said.
The group is shifting facilities to central China to let employees work closer to their hometowns, and hiring outside management for some dormitories as it moves toward a "more open" style of management, Foxconn said in June. As many as 300,000 people will be employed at a new factory in Henan, the home province of almost 20 percent of Foxconn's China workforce, the local government said in June.
Hon Hai shares lost 20 percent between May 12, when it said a sixth worker committed suicide, to June 8, when Gou told shareholders he'll boost factory automation to reduce reliance on labor. The benchmark Taiex index fell 6 percent over the same period. The stock has since rebounded 17 percent to close at NT$131 today in Taipei.
Vast Workforce
Foxconn Group employs almost 400,000 people in Shenzhen, southern China, where suicides occurred from January to May. Gou attributed them to personal problems and said compensation packages paid to victims' families may have motivated some.
A 22-year-old female employee died after falling from a company dormitory in eastern China on Aug. 4, though it wasn't immediately clear if it was a case of suicide, Foxconn said.
The company and its employee's union are holding today's rallies "to promote a positive outlook and approach towards life, to promote unity among employees of Foxconn and to extend moral support and resources to help employees deal with personal and work challenges," according to the invitation.
The suicides prompted Foxconn to more than double wages in Shenzhen and hire counselors and monks to support workers. The company has more than 800,000 employees in China.
New York-based China Labor Watch described Foxconn as a "sweatshop" where low wages force employees to work overtime to earn more money.
Apple, Hewlett-Packard Co. and Dell said in May they were investigating working conditions at the supplier. Apple Chief Executive Officer Steve Jobs said on June 2 that his company is "all over" Foxconn to stop the suicides and described the deaths as "very troubling." He and Gou both denied Foxconn is a "sweatshop."