Cheung Kong Pays More for H.K. Land Than Forecast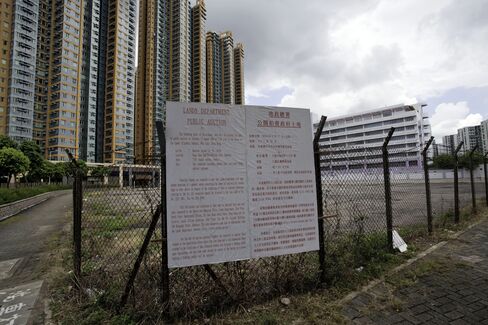 Li Ka-shing, Hong Kong's richest man, signaled his confidence in the real-estate market by paying more than estimated for two sites, four days after the government tightened loan rules to prevent a possible bubble.
Cheung Kong (Holdings) Ltd., controlled by Li, bought a property in the Ho Man Tin district for HK$4.1 billion ($530 million) and a plot in Hung Hom for HK$3.51 billion at a government auction yesterday. Both sites fetched more than the highest forecasts in a Bloomberg survey of seven analysts.
The auction followed the government's Aug. 13 announcement that it raised down-payment ratios and would increase land supply to curb a 45 percent jump in housing prices since the start of 2009. Li said earlier this month he was optimistic about the global economy and his companies' prospects, and will buy shares of Hutchison Whampoa Ltd. and Cheung Kong after they reported earnings that exceeded analysts' estimates.
"The prices reached show that the developer has a very high level of confidence in the residential market, particularly in sites in urban areas," said Buggle Lau, chief analyst at Midland Holdings Ltd., Hong Kong's biggest publicly traded real estate broker.
Cheung Kong advanced 0.1 percent at the 4 p.m. close of trading in Hong Kong after rising as much as 1.7 percent. Sun Hung Kai Properties Ltd. rose 0.5 percent. The Hang Seng Property Index rose as much as 1.4 percent before closing 0.3 percent lower.
Lowered Expectations
Cheung Kong last bought land from a government auction in November 2006, when the company and Sino Land Co. together paid HK$5.18 billion for a site in the Ma On Shan section of the Sha Tin district.
At least four of the analysts surveyed cut their forecasts after the Aug. 13 measures. Their estimates for the 394,000 square-foot (36,600 square-meter) Ho Man Tin site ranged from HK$3.55 billion to HK$3.94 billion, with a median estimate of HK$3.75 billion. The Hung Hom district plot with buildable area of 366,000 square feet was estimated to be sold for HK$2.2 billion to HK$2.9 billion, with a median of HK$2.5 billion.
The estimates didn't take into account the views both sites offer, Victor Li, the son of Li Ka-shing and deputy chairman of Cheung Kong, told reporters after the two-hour auction broadcast on local television.
"It's extremely dangerous to use what we paid for the sites as an indicator of where property prices are going," Victor Li said.
Sea View
About 90 percent of the apartments at the Ho Man Tin development will have a view of greenery, while about 90 percent of the Hung Hom apartments will offer either a "permanent" unobstructed sea view or views of the Central district, Victor Li said.
"The result of the Hung Hom parcel is really out of our expectation," said James Cheung, director at the surveyor unit of Centaline Property Agency Ltd., one of the city's biggest real-estate brokers. "It shows that the developer is really putting a high premium on the sea view."
Victor Li, 46, said after Cheung Kong's earnings Aug. 5 that he doesn't see a real estate bubble, while Li Ka-shing, 82, said Hong Kong property buyers will be all right if they are not overstretched.
The developer and Hutchison Whampoa had more than 40 million square feet (3.7 million square meters) in their land bank in the city, Victor Li said at the earnings briefing.
Li Ka-shing, who correctly forecast in 2007 that China's stock market bubble would burst, said after the earnings that investors "need to prepare for what happens when interest rates rise." Buyers shouldn't borrow more than 70 percent of a property's value, he said.
More Auctions
On Aug. 13, Hong Kong Monetary Authority Chief Executive Norman Chan announced an increase in down payments for apartments costing HK$12 million or more to 40 percent from 30 percent, effective immediately.
Cheung Kong will need to sell units at the Ho Man Tin site for at least HK$16,000 a square foot to generate profit, Midland's Lau said. That's about the same as current prices for luxury properties in the area, he said.
"The result may lead potential sellers in the area to raise their asking prices," said Centaline's Cheung. "Buyers will remain cautious, given what the government announced last week. There are still a lot of uncertainties, so under this imbalance we expect transactions to stay flat for a while."
The auction is the fifth by the government in the current financial year that started April 1. It will sell a residential plot in the Kowloon Tong district on Aug. 31.
Hung Hom, Fanling
The government will auction two residential sites in the Fanling and Chai Wan districts on Sept. 29, according to a statement on its website yesterday.
Hong Kong will offer sites for auction in the Chai Wan, Hung Hom and Fanling districts, and will work with MTR Corp. and the Urban Renewal Authority to increase land supply, Financial Secretary John Tsang said Aug. 13, in a bid to suppress what he called a "rare" gain in home prices. MTR is one of the biggest owners of unoccupied residential sites in Hong Kong.
Home values are approaching the level of 1997, the height of a bubble that was followed by a six-year slump, Tsang said.
Sun Hung Kai paid HK$10.9 billion for a residential site in Ho Man Tin on June 8. The price, which beat a Bloomberg News estimate by 30 percent, is the highest paid in a government auction in urban Hong Kong since the market last peaked.
Luxury homes in Hong Kong are classified as having space of at least 1,000 square feet or costing at least HK$10 million.