Pactiv Agrees to $4.5 Billion Takeover by Rank Group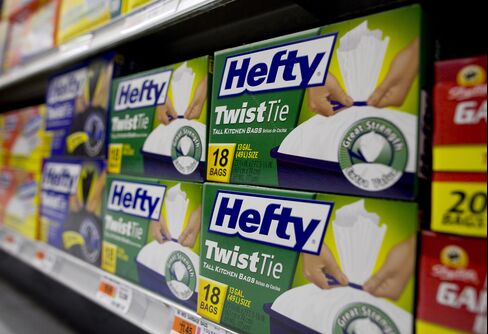 Pactiv Corp., the maker of Hefty trash bags, agreed to be bought by Rank Group Ltd. for about $4.5 billion, helping the New Zealand packaging company expand in takeout-food containers and cutlery.
The per-share price is $33.25, 39 percent more than the $23.97 close on May 14, before talks were disclosed. Rank Group will assume about $1.5 billion in debt, valuing the transaction at about $6 billion, Pactiv spokesman Matthew Gonring said in a telephone interview.
The acquisition is the biggest deal for Rank Group's owner and New Zealand's richest man, Graeme Hart, a former tow-truck driver who amassed a fortune investing in businesses from lumber to dairy and built a global packaging empire through takeovers. His holdings include the world's second-biggest drink-carton company and the maker of Reynolds Wrap foil.
"Volume plays a very important part in packaging," said Joe Leong, a Melbourne-based food and packaging analyst at BIS Shrapnel, a provider of industry reports and forecasts. "Plastic packaging is a very technology-driven, capital-driven industry. You need to have the production capacity."
Pactiv, based in Lake Forest, Illinois, rose $1.66, or 5.4 percent, to $32.58 at 4:01 p.m. in New York Stock Exchange composite trading. The shares have gained 35 percent this year.
'Reasonable' Price
Apollo Global Management LLC and Koch Industries Inc. also had expressed interest in Pactiv, according to people familiar with the matter.
"The price looks reasonable," Claudia Shank Hueston, an analyst with J.P. Morgan Securities Inc., said in a note today. "The quality of the bid, the secured financing and what appears to have been a fairly long vetting process will likely keep opposing bids at bay." The New York-based analyst, who rates Pactiv "overweight," anticipated an offer of $28 to $36 a share.
The financing includes equity from Rank Group and unit Reynolds Group Holdings Ltd., as well as debt financing from Credit Suisse, HSBC and Australia New Zealand Bank.
"Pactiv is an outstanding company," Hart said today in a statement. "It is a clear leader in its markets as a result of its broad product line and unique distribution system."
Hart's purchases over the past decade include $2.5 billion for Swiss drink-carton maker SIG Holding AG and $2.7 billion for Alcoa Inc.'s packaging business.
Hart's Moves
Hart last year combined some of his acquisitions into a new corporate entity, Reynolds Group Holdings Ltd., with 2.8 billion euros ($3.6 billion) in sales in 2009. New Zealand's National Business Review calls him the country's richest man, with an estimated NZ$5.5 billion ($3.9 billion).
Pactiv, led by Chief Executive Officer Richard Wambold, pulled in $3.4 billion in sales last year. Revenue fell 6.2 percent in 2009 as consumers spent less during the economic decline.
While sales have since increased for two straight quarters, Wambold aims to boost support for sales of Pactiv's Hefty trash bags in the current period to make up for lost volume in the previous one, he said last month.
"While others in the industry were struggling, Pactiv had a healthy balance sheet and was able to innovate and redeploy their cash," said Christopher Manuel, an analyst with KeyBanc Capital Markets in Cleveland.
Pension Liability
Before the announcement, Manuel estimated the company would fetch $35 to $40 a share as a takeover candidate. Afterward he deemed the purchase price "reasonable" because of Pactiv's unfunded pension liability, which he valued at about $1.70 a share. Pactiv listed its pension liability as $629 million as of June 30 in a regulatory filing.
Pactiv has been an independent company since it spun off from Tenneco Inc. in 1999. It's been in discussions with potential buyers for several months, according to people with knowledge of the talks.
Credit Suisse acted as lead financial adviser to Pactiv for the transaction, while Perella Weinberg Partners LP served as an independent financial adviser to the Pactiv board. Skadden Arps Slate Meagher and Flom LLP is providing legal counsel to Pactiv.
Before it's here, it's on the Bloomberg Terminal.
LEARN MORE