CSL Forecasts Profit Drop as Swine Flu Pandemic Ends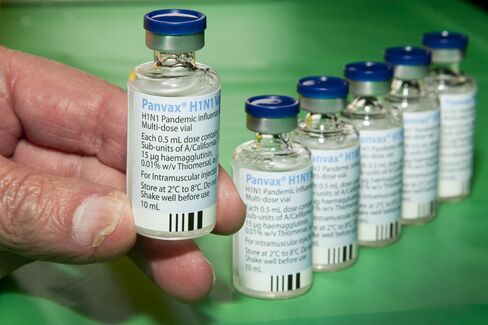 CSL Ltd., the world's second-biggest maker of treatments derived from blood, said full-year profit will decline as much as 6.9 percent as the end of the swine flu pandemic cuts vaccine sales.
Net income will fall to between A$980 million ($884 million) and A$1.03 billion in the year ending June 30, from the A$1.05 billion that Melbourne-based CSL reported today. Excluding last year's swine flu vaccine earnings, profit will rise 10 percent, CSL said. The forecasts are based on last year's exchange rates.
CSL shares fell the most in more than a month, reflecting investor concern that the stronger Australian dollar will cut earnings, said Andrew Goodsall, a health-care analyst at UBS AG in Sydney. Still, revenue at CSL's plasma business, which contributed almost 80 percent of sales last year, rose even as prices remained flat, suggesting CSL gained market share.
"The underlying plasma business is really pretty solid," Goodsall said in a telephone interview. Investors aren't recognizing the growth prospects for the plasma business because they're focusing on the past impact of foreign exchange, he said.
CSL fell 2.7 percent to AS$31.90 in Sydney trading, the most since July 15. The benchmark S&P/ASX 200 Index slipped 0.1 percent.
Blood-plasma product makers including CSL, market leader Baxter International Inc. of Deerfield, Illinois, and Research Triangle Park, North Carolina-based Talecris Biotherapeutics Holdings Corp. use the watery liquid in which blood cells are suspended to create treatments for immune deficiency disorders, hemophilia, wounds and burns.
Baxter, Talecris
"Baxter's growth has diminished, as has Talecris's and others," said Shane Storey, a health-care analyst at Wilson HTM Investment Group in Brisbane. "So by difference you conclude that CSL has probably gained."
Sales at CSL's Behring plasma unit will rise in the "high single digits" this year as the Privigen treatment becomes its biggest-selling product, Chief Executive Officer Brian McNamee told reporters on a conference call.
CSL is also benefiting from sales of Hizentra, the only approved plasma treatment that patients can inject at home instead of going to the hospital for an intravenous transfusion, McNamee said.
Net income in the 12 months ended June 30 dropped 8.1 percent to A$1.05 billion, missing the A$1.07 billion average of seven analyst estimates compiled by Bloomberg in the past four weeks. Full-year sales fell 3.6 percent to A$4.46 billion, including A$235 million from vaccines for swine flu. The World Health Organization declared the swine flu pandemic over on Aug. 10 as the spread of the H1N1 virus eased.
Forex Impact
CSL, which generated more than 85 percent of sales in foreign currencies, said the stronger Australian dollar wiped A$187 million from last year's net profit. For this fiscal year, every 1 percent gain in the Australian currency against the U.S. dollar will subtract A$1.9 million from profit, and a 1 percent advance versus the euro will cut A$3.9 million, the company said.
CSL said it will buy back as much as A$900 million of its own stock, adding to a A$1.8 billion repurchase program completed in April. The company will pay a final dividend of 45 Australian cents a share, taking the year's total to 80 cents.
Before it's here, it's on the Bloomberg Terminal.
LEARN MORE