Huaneng Said to Buy InterGen Stake for $1.2 Billion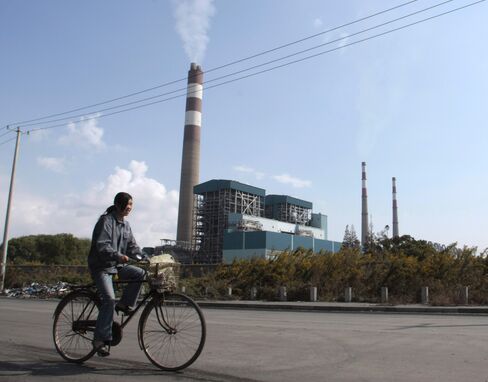 China Huaneng Group, the nation's biggest electricity producer, agreed to buy a 50 percent stake in Massachusetts-based power utility InterGen for about $1.2 billion, said two people with knowledge of the matter.
The state-owned Chinese company would also assume about $2 billion of debt to acquire the 50 percent interest owned by India's GMR Infrastructure Ltd., said the people, who asked not to be identified because the transaction isn't yet public. The deal may be announced as soon as Nov. 29, the people said.
Huaneng would gain access to 12 power plants in the U.K., Netherlands, Mexico, Australia and the Philippines with what would be its biggest overseas acquisition in two years. The Beijing-based utility bought Singapore's Tuas Power Ltd. for $3.1 billion in 2008 as China's government encourages companies to invest abroad.
GMR Infrastructure, based in Bangalore, bought its share of InterGen for $1.1 billion from a fund owned by American International Group Inc. in 2008. The rest of InterGen is owned by Ontario Teachers' Pension Plan.
Huaneng is considering buying the remaining stake from Ontario Teachers, but no agreement has been reached, the people said. GMR's stake would likely fetch a higher price because it includes the right to manage the business and other powers, one of the people said.
Huaneng Power International Inc., the company's Hong Kong- traded unit, rose 0.7 percent to HK$4.21. The stock has dropped 4.1 percent this year. GMR Infrastructure fell 5.9 percent to 43.8 rupees in Mumbai.
Power Plants
Corbie Kiernan, a spokeswoman for Burlington, Massachusetts-based InterGen, declined to comment. A GMR official didn't immediately answer calls to his mobile phone after normal business hours. A call to Huaneng's offices in Beijing after hours wasn't answered.
Established in 1985, China Huaneng produces more than 10 percent of the country's electricity, according to the company's website. The utility operates 154 power plants in 27 Chinese provinces and in Singapore, with a combined installed capacity of 104.38 gigawatts, or about 12 percent of China's total.