Blagojevich Prosecutors to Retry After One Conviction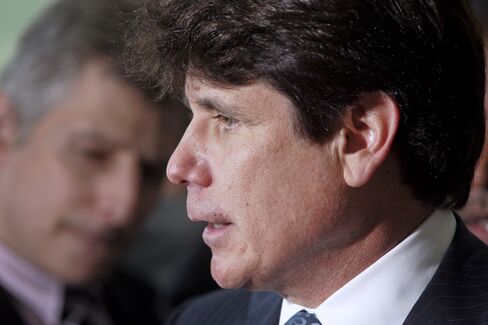 U.S. prosecutors vowed to retry former Illinois Governor Rod Blagojevich after failing to win a conviction on 23 of the 24 corruption charges he faced.
Blagojevich, a 53-year-old Democrat, was accused of linking official acts, including selecting President Barack Obama's Senate successor, to campaign contributions and personal favors.
A jury in federal court in Chicago yesterday found him guilty only of making a false statement to federal investigators. The jurors failed to reach the necessary unanimous decision on the other charges. U.S. District Judge James Zagel declared a mistrial on those counts.
Assistant U.S. Attorney Reid Schar told the judge "it is absolutely our intention" to retry those counts, which include racketeering and wire fraud.
"We have to show respect and gratitude for the jury's service," Chicago U.S. Attorney Patrick J. Fitzgerald said yesterday after the verdict. "They could not agree that we had proven or not proven" the remaining counts, he said.
The false-statement charge carries a maximum penalty of five years in prison and a fine of $250,000. Blagojevich was facing as long as 20 years. Zagel asked the parties to return to his courtroom on Aug. 26 to propose a retrial date. Blagojevich remains free on bail.
'A Little Surprised'
The next trial may resemble this one if the prosecution learns that most jurors wanted to convict on the other counts, Jeffrey Cramer, a former federal prosecutor, said in a telephone interview yesterday.
"I'm a little surprised there were no 'not guilties,'" said Cramer, who helped win the fraud conviction of former Hollinger International Inc. Chairman Conrad Black in 2007. Cramer is now managing director of the Chicago office of risk consulting company Kroll Inc.
A juror told the New York Times that the group was split 11-1 in favor of convicting Blagojevich on charges he tried to sell or trade the Senate seat, but was divided differently on other counts. "We were all over the place," Erik Sarnello, 21, told the Times.
The panel of six men and six women deliberated for 14 days. It found that Blagojevich had made a false statement when he told the Federal Bureau of Investigation that he didn't track or want to know who made contributions to his election campaign.
'Threw Everything'
"The government threw everything but the kitchen sink at me," Blagojevich said after the verdict. "On every count except for one and every charge except for one, they could not prove that I did anything wrong." He called the false statements charge "nebulous" and denied lying to the FBI.
"Neither side walks away particularly happy," said Richard Kling, a professor at Chicago-Kent College of Law who followed the trial.
Kling, a former public defender in Cook County, Illinois, said he wasn't surprised prosecutors quickly committed to a retrial, given the outcome.
"It would have been a greater failure if they had come back with a not guilty as opposed to a hung verdict," he said.
Prosecutors rested their case July 13, after about five weeks of testimony. Prosecution witnesses who testified that Blagojevich connected fundraising to his agenda included two of his former chiefs of staff, Alonzo "Lon" Monk and John Harris.
'Worth It?'
"For 18 months we heard this was a crime spree," defense attorney Sam Adam Jr. told reporters after the verdict, referencing comments made by Fitzgerald immediately after Blagojevich was arrested in December 2008. "Twelve men and women did their duty and said, 'You know what, the government, whatever you want to say, could not prove it beyond a reasonable doubt.'"
Adam and his father, who was also part of the defense team, criticized the government for contemplating a retrial. "Is this worth it?," Adam Jr. asked.
Fitzgerald spokesman Randall Samborn declined to comment on the Adams' remarks.
Jurors failed to reach a verdict on any of the four counts against Robert Blagojevich, the former governor's brother.
"If in fact charges are brought back against me, we are prepared to defend those as vigorously and aggressively as we did already," Robert Blagojevich told reporters yesterday. "I feel bad for my brother," he said.
Rod Blagojevich is the fourth former Illinois governor to be convicted of a white-collar crime in the past forty years.
Otto Kerner Jr., a Democrat who led the state in the 1960s, was convicted in 1973 of taking bribes. Dan Walker, also a Democrat, was convicted in the savings-and-loan scandals of the 1980s, after he left office. Republican George Ryan, whom Blagojevich succeeded as governor, was sent to federal prison for trading state contracts for gifts and cash.
The case is U.S. v. Blagojevich, 08-cr-00888, U.S. District Court, Northern District of Illinois (Chicago).
Before it's here, it's on the Bloomberg Terminal.
LEARN MORE