Baseball Caravan to U.S. Diamonds Helps Mizuno Hit Against Nike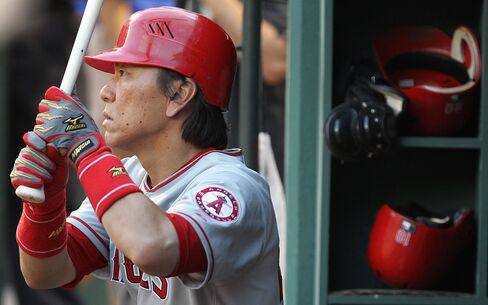 Mizuno Corp., the Japanese maker of baseball gloves and bats for major league stars Ichiro Suzuki and Hideki Matsui, is on a summer road trip to win a better position on U.S. baseball and softball diamonds.
The company has deployed a caravan of royal blue-and-white vans bringing gear and glovemakers to stadiums, amateur fields and sporting-goods stores in California, Ohio, Indiana and Kentucky as it tries to boost its sales in the $1.8 billion diamond-sports retail market by 33 percent within five years.
Mizuno is fighting Nike Inc., Rawlings Sporting Goods Co. and Spalding for shelf space after the Osaka-based company's baseball sales in the U.S. peaked at $75 million in 2008 -- almost doubling from 2000. The company aims for sales of $100 million by 2015, and it pulled out of Europe and Latin America to funnel resources into that effort, said Hideki Tsuruoka, director of its baseball division.
"The company who rules the U.S. market can rule world markets," said Tsuruoka, who played baseball at the University of Washington in Washington state. "We will fight with gloves and spikes."
Mizuno ranked No. 6 in the U.S. baseball and softball retail market last year with an 8.2 percent share, according to data compiled by SportsONESource LLC of Charlotte, North Carolina. Easton-Bell Sports Inc. led with 22 percent, followed by Rawlings, Wilson Sporting Goods Co. and Nike, the world's largest athletic-shoe maker.
Players Decreasing
Mizuno's overall sales dropped to 148.7 billion yen ($1.74 billion) in the fiscal year that ended March 30, down from 162 billion yen a year earlier, as demand for golf products declined and shoe prices fell. The company, which also makes running shoes, skiing and tennis equipment, had net income of 1.6 billion yen.
Mizuno is making its baseball push as the number of U.S. players declined 13 percent to 13.8 million last year from 15.8 million in 2000, according to data from the Sporting Goods Manufacturers Association. The company is willing to accept narrower profit margins because baseball is the "flesh and blood of our business," Tsuruoka said.
The field also is getting more crowded. Spalding, based in Bowling Green, Kentucky, is returning to the market after a 10-year absence.
All-Star MVP
"Baseball is kind of a no-brainer with our heritage," said Dave Coradini, senior director of diamond sports for Spalding, founded in 1876 and now a division of Atlanta-based Russell Corp. "Mizuno and Rawlings are certainly the two strongest in terms of entire baseball-equipment brands. Now we are going to compete against them."
Russell was acquired in 2006 by Warren Buffett's Berkshire Hathaway Inc.
Rawlings, owned by Jarden Corp. of Rye, New York, makes the official baseball for Major League Baseball and is endorsed by Derek Jeter of the New York Yankees. Jarden had revenue of $5.15 billion in 2009, down from $5.38 billion a year earlier.
Mizuno's efforts in the U.S. also rely on its MLB ties, Tsuruoka said. About 170 players -- including Suzuki of the Seattle Mariners, Matsui of the Los Angeles Angels and last month's All-Star Game Most Valuable Player Brian McCann of the Atlanta Braves -- have contracts to use Mizuno gear.
"We must make better use of 51 and 55 to penetrate our targets," Tsuruoka said, referring to the uniform numbers of Suzuki and Matsui, respectively.
Those players, stars in Japan's Nippon Professional Baseball league before moving to the U.S., appear in Mizuno advertisements. The company controls about 40 percent of the Japanese market, which the Yano Research Institute Ltd. in Tokyo said will be worth an estimated 78.2 billion yen this year.
Former Yankee
"I've been using Mizuno since my childhood because of its quality," Matsui, a former Yankee, said in an e-mail. "Some of my teammates have come up to me and said, 'I want to try that' or 'I want to borrow that.'"
Mizuno started in 1906 selling sundries, including baseballs, from an Osaka storefront. It moved into the U.S. market in 1969 and launched its first caravan nine years later.
Recreational vehicles carrying equipment and glovemakers traveled to every MLB team to pitch their wares and repair gloves and cleats, Tsuruoka said. The first major leaguers to wear Mizuno mitts included Pete Rose and Bobby Valentine.
"It was very difficult for a foreign company to enter the baseball world," said Valentine, who managed the Texas Rangers, New York Mets and Japan's Chiba Lotte Marines. "The craftsmanship was so spectacular and all of the details were made to perfection. Many players appreciated that."
Mitt Steamers
The company has increased its number of field representatives, who work with schools and baseball leagues, to 11 from two and will install glove steamers at U.S. shops to help customers break in their mitts. It installed about 500 steamers in Japan since 2000, said Noriko Ueda, Mizuno's spokeswoman.
Mizuno USA also has a new marketing plan for its website and social networking sites that will start in the fourth quarter of this year and extend into next year, Bram Krieger, vice president of sales for diamond sports, said in an e-mail.
"There's a huge amount of respect now for Japanese baseball among American sports fans," Jim Small, MLB's vice president for Asia, said in Tokyo. "People are saying, 'Hey, look at that guy. He's cool, he's using Mizuno.'"
Before it's here, it's on the Bloomberg Terminal.
LEARN MORE