BOJ's First Female Chief Says Women Being Held Back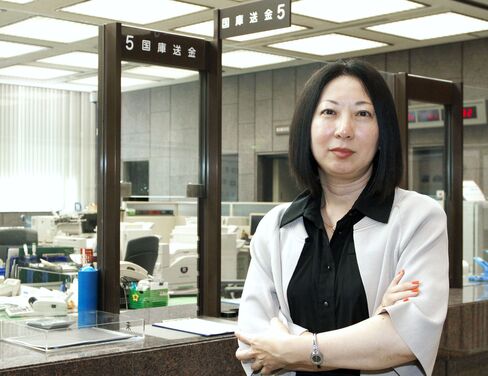 Tokiko Shimizu, the Bank of Japan's first female branch chief, says the country's tendency to shield women from responsibility is what's holding many back. At 45, the youngest among 32 regional heads, she is bucking the trend.
Shimizu, who last month became head of the central bank's Takamatsu branch on the western island of Shikoku, said male managers in Japan being "soft" on female subordinates has restricted their career growth.
"I doubt managers are treating female and male subordinates in strictly the same way, giving them the same tasks and developing them," she said in an Aug. 13 interview in Takamatsu. "If a woman is denied experience with important duties, later on she'll be told she's not fit to be a manager."
Fewer Japanese women are in the labor market than their South Korean, American and Chinese counterparts, even as a shrinking workforce and aging population risks lowering the country's economic output and increasing the social-welfare burden. More women are starting to take policy-making roles in Japan, though it's a slow process, economist Naomi Fink said.
"If principles of meritocracy were embraced, you shouldn't get any skews in demographics, male or female," said Fink, a Tokyo-based strategist at Bank of Tokyo-Mitsubishi UFJ Ltd. "Maybe something is changing, but it's coming in fits and starts."
Worked With Shirakawa
Born and raised in Tokyo, Shimizu joined the central bank after graduating with a degree in urban engineering from Tokyo University. She was European deputy chief representative at the BOJ's London branch, led a team that analyzed risk and option pricing, and worked with Masaaki Shirakawa, now governor, on enhancing the liquidity of government bonds.
Branch managers are in charge of overseeing economies in their regions and don't sit on the monetary policy board, which sets interest-rate policy.
In 2008, 49 percent of Japanese women aged 15 and older were part of the workforce, lower than South Korea's 55 percent, the U.S.'s 60 percent and China's 68 percent, according to World Bank data. Japan has barely made progress since 1980, when the female participation rate was 48 percent, while the U.S. ratio increased by 8 percentage points over the same period.
Shimizu said a diverse society with various values and lifestyles would encourage women, immigrants, and small to midsized business, as well as invigorate local economies. Almost 23 percent of Japan's 126 million people will be older than 65 this year, putting an extra load on workers and the economy.
Start 'Small'
"If you want to improve the Japanese economy you have to start with small companies and regional household spending," she said. "If you bring the cost of raising a family down and make the environment more livable, birthrates will rise and young people from within the country and from overseas will come to the provinces."
Shikoku, the smallest of Japan's four main islands, relies on heavy industries such as shipbuilding and metalworking, according to Yasumichi Yamaji, secretary-general at the Kagawa Economic Research Institute. Mitsubishi Materials Corp., Japan's third-largest copper producer, has a smelting factory in the region.
"The pace of recovery here is not like the rest of the country," said Shimizu, referring to Kagawa and neighboring Tokushima Prefecture which she oversees. "No matter how much China buys cars or consumer electronics, it isn't really linked to manufacturing here," she said, adding that "domestic industries need to breathe life back into the region."
Biggest Savers
Kagawa's residents are also the nation's biggest savers, with an average of 16.6 million yen ($194,000) per household in 2007. Together with Tokushima, the two prefectures had a combined economic output of 6.3 trillion yen in 2008, or about 1.2 percent of Japan's gross domestic product, according to the most recent prefectural statistics.
Shimizu, who finishes work at 6 p.m., plays golf on weekends, and recently participated in a local traditional dance festival, isn't the only woman in a top role at the central bank. Miyako Suda, 62, has served on the Bank of Japan's policy board for nine years, making her the most experienced member.
"Organizations must consider how diversity can ease confrontation between the genders," Shimizu said. "If you ask me if it's easy for women to work at the Bank of Japan, I'd say yes," she said. "I'm no superwoman, but it's still hard for women to rise to positions of responsibility in Japan."
Before it's here, it's on the Bloomberg Terminal.
LEARN MORE