Argentine Peso to Stem Drop as JPMorgan Pares Outlook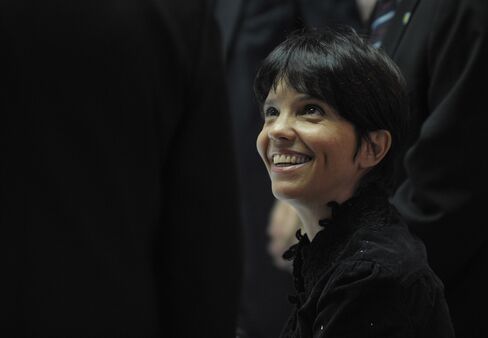 Economists are paring forecasts for declines in the Argentine peso, pushing the median year-end estimate to the strongest in five months, on speculation policy makers will limit losses to rein in inflation.
The peso will fall 5.7 percent to 4.17 per dollar by the end of the year, according to the median estimate of 13 economists in a Bloomberg survey. The consensus forecast is stronger than the previous 4.2 per dollar prediction after Barclays changed its estimate to 4.13 from 4.3 and JPMorgan Chase & Co. revised its outlook to 4.10 from 4.25.
Accelerating growth in South America's second-largest economy and rising commodity prices pushed inflation to 11.2 percent in July, the highest in four years, according to the National Statistics Institute. The peso has weakened 3.4 percent this year as the central bank's dollar purchases pushed reserves to a record $51 billion last month.
"The government is currently prioritizing the role of the currency as an anchor for inflation expectations over its role of maintaining high competitiveness," said Vladimir Werning, a JPMorgan economist, in a telephone interview from New York.
The peso's decline this year makes it the worst performer among six major Latin American currencies tracked by Bloomberg. The Brazilian real dropped 0.6 percent in the same period, while the Colombian peso has rallied 13 percent.
Brazil Trade
Argentine trade with Brazil, South America's largest economy, may help stem the peso's decline, said Douglas Smith, chief economist for the Americas for Standard Chartered Bank in New York. Brazilian Trade Secretary Welber Barral said on Aug. 12 that trade with Argentina may rise to a record this year.
"They're both big trade partners," said Smith in an interview. "As the real strengthens, the peso gains competitiveness, so that gives the peso a boost without the government weakening the currency."
Economists and government officials including Vice President Julio Cobos have questioned the accuracy of the inflation data, saying officials have underreported price increases since January 2007, when former President Nestor Kirchner made personnel changes at the statistics agency.
Inflation Estimate
Annual inflation in the nation is likely running at about 25 percent, former Undersecretary of Finance Miguel Kiguel said at a seminar in Buenos Aires on Aug. 12.
Argentina's money supply, as measured by the M2 gauge that includes cash in circulation and deposits in savings and money market accounts, rose 23.8 percent in July from a year earlier to 217.8 billion pesos ($55.4 billion), exceeding a target of 214.4 billion pesos, the central bank said in a monthly report released Aug. 12. Policy makers target M2 instead of using a benchmark lending rate to control inflation.
Foreign exchange reserves climbed 3.5 percent from June 30 to end of July, as the central bank bought dollars after a record 55 million-ton soybean harvest swelled exports.
"The accumulation of international reserves is a pillar of the Argentine macroeconomic model," central bank President Mercedes Marco del Pont said in a July 15 statement.
The extra yield investors demand to hold Argentine dollar bonds instead of U.S. Treasuries fell 21 basis points, or 0.21 percentage point, to 669 today, according to JPMorgan. The difference is down from 846 on July 1.
Dollar Bond Yields
The cost of protecting Argentine debt against non-payment for five years with credit-default swaps fell 22 basis points to 817, according to data compiled by CMA DataVision. Credit-default swaps pay the buyer face value in exchange for the underlying securities or the cash equivalent should a government or company fail to adhere to debt agreements.
Yields on Argentina's benchmark dollar bonds due in 2015 climbed 37 basis points to 11.02 percent today. Warrants linked to economic growth rose 0.11 cent to 10.01 cents on the dollar. GDP will expand 9.7 percent in 2010, the fastest pace since 1992, according to a forecast from Morgan Stanley.
President Cristina Fernandez de Kirchner completed a restructuring of $12.9 billion worth of defaulted debt in June, opening the way for the country to tap international markets for the first time since the government's record $95 billion default in 2001.
"It's not just the trade surplus, but the overall balance of payments surplus that remains supportive of the peso," said Werning. "Capital outflows have moderated in the second quarter and are likely to moderate further as the settlement of the debt swap and global conditions provide a positive backdrop for foreign inflows into Argentine bonds."