Heston Blumenthal Sets Date, Prices for London Venue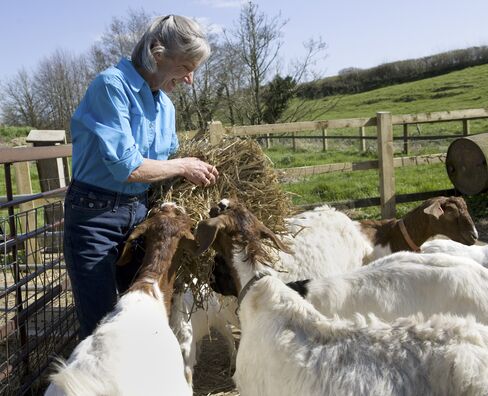 The Fat Duck chef will open his London restaurant, Dinner by Heston Blumenthal, at the Mandarin Oriental on Dec. 1, serving dishes such as scallops with cucumber ketchup and peas; and slow-cooked short rib of beef.
The three-course set lunch will cost 25 pounds ($39) and the three-course a la carte dinner 55 pounds, the hotel said today. Booking for the contemporary British restaurant will open on Oct. 15, when the reservations line will be +44-20-7201-3833. This will be the chef's first London restaurant. The executive chef will be Ashley Palmer-Watts, formerly of the Fat Duck.
The word "Dinner" signifies the main meal of the day, we're assured. In that case, I shall look forward to lunch tonight.
Raymond Blanc, Alain Roux and other leading chefs from around the U.K. will cook in London for one day only on Oct. 10 in a program of collaborations created for the London Restaurant Festival. Roux will be in the kitchen at Hibiscus with Claude Bosi, while Blanc will work alongside his protege and friend Bruno Loubet at Bistrot Bruno Loubet.
The catch is that American Express is sponsoring and you need a card-carrying chum to make the booking if you are not a member. The other visiting chefs are Sat Bains (Sat Bains), Tom Kerridge (Hand & Flowers), Michael Smith (Three Chimneys), Simon Rogan (L'Enclume), Mitch Tonks (Seahorse), Shaun Hill (Walnut Tree), Steven Smith (Freemasons Country Inn) and Chris Meredith (Punch Bowl.) Information: http://bit.ly/cAtibd.
Hakkasan plans to open a second London branch in mid-November, on Bruton Street. Hakkasan Mayfair will feature a 145- seat restaurant in the basement and a 75-seat lounge and bar at street level.
Goat will go on sale at Harrods for the first time next month as chefs including Valentine Warner champion the meat for its big flavor, high protein and low cholesterol. The department store said goat is popular at New York restaurants such as Scarpetta and Convivio and has been slow to catch on in the U.K. The meat is sourced from Gourmet Goats, Stoke Mill Farm, Dorset.
The Southbank Centre will be the venue for the first Real Food Harvest Festival from Sept. 23-26, celebrating the abundance of U.K. autumnal produce. The organizers say they hope their lineup of chefs, livestock and entertainment may attract 50,000 people.
Pouring Champagne down the side of an angled glass is the best way to preserve its fizz and taste, according to French scientists. Gerard Liger-Belair and his team at the University of Reims also found that cooler temperatures help reduce the carbon-dioxide loss that results in flatter, less flavorful Champagne, according to findings published in the Journal of Agricultural and Food Chemistry.
Book online at Le Caprice for lunch on any Saturday, or brunch or a la carte dinner on any Sunday before Oct. 3 and you get a free glass of Gaston Chiquet Champagne or Bucks Fizz.
It's never too early for cocktails, so you may care to put London Cocktail Week (Oct. 11-17) in your diary. There are tastings, talks and parties as well as the inevitable pop-up, in this case a venue to be called the Reserve Bar at Selfridges.
J. Sheekey will create a one-day pop-up restaurant in Edinburgh on Aug. 29 at Ondine. The London seafood establishment's head chef, Edinburgh-born Richard Kirkwood, has created a special menu for lunch and dinner and will travel up to Scotland with colleagues.
If you are in London's Soho any daytime, it's worth looking out for a young guy in a pork-pie hat selling coffee from the back of a van. He's Brewed Boy and usually can be found at a pitch on Rupert Street, serving great espresso when not reading intellectual tomes and listening to cool music. He says he leaves when the pimps and dealers come out. That's about 4 p.m.
The Experimental Food Society will hold an event on Brick Lane next month where gourmets can feast their eyes on culinary installations during the day, then consume them at a banquet in the evening. Jelly makers Bompas & Parr will be among those taking part at the Brickhouse on Sept. 25. Tickets cost 5 pounds for the daytime exhibition and 75 pounds for dinner from http://www.experimentalfoodsociety.com/.
If you fancy combining a play, a picnic and a hotel stay, your luck may be in. The Doyle Collection is offering such a package, including Alan Bennett's "The Habit of Love" at the National Theatre and a night at the Marylebone, the Bloomsbury or the Kensington hotel on Aug. 27. Prices start at 243 pounds for two people. For information: http://bit.ly/bxsXs4.
(Richard Vines is the chief food critic for Muse, the arts and leisure section of Bloomberg News. Opinions expressed are his own.)
Before it's here, it's on the Bloomberg Terminal.
LEARN MORE