Pactiv Said to Be in Talks to Be Bought by Rank Group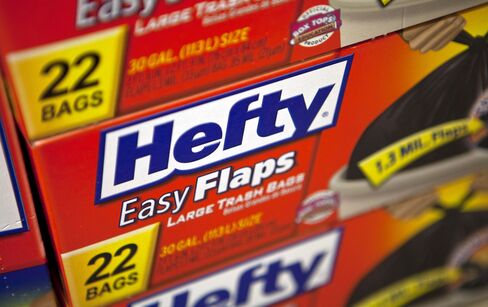 Pactiv Corp., the maker of Hefty trash bags, is in advanced talks to be bought by New Zealand's Rank Group Ltd., according to two people with knowledge of the matter. The stock rose in after-hours trading.
A deal may be reached as soon as this week, said the people, who declined to be identified because the discussions are private. Apollo Global Management LLC and Koch Industries Inc. have also expressed interest in the company and may still be contenders if talks with Rank break down, the people said. The value of the transaction under discussion couldn't be determined.
An acquisition would be the biggest deal for Rank Group's owner and New Zealand's richest man, Graeme Hart, a former tow-truck driver who amassed a fortune investing in businesses from lumber to dairy and built a global packaging empire through takeovers. His holdings include the world's second-biggest drink-carton company and the maker of Reynolds Wrap foil.
"Volume plays a very important part in packaging," said Joe Leong, a Melbourne-based food and packaging analyst at BIS Shrapnel, a provider of industry reports and forecasts. "Plastic packaging is a very technology-driven, capital-driven industry. You need to have the production capacity."
Pactiv, based in Lake Forest, Illinois, closed at $30.92 a share in New York Stock Exchange composite trading yesterday, giving it a market value of $4.11 billion, or $5.61 billion including net debt. The stock rose 6.7 percent to $33 at 7:59 p.m. New York time.
SIG, Alcoa
Hart's purchases over the last decade include $2.5 billion for Swiss drink-carton maker SIG Holding AG and $2.7 billion for Alcoa Inc.'s packaging business.
Hart last year combined some of his acquisitions into a new corporate entity, Reynolds Group Holdings Ltd., with 2.8 billion euros ($3.6 billion) in sales in 2009. New Zealand's National Business Review calls him the country's richest man, with an estimated NZ$5.5 billion ($3.9 billion).
Pactiv, led by Chief Executive Officer Richard Wambold, makes items such as takeout-food containers, disposable cookware and garbage cans, pulling in $3.4 billion in sales last year.
Revenue fell 6.2 percent in 2009 as consumers spent less during the economic decline. While sales have since increased for two straight quarters, Wambold aims to increase support for sales of Pactiv's Hefty trash bags in the current period to make up for lost volume in the previous one, he said last month.
"While others in the industry were struggling, Pactiv had a healthy balance sheet and was able to innovate and redeploy their cash," said Christopher Manuel, an analyst with KeyBanc Capital Markets in Cleveland.
Sales Discussions
Manuel estimates the company should fetch $35 to $40 a share as a takeover candidate, valuing it at as much as $5.3 billion, based on the shares outstanding as of July 31.
Pactiv has been an independent company since it spun off from Tenneco Inc. in 1999. It's been in discussions with potential buyers for several months, said the people with knowledge of the talks.
Apollo, the private equity firm run by Leon Black, already owns the Evansville, Indiana-based Berry Plastics Corp. container company.
Apollo was informed in the past day it wasn't the lead bidder for Pactiv, said one of the people familiar with the talks. Apollo was concerned about the size of the equity payment it would have to make for the company, the person said.
Matthew Gonring, a Pactiv spokesman, declined to comment. Charles Zehren, an Apollo spokesman, didn't immediately return a call seeking comment. A phone message left with Rank Group wasn't immediately returned. Melissa Cohlmia, a communications official at Koch, didn't immediately return phone and e-mail messages seeking comment.
Before it's here, it's on the Bloomberg Terminal.
LEARN MORE