Obesity Rates Fall for White Girls, Not for Blacks or Indians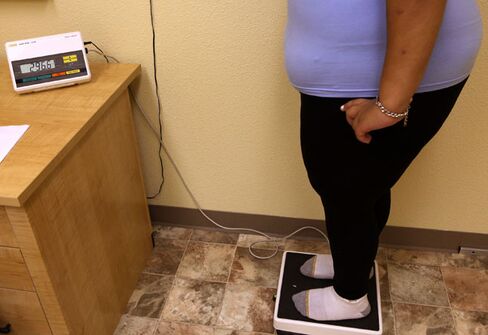 Obesity increased among black and American Indian girls in California even while declining for non-Hispanic whites, signaling flaws in U.S. programs aimed at combating fatness, researchers said.
The rate of obesity rose to 22 percent in 2008 for black girls, from 20 percent seven years earlier, while climbing for American Indian girls to 23 percent from 15 percent, according to a study published today in the journal Pediatrics. Those numbers moved up even after 2005, when the rate for non-Hispanic white girls fell by 0.6 percentage point, to 10 percent, the scientists said.
The finding suggests there will be greater disparities among racial and ethnic groups over time, and that anti-obesity programs must be tailored to high-risk populations, said researchers led by Kristine A. Madsen, an assistant professor of pediatrics at the University of California, San Francisco.
"Our study is a call to action," Madsen said in a telephone interview Aug. 12. "We're the first ones to show that the policies that we're putting in place to decrease obesity are not decreasing disparities. That's scary." Programs should target low-income communities specifically, since that is where obesity is increasing, she said.
Obesity is the second-biggest lifestyle-related cause of disease and death in the U.S., after smoking, according to the Centers for Disease Control and Prevention. The CDC, based in Atlanta, classifies obesity as an epidemic, one that persists even as companies such as London-based GlaxoSmithKline Plc offer pharmaceutical solutions and hospital networks such as HCA Inc. in Nashville, Tennessee, promote obesity surgeries.
Body Mass Index
The researchers examined data from the years 2001 to 2008 for 8.3 million fifth-, seventh-, and ninth-graders of both sexes, ages 8 to 17. Using data from mandatory school fitness assessments, researchers determined who was obese by calculating BMI, or body mass index, which is weight in kilograms divided by the square of the person's height in meters.
"Normal" index numbers are 18.5 to 24.9. Doctors generally deem patients to be "overweight" at an index figure of 25 to 29.9, and "obese" at 30 or higher. A 5-foot, 5-inch (1.65 meters) woman is considered overweight at 150 pounds (68 kilograms) and obese at 180. A 6-foot man is overweight at 184 pounds and obese at 221. For the research, patients were classified by how their BMI numbers compared with those of other people of similar sex and age.
Some 38 percent of all students included in the study were deemed overweight according to the methodology, including 20 percent who were obese and 3.6 percent considered "severely" obese, the scientists wrote.
Boys' Patterns
Black, Hispanic, and American Indian girls were two to three more three times as likely to be overweight as non-Hispanic white girls, the study showed. Boys' patterns were similar, "but with lesser disparities," according to the report.
"In a nation that is so well resourced and has such influence in the world, race and income shouldn't predict health differences," Madsen said.
First Lady Michelle Obama began a national "Let's Move" campaign in February aimed at "solving the challenge of childhood obesity within a generation so that children born today will reach adulthood at a healthy weight."
Soda Tax
The study was carried out at researchers at the University of California campuses in San Francisco and Berkeley, and at the University of Oklahoma in Oklahoma City. The authors recommended that the U.S. adopt a soda tax, since sugary drinks have been linked to obesity and since consumption is known to be higher in lower-income communities, Madsen said. School environments should also include more physical education and healthier food, she said.
"We would love to see our study in the hands of policy-makers at national, state and local levels who will improve push for a soda tax and will change school policies," Madsen said.
California minors account for 13 percent of the total U.S. population under 18 years old, according to the study.
The study was funded by the Robert Wood Johnson Foundation in Princeton, New Jersey; the Eunice Kennedy Shriver National Institute of Child Health & Human Development in Rockville, Maryland; and the American Heart Association in Dallas.
"Obesity reduction campaigns are not targeted enough at populations that are not mainstream, so the message is not specific to the culture, food, language, and exercise of American Indians and Alaska natives," said Rick Haverkate, director of public health at the National Indian Health Board, in Washington, in a telephone interview.
Indian Tribes
Among U.S. states, California has the highest number of different American Indian tribes, Haverkate said. Many live in rural areas where there isn't enough access to healthy foods and fitness equipment, he said. Low incomes also influence community members to opt for inexpensive foods that are high-calorie and high-fat, he said.
Some 21 percent of American Indian and Alaska native children were obese in 2008, which is higher than any other U.S. racial or ethnic group, according to the CDC. American Indian and Alaska natives represented 1.5 percent of the national population in 2000, according to the latest relevant census data.
"There's no one fix-it solution and a whole range of tribal, governmental and personal choices have to be made," Haverkate said.
Before it's here, it's on the Bloomberg Terminal.
LEARN MORE