Leaky Delhi Stadium Seen as Boon for GMR, Reliance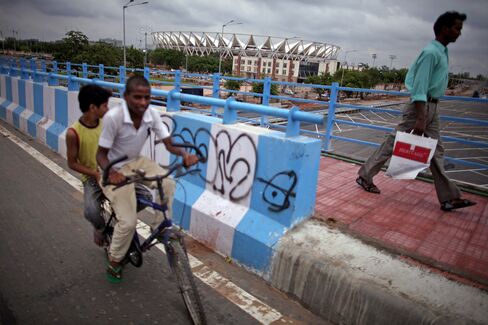 A day after the delayed opening of the weightlifting hall for New Delhi's Commonwealth Games, workers in white helmets climbed across its roof to fix leaks.
The stadium, built by the Central Public Works Department, and 16 other arenas were supposed to be ready by March. Prime Minister Manmohan Singh on Aug. 14 told organizers at an emergency meeting to finish all construction before the games' Oct. 3 start and ordered an investigation into the preparation for the event. By contrast, a new airport terminal, run by GMR Infrastructure Ltd., was built on time in March and started flights on July 28, Delhi International Airport Ltd. said.
Delhi's efforts to stage the 71-nation games for $7.9 billion contrast with the $70 billion makeover of Beijing for the 204-nation Olympics in 2008. While state control in China ensured the city was ready for rehearsals, Delhi's government-run efforts have been mired in delays, accusations of corruption and mismanagement. That could lead to a bigger share of India's $1 trillion planned infrastructure spending for private companies such as GMR and Reliance Infrastructure Ltd. that are on schedule, according to fund manager Viswanathan Vasudevan.
"The biggest learning for India is that the only way to execute major infrastructure projects is through public-private joint ventures," said Vasudevan, who helps manage $350 million in assets, including Indian stocks, at Aquarius Investment Advisors Pte in Singapore. "The experience from the games shows a clear path of how they should take it forward."
Accelerate Growth
The nation of 1.17 billion people has to improve infrastructure to accelerate economic growth, Singh has said. While the economy has expanded at an 8.5 percent clip in the last five years, poor transport and other facilities could cost 1.1 percentage points of growth, or $200 billion in fiscal 2017, McKinsey & Co. said in a report last year.
The nation's Planning Commission said India will need to spend $1 trillion on highways, ports, airports and utilities between April 2012 and March 2017, twice the amount it recommended in the previous five years. At least half the investment should come from private companies, compared with about 34 percent between April 1, 2007 and March 31, 2009, the commission said in March.
"If the government's budget situation is not that good, it will need to rely on private participation for funds," said Gernot Schrotter, who helps manage $319 million in Asian assets, including Indian stocks, at Erste Sparinvest KAP in Vienna. "If you look at the efficiency gains, it is very smart for India to go for the public-private partnership model."
Expanding Network
That would be a boon for construction companies like Bangalore-based GMR, Mumbai-based Larsen & Toubro Ltd. and Reliance Infrastructure that have gained experience and reputation on Delhi's projects.
For the Commonwealth Games, a contest that includes Britain and its former colonies and dependencies, the Indian capital added the airport terminal and is expanding the metro network, constructing an express rail link to the city center, restoring 46 monuments, and augmenting water and electricity supplies.
The airport building was ready in 37 months, faster than the 45 months Beijing took to complete its terminal ahead of the Olympics. Delhi airport is run by a venture consisting of Bangalore-based GMR, state-run Airports Authority of India Ltd., Frankfurt-based Fraport AG and Malaysia Airports Holdings Bhd.
A venture between billionaire Anil Ambani's Reliance Infrastructure and Spain's Construcciones y Auxiliar de Ferrocarriles SA will operate the 23 kilometer rail link, cutting travel time by at least a third to 19 minutes. State-run Delhi Metro Rail Corp. built the viaduct and tunnel for the link.
Next 10 Years
The 29 billion rupee ($620 million) project, due to start next month, will help Ambani's group bid for metros in India that may be worth 750 billion rupees in the next 10 years, said Krishna Maheshwari, director, Delhi Airport Metro Express Ltd.
"Considering the very nascent stage in India there is a huge opportunity," said Maheshwari. "This project will demonstrate the ability of Indian infrastructure companies to deliver iconic projects in a timely manner."
Billionaire G. Mallikarjuna Rao's GMR, in partnership with Malaysia Airports, won a contract in June to build and operate an airport in Male in the Maldives for 25 years.
"With the knowledge gained, the local companies will be able to pick new projects on their own," said Juergen Maier, who helps manage $1.3 billion of assets, including Indian stocks, at Raiffeisen Capital Management in Vienna. "It also puts them in a position to win projects overseas."
Airport Experience
Larsen, India's biggest engineering company, expects to use the know-how gained from the Delhi airport terminal for other ventures, said K.V. Rangaswami, president of construction.
"It is the largest project ever handled by us," he said. "It has enhanced our engineering design capability."
Larsen won the bid to build and operate the metro rail project in the southern city of Hyderabad, the state government of Andhra Pradesh said on Aug. 6.
Shares of Larsen rose as much as 1.3 percent in Mumbai trading before falling 0.2 percent to 1,773.55 rupees at the 3:30 p.m. close. GMR also gained 1.3 percent intraday before sliding 2 percent to 59.95 rupees. Reliance Infrastructure added 0.8 percent and then dropped 1.3 percent to 1,032.75 rupees. The stocks fell in line with the fall in the Bombay Stock Exchange's benchmark Sensitive Index, or Sensex, which rose 0.5 percent earlier and then declined 0.01 percent to 18048.85 at close.
Dug Up Sidewalks
In Delhi, with 47 days to go before the games sidewalks are still dug up and debris and construction material has spilled on to arterial roads, disrupting traffic.
State entities are building 39 training venues, 917 kilometers (570 miles) of lane resurfacing, 29 overpasses and 424 kilometers of street lighting, according to the ministry of youth affairs and sports.
Junior Sports Minister Pratik Prakashbapu Patil told parliament in December that 17 of the 18 venues would be completed by March, with the athletics stadium ready in June. One is still to be completed. The table tennis venue is expected to be ready by Aug. 18, Rahul Bhatnagar, joint secretary, ministry of youth affairs and sports, said yesterday.
The government's Central Vigilance Commission said the quality of some public works is poor after examining 15 projects including stadia, overpasses and street lighting.
'Financial Irregularities'
The Organising Committee suspended two top officials for alleged "financial irregularities," while a third resigned, the panel's spokesman Lalit Bhanot said on Aug. 5.
Prime Minister Singh told ministers and organizers on Aug. 14 there'd been "slippages in the time schedules of some of the construction works and deficiencies" in completed projects, according to the Press Information Bureau's website.
Singh directed ministers to investigate "all the complaints that have been received of procedural and other irregularities," and impose "severe" punishment on anyone found guilty, the official release said.
At the weightlifting venue, B.K. Chugh, the Central Public Works Department's director general of works, said the leaks were external and were being corrected.
"The finishing may not be very good," Delhi Chief Minister Sheila Dikshit told reporters on July 21. "But I can assure the government engineers and contractors are very careful about the stability of the structures."