Iran Law Mandates Uranium Work; New Plant Planned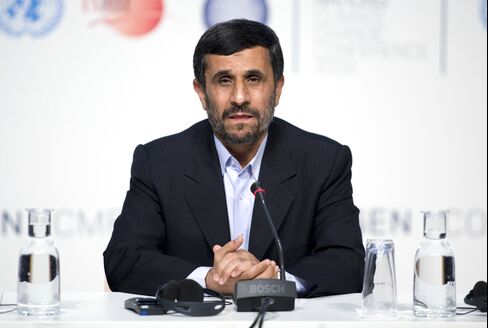 President Mahmoud Ahmadinejad announced the enactment of a law that obliges Iran to produce nuclear fuel for its Tehran medical-research reactor, on the day the country said it will build a new uranium-enrichment plant.
The Peaceful Nuclear Achievements Protection Law, passed by parliament July 18, bans Iranian officials from cooperating with the UN's International Atomic Energy Agency beyond the minimum standards of the global nuclear Non-Proliferation Treaty, the government said today on its information website. Iran has defied United Nations demands to cease uranium enrichment. Enriched uranium can be used to fuel a reactor or, at higher concentrations, to form the core of a bomb.
Iran has found locations for 10 uranium enrichment plants and will begin building the first new facility by around March, atomic chief Ali Akbar Salehi was cited today as saying on state television's website. Iran currently carries out enrichment at one site, at Natanz. A second plant is under construction at Qom, the IAEA said in May.
The Persian Gulf nation is under four sets of United Nations sanctions over its nuclear program, which the U.S. and many of its allies say may be aimed at creating a weapon. Iran, the second-largest oil producer in the Middle East, denies the allegation, saying it needs nuclear energy for civilian purposes, such as generating electricity.
The law also asks the government to retaliate for any inspection of Iranian cargo. The UN measures passed on June 9 include the authority to seize cargo suspected of being used for Iranian nuclear or missile programs. The latest sanctions also impose restrictions on financial transactions with Iran and tighten an arms embargo. The U.S. and the European Union last month followed the UN by stepping up nuclear sanctions of their own against Iran.
Before it's here, it's on the Bloomberg Terminal.
LEARN MORE