Heathrow Strike Called Off as BAA Makes 2% Pay Offer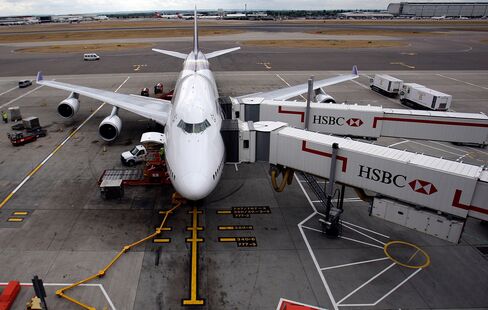 Aug. 17 (Bloomberg) -- Strike action at London Heathrow and five other U.K. airports was called off after BAA Ltd. offered a higher pay raise and a bonus for reaching financial targets.
BAA workers will get a 2 percent raise backdated to Jan. 1 and a payment of at least 500 pounds ($312 pounds) under a deal reached late yesterday at the U.K.'s state-funded Advisory, Conciliation and Arbitration Service. The Unite union will ask members to accept the offer when it's put to them in a ballot.
Firefighters, engineers and security staff at BAA airports granted Unite a strike mandate in a vote last week after the company offered a 1 percent wage increase. The union had said employees were due a bigger raise after last year agreeing to a pay freeze as demand for air travel fell during the recession.
"We are pleased with the outcome," Brendan Gold, Unite's national secretary for civil aviation, said today in a telephone interview. "We dealt with some of the key issues that we had been looking to discuss with BAA for many months."
Under U.K. labor law, union leaders had until Sept. 9 to announce strike dates after 75 percent of participants in a three-week poll backed a walkout.
Unite called off the strike after "constructive" talks assisted by ACAS, it said in a statement. The union had attacked BAA's previous offer, which included an extra 0.5 percent raise conditional on changes to sick leave, as "confrontational." Under the deal agreed yesterday, sick pay will be unchanged.
Bonus Deal
The bonus package grants workers a guaranteed 500 pounds if BAA reaches 90 percent of its target for earnings before interest, tax, depreciation and amortization, with 200 pounds of that payable next month. The figure will rise to as much as 900 pounds if the company achieves 110 percent of the profit goal.
Bonus payments at BAA were previously discretionary, and workers last year missed out on a 450-pound payment after Ebitda fell 3 percent short of the forecast figure.
"We believe this is a fair offer for staff in what remains a difficult environment for the aviation industry," London-based BAA, which is owned by Spanish construction group Ferrovial SA, said in a statement today. "All parties brought a constructive approach to negotiations and we are sorry for the uncertainty ahead of yesterday's discussions."
Traffic Revival
BAA's first-half loss for Heathrow and London Stansted airports narrowed to 260.2 million pounds ($407 million) as lower pension costs and retail-sales growth helped offset a 4.5 percent decline in passenger numbers. Traffic picked up in July, rising 0.3 percent from a year earlier as Heathrow attracted record numbers of customers.
Flights at the London hub, the world's second-busiest airport after Atlanta, have already been grounded on 22 days this year during strikes by British Airways Plc cabin crew. Heathrow has also suffered disruption from airspace closures after a volcanic eruption in Iceland.
Ferrovial was trading up 1.2 percent at 6.47 euros as of 3:12 p.m. in Madrid. The stock rose 3.9 percent yesterday after it was announced that BAA and Unite had sat down to talks.
To contact the reporters on this story: Steve Rothwell in London at srothwell@bloomberg.net; Ben Martin in London bmartin38@bloomberg.net
To contact the editor responsible for this story: Kenneth Wong in Berlin at kwong11@bloomberg.net