Dell to Buy Data Storage Maker 3Par for $1.15 Billion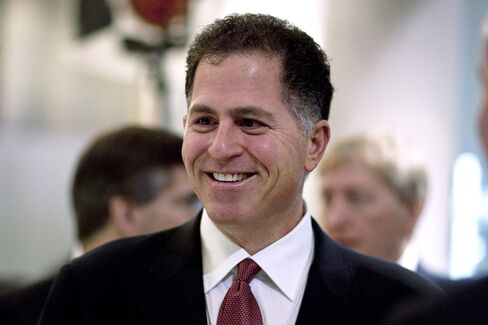 Dell Inc., the world's third-largest personal-computer maker, agreed to buy 3Par Inc. for about $1.15 billion, gaining equipment and software to bolster its growing corporate data-center business.
3Par investors will get $18 a share in cash, Dell said in a statement today. That's almost double the stock's closing price of $9.65 on Aug. 13. 3Par, based in Fremont, California, makes technology that helps companies cut data storage costs.
Dell aims to compete with companies such as Hewlett-Packard Co. and International Business Machines Corp. in the market for more complex computer systems and technology services that yield higher profits than its mainstay desktop and laptop PCs. Dell said in June that it plans to double the size of its data-center and technology-services business in part through acquisitions.
"The 3Par acquisition gives Dell the needed arrows in its quiver to step up competition in enterprise technology," said Ashok Kumar, an analyst at Rodman & Renshaw LLC in New York.
3Par, which had declined 19 percent this year before today, rose $8.35, or 87 percent, to $18 at 4 p.m. on the New York Stock Exchange. Dell, based in Round Rock, Texas, slipped 5 cents to $11.96 on the Nasdaq Stock Market.
Dell bought EqualLogic Inc. in 2007 for $1.4 billion as the foundation for its data-storage offering. Last month, Dell agreed to buy closely held storage company Ocarina Networks for an undisclosed price. The PC maker also agreed to acquire server-computer Scalent Systems Inc. that month.
3Par Independence
Dell may best challenge rivals by giving 3Par as much free rein as possible, and not integrating it tightly with existing businesses, Kumar said. So far, the execution of some of Dell's acquisitions has fallen "way short," he said.
"If Dell's hands-off and treats 3Par as a standalone acquisition, then they have a real shot to be a competitor in the marketplace," he said.
Dell posted a 42 percent drop in profit last year on slumping demand, and sales at its storage business fell 18 percent to $2.19 billion. Storage accounts for about 4 percent of total revenue.
Dell plans to operate 3Par as an independent business unit, 3Par CEO David Scott said. Dell has acquired four companies in the San Francisco Bay Area and "they want to build kind of a Silicon Valley hub," he said. All of 3Par's roughly 670 employees will join Dell, he said.
Silicon Valley 'Hub'
3Par was co-founded in 1999 by Chief Technology Officers Jeff Price and Ashok Singhal, who had previously worked at Sun Microsystems. CEO Scott, who previously worked at Hewlett-Packard, has held his position since 2001. Another 3Par co-founder is Robert Rogers.
3Par would be Dell's third most expensive acquisition, Dell said. 3Par's networked storage computers let Dell compete more directly with EMC Corp. toward the high end of the corporate data center market, said Jayson Noland, an analyst at Robert W. Baird & Co., in an Aug. 16 research note.
Dell's rivals are also racing to broaden their enterprise-technology businesses through acquisitions. Oracle Corp., the world's second-biggest software maker, bought Sun Microsystems for about $7.3 billion to expand into hardware, and HP bought 3Com Corp., a networking-gear maker, for $2.7 billion this year.
Dell hired IBM's top dealmaker David Johnson last year to help lead the company's acquisition strategy. In 2009, Dell bought Perot Systems Corp. for about $3.6 billion, marking the largest purchase in its 25-year history. Chief Executive Officer Michael Dell said last year the company would continue to be "reasonably active" in making acquisitions.
Before it's here, it's on the Bloomberg Terminal.
LEARN MORE