China Threatened By Export Risk After Eclipsing Japan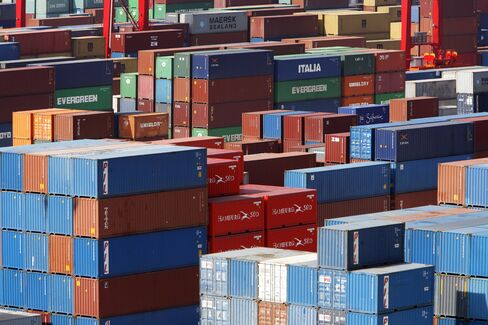 China faces the threats of faltering demand for exports, rising wages and the risk of bad loans from record lending after surpassing Japan as the world's second-biggest economy last quarter.
The boost to China's "national pride" from the second-quarter milestone may not count for much if it fails to bolster domestic consumption and reduce its reliance on exports and investment for growth, said Brian Jackson, an emerging-markets strategist at Royal Bank of Canada in Hong Kong.
The export growth and investment spending that powered China's three-decade rise from Communist isolation to emerging superpower is now at risk as U.S. and European consumers cut back and the nation's 4 trillion-yuan ($588 billion) stimulus winds down. The country's widening trade surplus also threatens to revive trade disputes with the U.S.
"For the past 30 years China replicated the export-driven growth model that got Japan to where it was in the early 1980s," said Patrick Chovanec, an associate professor at Tsinghua University in Beijing. "Look what happened to Japan then. It failed to adapt and lost its way."
Japan yesterday reported its economy expanded an annualized 0.4 percent in the three months ended June 30, falling short of all 19 estimates in a Bloomberg News survey and pushing it into third place behind the U.S. and China. The nation is yet to fully recover from a property and stock market crash two decades ago, when the Nikkei 225 Stock Average was four times its current level at its peak on Dec. 29, 1989.
Biggest Exporter
Japan's nominal gross domestic product for the second quarter totaled $1.288 trillion, less than China's $1.337 trillion, the Japanese Cabinet Office said yesterday. Japan remained bigger in the first half of 2010, the agency said. Japan's annual GDP is $5.07 trillion, while China's is more than $4.9 trillion.
China overtook the U.S. last year as the biggest automobile market and Germany as the largest exporter. The nation is the world's No. 1 buyer of iron ore and copper and the second-biggest importer of crude oil, and has underpinned demand for exports by its Asian neighbors. Four of the world's top 10 companies by market capitalization are from China, including PetroChina Co., Industrial & Commercial Bank of China Ltd., China Mobile Ltd. and China Construction Bank Corp.
Tremendous Growth
"In the consumer market, which particularly interests us, we're seeing tremendous growth," Mark Mobius, who oversees about $34 billion as executive chairman of Templeton Emerging Markets Group, said in a Bloomberg Television interview yesterday. "The government has made it very clear that they want to de-emphasize exports as the leader of the economy and move more towards the consumer."
Still, a reliance on exports and investments has caused China's domestic consumption to fall to 35 percent of GDP, the lowest of any major economy, from 45 percent a decade ago, Societe Generale AG says. The Group of 20 nations has urged China to boost domestic consumer spending to help offset reduced consumption from debt-strapped consumers in the U.S. and Europe.
An indicator of China's economic outlook rose for a second month in June, with the leading index climbing 0.8 percent after a revised 0.9 percent gain to 145.9 in May, a Conference Board report showed today. Foreign direct investment climbed 29.2 percent to $6.92 billion in July from a year earlier, the Ministry of Commerce said.
Labor 'Headwinds'
"The key risk is that weaker global growth will undermine exports," said Jackson at Royal Bank of Canada. "If Beijing attempts to offset that with a renewed surge in investment spending it will exacerbate overcapacity and risk overheating."
The challenge to China's export growth may be intensified by wages that have risen 20 to 25 percent in the Yangtze River Delta and Pearl River Delta this year, according to government data. Wages in China will rise over the next three to five years, pushing up costs, said Bruce Rockowitz, president of Hong Kong-based Li & Fung Ltd., the biggest supplier to retailers including Wal-Mart Stores Inc.
"The headwinds would really have to do with labor rates," which will continue to rise in China, said Singapore-based Mobius. "There will be problems with various industries along the way."
China's economy is already cooling as the government trims credit growth from last year's record $1.4 trillion and discourages multiple-home purchases to cool surging property prices. China Petroleum & Chemical Corp. said last month that its crude-oil processing increased at a slower pace in the second quarter as fuel demand faltered.
Lending Spree
Last year's lending spree, bigger than India's GDP, may saddle banks with more than $400 billion in bad loans, helping slash economic growth to less than 5 percent over two years, according to Hong Kong-based Asianomics Ltd.
While China's bad loans will remain "relatively low," rising levels may hurt the profitability of banks, said Mobius. "The fact that they've had to raise more capital to cover that means that you're not going to see the kind of earnings growth you can expect."
China is home to four of the world's 10 biggest banks by market value, half a decade after the country's first major state-owned lender went public. Agricultural Bank of China Ltd. boosted the size of its initial public offering to $22.1 billion this month after selling more stock in Shanghai, making it the world's largest first-time share sale.
Deng Xiaoping
The country led the world out of last year's global recession with an economy that's more than 90-times bigger than when leader Deng Xiaoping ditched hard-line Communist policies in favor of free-market reforms in 1978. Since then, China has lifted 300 million citizens out of poverty, according to the United Nations.
China is lagging behind in areas ranging from people's wellbeing to environmental protection after surpassing Japan's economy last quarter, commerce ministry spokesman Yao Jian said at a briefing in Beijing today. Yao said China still has more than 150 million people living on less than $1 a day and the country needs to improve the quality of its growth.
In the first three decades of Communist Party rule before Deng took power, China's economy was hobbled by the chaos of the Great Leap Forward, a failed attempt to transform the agrarian nation into an industrial powerhouse, and the Cultural Revolution, a decade of political upheaval led by Mao Zedong's Red Guards.
The country of 1.3 billion people will overtake the U.S., where annual GDP is about $14 trillion, as the world's largest economy by 2027, according to Goldman Sachs Group Inc. chief economist Jim O'Neill.
"China is at an important crossroads," said Tsinghua University's Chovanec. "Its key challenge is to wean itself from its reliance on cheap credit and easy money, and make the kind of tough substantive reforms that will put it on a path to more sustainable growth."
Before it's here, it's on the Bloomberg Terminal.
LEARN MORE