Fed Says Banks Eased Standards; Demand Little Changed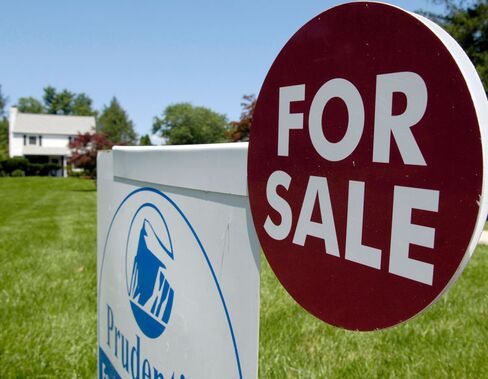 Banks in the U.S. eased standards and terms on loans in the second quarter, even as demand for business and consumer credit was little changed at the majority of lenders, according to a Federal Reserve survey.
Respondents to the Fed's quarterly survey of senior loan officers, released today in Washington, reported easing standards and most terms on lending to businesses of all sizes. The Fed described the change as "a modest unwinding of the widespread tightening that occurred over the past few years." It was the first survey since late 2006 that showed a loosening of standards on small business loans.
The survey may buttress the Fed's forecast for the economy to avoid relapsing into recession. Even so, the central bank last week cited "tight credit" as a constraint to household spending and a reason for setting a $2.05 trillion floor on its holdings of securities to keep borrowing costs low.
"We're getting more comfortable with making loans and standards are easing, which is a good thing, but at the end of the day demand is the whole story," said Dan Greenhaus, chief economic strategist at Miller Tabak & Co. in New York. "The more pressing issue is still, how do we get businesses and people to borrow and invest.'
The Standard and Poor's 500 Financials Index fell 0.4 percent to 188.36 at 2:30 p.m. in New York. The broader S&P 500 Index was little changed at 1,079.33.
Asked how banks had changed their credit standards for loans to companies with annual sales of $50 million or more, seven said they had "eased somewhat," two had "tightened somewhat" and 48 had terms that "remained basically unchanged."
Residential Mortgages
For consumers, credit standards on prime residential mortgages loosened. Five of 29 large banks in the survey eased their standards. In all, 21 banks reported demand for mortgages had increased and 16 said demand decreased.
"While the survey results suggest that lending conditions are beginning to ease, the improvement to date has been concentrated at large domestic banks," the Fed's survey said. "Most banks reported that demand for business and consumer loans was about unchanged."
Since December 2008, loans to businesses have dropped to $1.24 trillion from $1.62 trillion, while commercial real-estate loans have declined to $1.55 trillion from $1.73 trillion, according to a separate statistical release from the Fed for the week ending Aug. 4.
One-fifth of large domestic banks reported easing standards for loans to small businesses. Banks cited increasing competition as a reason for easing standards on business loans.
Capital Ratios
"Like financial conditions generally, the state of the U.S. banking system has also improved significantly since the worst of the crisis," Fed Chairman Ben S. Bernanke said in an Aug. 2 speech. "Loss rates on most types of loans seem to be peaking, and, in the aggregate, bank capital ratios have risen to new highs."
President Barack Obama last month signed the toughest set of U.S. financial market rules in seven decades. The bill creates a consumer bureau at the Fed, a council of regulators to monitor firms for systemic risk to the economy, and a mechanism for liquidating large financial firms whose collapse could threaten economic stability.
Uncertainty about the implementation of new regulatory rules may be inhibiting economic growth, Dallas Fed President Richard Fisher said in a speech last month. Businesses "are increasingly distressed by the lack of consistent direction coming from Washington," he said. "They are confused and dispirited by random refereeing."
Housing Sales
Housing sales have slumped since the expiration of a government tax credit this summer. Purchases of existing homes declined to a 5.37 million annual rate in June from 5.79 million in April, according to the National Association of Realtors.
The drop in home sales occurred even as the average 30-year fixed-rate mortgage dropped to 4.44 percent last week, the lowest level on record, according to an index from home-finance provider Freddie Mac.
One bank in the Fed survey said it was less willing to make consumer installment loans, while 13 said they were more willing and 39 said their willingness was about unchanged. Three banks said they had eased standards for approving credit card applications; none said they had tightened.
Credit Card Debt
In June, credit-card debt dropped to the lowest level since October 2005, according to a separate Fed report, an indication that consumer purchases, which account for about 70 percent of the economy, will be restrained as Americans rebuild savings.
Retailers such as Aeropostale Inc., American Eagle Outfitters Inc. and TJX Cos. reported July sales that missed analysts' estimates as consumers cut spending ahead of the back-to-school season.
Sales at Aeropostale, the U.S. teen clothing retailer with more than 900 outlets, rose 1 percent at stores open at least a year, short of the 7.4 percent average of analysts' estimates compiled by Retail Metrics Inc. Sales at American Eagle were unchanged and those at TJX rose 2 percent.
The survey of loan officers at 57 U.S. banks and 23 U.S. branches of foreign banks was conducted from July 13 to July 27, the Fed said. The report doesn't identify respondents. The panel of domestic banks had about $7 trillion in assets, about two-thirds of the total assets for all domestically chartered, federally insured commercial banks.
-- With assistance from Allison Abell Schwartz in New York. Editors: James Tyson, Christopher Wellisz
Scott Lanman in Washington at slanman@bloomberg.net;
Before it's here, it's on the Bloomberg Terminal.
LEARN MORE