Agrium Makes A$1.2 Billion AWB Bid, Tops GrainCorp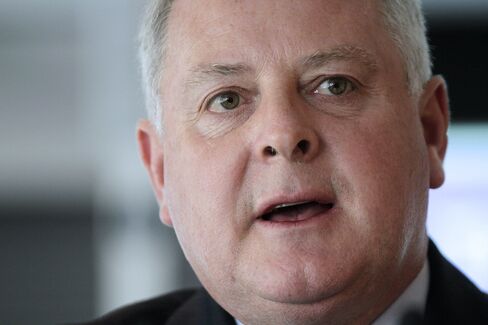 Aug. 16 (Bloomberg) -- Agrium Inc. offered A$1.2 billion ($1.1 billion) in cash for AWB Ltd., Australia's largest wheat exporter and No. 2 rural services provider, topping a share bid from GrainCorp Ltd. AWB's shares rose 30 percent.
Agrium, North America's third-largest fertilizer producer by market value, offered A$1.50 a share for AWB, the Calgary-based company said in a statement. That's 38 percent more than GrainCorp's bid, which values the Melbourne-based company's stock at A$1.09 a share, based on Aug. 13 closing prices.
Purchasing AWB will enable Agrium to broaden its rural product sales business, including fertilizers and herbicides, into Australia, the world's fourth-largest wheat exporter and third-largest shipper of canola. Agricultural companies worldwide are seeking acquisitions to benefit from surging demand for food led by China and India.
"Agrium fits well with the rural services side of AWB," Belinda Moore, a Brisbane-based analyst with Royal Bank of Scotland Group Plc said today. "This gives them another geographic region."
AWB, which is trading at 18 times forecast earnings, rallied 30 percent to A$1.42 at the 4:10 p.m. Sydney time close on the Australian stock exchange, up from A$1.095 on Aug. 13. Sydney-based GrainCorp shares rose 4.2 percent to A$6.53.
"This is a surprise for the market as AWB has been trading at parity to the GrainCorp implied bid price," Citigroup Inc. said today in a note to clients.
Nine Acquisitions
Agrium's Chief Executive Officer Mike Wilson has completed nine acquisitions valued at about $3.4 billion in the past five years. The company was seeking targets, he said in May after a failed $5.4 billion bid for fertilizer maker CF Industries Holdings Inc.
AWB's rural services unit had sales of A$821.3 million in the six months ended March 31, accounting for 27 percent of revenue from continuing businesses. It sells merchandize to farmers through its Landmark unit in Australia and also supplies agricultural and animal health products in New Zealand.
"The proposed transaction with AWB would continue Agrium's strategy of growing its retail business," Wilson said yesterday in a statement. "Agrium sees significant potential to enhance the product and service offerings to the Australian and New Zealand grower." The two companies were in talks, Agrium said.
Barclays Plc is advising Agrium, whose bid values AWB at about 8.6 times forecast earnings before interest, tax, depreciation and amortization, according to Bloomberg calculations.
GrainCorp spokesman David Ginns declined to comment on the company's response to the higher offer from Agrium.
Wheat Monopoly
GrainCorp, eastern Australia's largest grain handler, on July 30 offered one share for every 5.75 AWB shares, valuing its bid at A$891 million, based on the Aug. 13 closing prices.
Australia two years ago ended a wheat export monopoly formerly held by AWB, spurring international grain traders to enter the market. Viterra Inc., the largest Canadian grain handler, bought barley shipper ABB Grain Ltd. in 2009.
GrainCorp would struggle to offer a higher price than Agrium and may become a target itself, RBS's Moore said. "If the deal with AWB falls through, they are a strong Australian agribusiness and could be a strategic fit for an international grains company at some point in the future," she said.
Demand for the country's wheat shipments is rising this year as drought cuts production in Russia. Wheat prices on the Chicago Board of Trade reached a 23-month high of $8.68 a bushel on Aug. 6.
The Agrium offer is conditional and subject to negotiation, AWB said today in a statement. The directors had not withdrawn or modified their previous recommendation that shareholders vote in favor of the GrainCorp offer, it said.
The Australian government ended AWB's monopoly after an inquiry found the company was among 2,200 firms that made illegal payments to win contracts from Saddam Hussein's regime under the United Nation's oil-for-food program.
To contact the reporter on this story: Wendy Pugh in Melbourne wpugh@bloomberg.net.
To contact the editor responsible for this story: Hwee Ann Tan at hatan@bloomberg.net