U.S. Stocks Drop Most Since July as Fed Predicts Slower Growth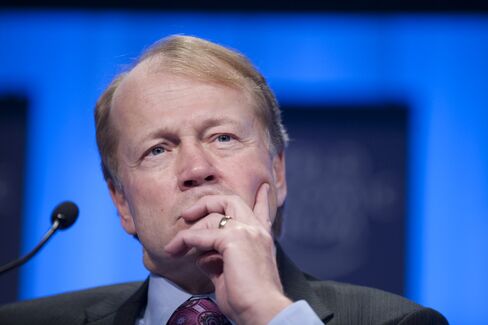 U.S. stocks fell and the Standard & Poor's 500 Index posted the biggest loss in five weeks on concern that the Federal Reserve's stimulus plan and an increase in jobless claims means the economic recovery is in jeopardy.
Cisco Systems Inc., the world's largest maker of networking equipment, plunged 11 percent this week for the biggest loss in almost two years after its sales projection missed estimates. Technology shares fell the most in the S&P 500, with Hewlett-Packard Co. losing 13 percent following the resignation of its chief executive officer. Alcoa Inc. and JPMorgan Chase & Co. dropped more than 7.2 percent after the Fed said the economic recovery would be slower than previously forecast.
The S&P 500 tumbled 3.8 percent this week to 1,079.25, the lowest level since July 21. The Dow Jones Industrial Average decreased 350.41 points, or 3.3 percent, to 10,303.15 as 26 of 30 stocks fell.
"Investors are reassessing the global growth and earnings story," said Stephen Wood, who helps manage about $140 billion as chief market strategist for Russell Investments in New York. "We're in a stage after stabilization where markets are looking for growth and the Fed confirmed that growth is going to be more difficult to generate."
More than $1.5 trillion has been erased from the value of global equities since the Fed reversed plans on Aug. 10 to exit from aggressive monetary stimulus and decided to keep its bond holdings level to support an economic recovery it described as weaker than anticipated. The S&P 500 has pared its rally since the 12-year low reached on March 9, 2009, to 60 percent from 80 percent in April.
Buying Treasuries
Global stocks tumbled Aug. 11 and U.S. equities posted their biggest one-day slump in three weeks after the central bank said it will reinvest principal payments on its mortgage holdings into long-term Treasury securities, signaling that risks of a downturn have increased.
"The pace of recovery in output and employment has slowed in recent months," the Federal Open Market Committee said. The Fed will "continue to monitor the economic outlook and financial developments and will employ its policy tools as necessary to promote economic recovery and price stability."
Cisco fell 11 percent to $21.36 this week. Chief Executive Officer John Chambers said the company was seeing "unusual uncertainty" and getting "mixed signals" about the health of the economy. While many of its customers were planning on 2 percent growth in the second half of the calendar year, the pace of the recovery in the U.S. and Europe was less clear, he said.
Missing Estimates
Cisco said sales this quarter will be as low as $10.64 billion, less than the average analyst estimate of $10.95 billion, according to data compiled by Bloomberg.
Technology companies in the S&P 500 dropped 5.6 percent, the most in six weeks. HP posted the third-biggest drop, tumbling 13 percent to $40.45 for the largest weekly slide since February 2009.
HP Chief Executive Officer Mark Hurd resigned because of an investigation that found he had a personal relationship with a contractor who received inappropriate payments from the company, the world's biggest maker of personal computers and printers.
Alcoa slumped 8.2 percent to $10.64. JPMorgan lost 7.3 percent to $37.50. Jobless claims exceeded economists' projections, adding to concern the recovery is stalling. Initial claims unexpectedly rose by 2,000 to 484,000 in the week ended Aug. 7, the highest level since mid-February, the U.S. Labor Department said Aug. 12.
Dynegy Takeover
Dynegy jumped 26 percent to $4.53. Blackstone Group LP agreed to buy the Texas power producer, which lost 94 percent of its market value in the past three years, for more than $540 million.
Unica Corp. surged 131 percent to $20.84. International Business Machines Corp., the world's largest computer-services provider, said yesterday that it would buy Unica for about $480 million to gain technology to build marketing campaigns. IBM fell 1.7 percent to $127.87 this week.
"People are concerned about a general economic slowdown, but on the good side of the ledger is that corporate America and investors are sitting on a pile of cash," said William Nichols, co-head of U.S. equities at Cantor Fitzgerald LP in New York.
Before it's here, it's on the Bloomberg Terminal.
LEARN MORE