Pakistan Floods May Derail Government Efforts to Narrow Deficit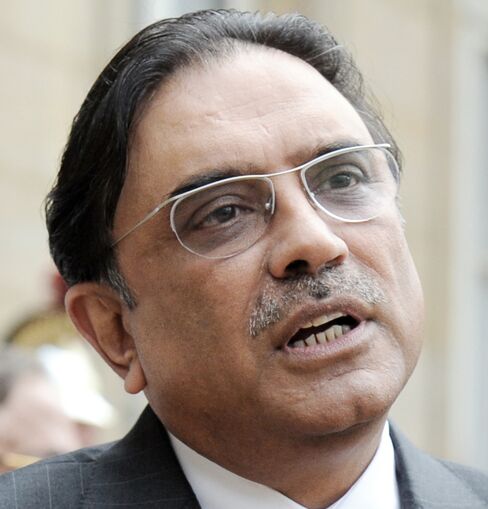 The deadliest floods in Pakistan's history may accelerate inflation and stall government efforts to narrow the budget deficit, hobbling an economy reliant on foreign aid and undermined by Taliban insurgencies.
The economy is likely to miss the government's growth forecast of 4.5 percent in the year that started July 1 as floods destroy crops and homes and displace 14 million people, said Mustafa Pasha, an analyst who manages fixed-income investments in Pakistan at BMA Capital Management Ltd. in Karachi. The deficit may be 2 percentage points wider than the official target of 4 percent of gross domestic product, Pasha said.
The destruction of cotton, rice and sugar crops may drive up prices and investment may decline as Prime Minister Syed Yousuf Raza Gilani diverts funds for flood relief. Agriculture supports 60 percent of Pakistan's workforce and accounts for a quarter of the $167 billion economy, where terrorist attacks and a 2005 earthquake have hampered growth.
"The damage to infrastructure will hurt production at factories, while the flooding has already washed away crops," said Pasha, who oversees the equivalent of $116 million at the fund management unit of BMA Capital, one of the country's largest brokerages. "Inflation will accelerate in the coming months. Under these circumstances, it is very difficult to maintain fiscal discipline."
Stocks Fall
The benchmark Karachi Stock Exchange 100 Index has dropped about 5 percent this month, the worst performer after Vietnam's among 93 indexes tracked by Bloomberg globally. Daily turnover for the stock exchange has slumped to an average of 2.68 billion rupees ($31 million) this month as of Aug. 12, compared with 4.98 billion rupees in the first seven months of the year, according to data compiled by Bloomberg.
Pakistan's inflation has exceeded 12 percent in the seven months through July, and an acceleration would threaten livelihoods in a nation where the World Bank says a quarter of the people live on less than $1 a day. Rising prices prompted acting central bank governor Yaseen Anwar to increase the benchmark interest rate to 13 percent from 12.5 percent in July.
Gilani said Aug. 12 Pakistan will stop development work if needed to provide food, medicines, health care and relief to people made homeless by the floods. The government will waive farm loans and help rebuild homes for the victims, the prime minister said Aug. 10, according to the state-run Associated Press of Pakistan.
Budget Deficit
The nation of 186 million people will have to increase borrowing to finance reconstruction of flood-affected areas and abandon plans to trim the budget shortfall, said Muzzammil Aslam, senior economist in Karachi at JS Global Capital Ltd., Pakistan's biggest publicly traded brokerage by sales.
While that would go against conditions set by the International Monetary Fund in exchange for an $11.3 billion bailout in the last two years, "we think the IMF will allow the central bank to print money to finance the deficit," said Aslam, who was previously a member of Merrill Lynch & Co.'s global economics team.
The government may spend about 150 billion rupees on rehabilitation and reconstruction, which would widen the budget gap to 6 percent of GDP, he said. Pakistan's current deficit target of 4 percent for this financial year would be the smallest shortfall since 2005, according to government data.
The country received a $7.6 billion loan from the IMF in 2008 to avoid defaulting on its overseas debt and the credit agreement was increased to $11.3 billion last year. The South Asian nation may approach the IMF for more funds, as the alternative of selling state assets may be difficult amid signs the global recovery may falter, Aslam said.
Delay in Aid
Pakistan may apply for a second loan program from the IMF to make up for a shortage of resources caused by low tax collection and delays in aid from donors, Finance Minister Abdul Hafeez Shaikh said in May. The Friends of Democratic Pakistan, a group of donors that includes the U.S., U.K., Japan and Saudi Arabia, has delayed $5.3 billion in aid pledged in April 2009. The delays forced the government to tap funds from the central bank, stoking inflation.
The Asian Development Bank said overseas aid to rebuild the country may help the government keep to its deficit targets.
"We were making serious progress on reforms and getting the budget deficit under control and we will have to regroup," said Juan Miranda, Director General of the ADB's Central and West Asia Department in Manila. "We may have to change the priorities where we put the money in and we will mobilize additional finance to help them on this particular course."
Crops Lost
The floods may shave as much as 1 percentage point off growth in the year ending June 2011, according to Aslam. Still, damage to agriculture may be offset by reconstruction activity, while Pakistan's industrial cities have been unscathed by the disaster, he said.
Pakistan may fall short of its economic growth target by as much as 2.5 percentage points because of the floods, Finance Secretary Salman Siddique said Aug. 13.
As waters inundate the main farming provinces of Punjab and Sindh, more than a million acres of sugar cane, cotton and rice fields have been damaged, causing agricultural losses of $2.9 billion, according to Mohammed Ibrahim Moghul, chairman of Agri Forum Pakistan, a farmers' group. World Bank President Robert Zoellick said crops worth an estimated $1 billion had been destroyed in the flood.
The Washington-based lender is considering "reprogramming" $900 million at the Pakistani government's request to deal with a disaster that's had a worse impact than the earthquake of 2005, Zoellick said Aug. 13. Aid groups were reporting cases of diarrhea, fever and skin infections among survivors as they prepared for another round of flooding forecast for next week.
Taliban Insurgency
The government's farm output growth target of 3.8 percent for the year that started July 1 can't be met, Agriculture Minister Nazar Muhammad Gondal said Aug. 10. The flood is "Pakistan's worst natural disaster" since the country's creation 63 years ago, and has set back the nation's development by many years, Prime Minister Gilani said Aug. 9.
The floods are putting additional strains on government finances as Gilani struggles to counter a Taliban insurgency that's turned parts of the country into a war zone. At least 650 people have been killed in 25 major terrorist attacks nationwide this year as the Pakistani army fights militants in the northwest.
Some areas of the country, particularly in the north, are also still rebuilding from its most recent major natural disaster in 2005, when a magnitude 7.6 earthquake killed about 86,000 people.
Before it's here, it's on the Bloomberg Terminal.
LEARN MORE