Southwest May Add Bigger 737 Jet for Busiest Routes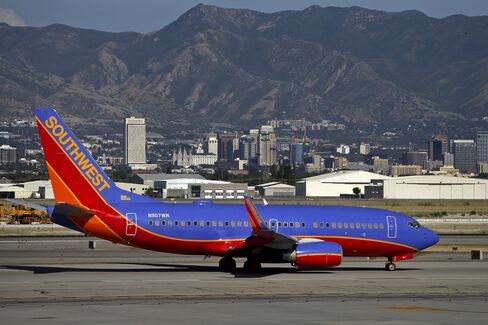 Aug. 13 (Bloomberg) -- Southwest Airlines Co. may add to its fleet a larger model of Boeing Co.'s 737, the only type of aircraft it flies, to carry more passengers on high-demand routes.
Southwest, the biggest low-fare carrier, expects to decide by about Dec. 1, Whitney Eichinger, a spokeswoman, said in an interview today. A Southwest 737-800 would have 175 seats, up 28 percent from the 137 in a 737-700, she said.
The move to a larger 737, the world's most widely flown jetliner, would allow Southwest to increase capacity even as it holds its fleet size steady through 2012, waiting for business travel to rebound. The Dallas-based carrier is taking new aircraft only as replacements for older planes.
"The 737-800 is the sweet spot of the 737 family, and airlines other than Southwest have been shifting their orders from smaller variants like the 737-700 to the larger 737-800 and 737-900ER for some time," Douglas Runte, managing director of Piper Jaffray & Co. in New York, said in an e-mail. "The 737-800's fuel consumption per seat is 10 percent or more lower than the 737-700 on most missions."
The larger aircraft may help Southwest reduce its unit costs, or the expense to fly each seat a mile, Chief Operating Officer Mike Van de Ven told employees in a message today. Southwest, which first added 737-700s to its fleet in 1997, is the largest operator of 737s, with 544.
High-Demand Routes
"Southwest is a highly valued customer, and we are always happy to discuss their fleet needs with them," Jim Proulx, a Boeing spokesman, said in an e-mail. He declined to comment further.
Southwest said July 29 it had exercised options to buy 25 737-700s valued at $1.7 billion based on list prices. Deliveries start in 2011. If the carrier opts for the 737-800, it would replace some pending -700 orders with the larger planes and deliveries would probably start in 2012, Eichinger said.
"The intent would be to use it on the high-demand, longer-haul routes within our current network," she said. "We'd be able to add capacity in those cities where you see high demand but we aren't necessarily able to get more space to add flights."
The 737-800 carries as many as 189 passengers in a one-class configuration, according to Boeing. The smaller number on a plane for Southwest is based on the airline's specific seat configuration, Eichinger said.
Southwest fell 3 cents to $11.40 at 4:02 p.m. in New York Stock Exchange composite trading. The shares have climbed 24 percent in the 12 months.
To contact the reporter on this story: Mary Schlangenstein in Dallas at maryc.s@bloomberg.net
To contact the editor responsible for this story: Ed Dufner in Dallas at edufner@bloomberg.net