UN's Ban to Visit Pakistan Flood Zone to Assess Relief Need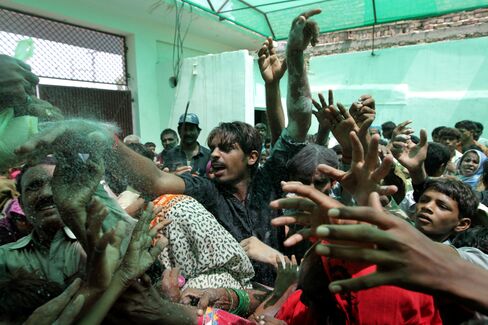 United Nations Secretary General Ban Ki-moon arrives in Pakistan tomorrow to gauge the needs of 14 million people displaced by the country's worst ever floods as the economic cost of the disaster spirals.
Ban will land as relief and weather officials say river levels are falling in a swath of central Pakistan where World Bank President Robert Zoellick estimates massive inundations have damaged crops worth $1 billion and which Pakistani leaders say have set the economy back by years.
His visit "will accelerate international aid we so badly and very urgently need," Ahmed Kamal, spokesman for the National Disaster Management Authority, said by phone from Islamabad. "It will persuade international donors to help re-build it in the longer run." Foreign Ministry official Nadeem Hotiana confirmed Ban's trip, saying it will help "coordinate relief efforts."
The United Nations has appealed for $460 million in emergency aid to help the homeless and hungry as fears grow that disease outbreaks that may add to the 1,600 people already killed. The disaster may cut the nation's economic growth in half, Pakistan's Finance Secretary Salman Siddique said in an interview today, with expansion falling up to 2.5 percentage points short of a 4.5 percent target.
Unprecedented destruction has led the World Bank to consider "reprogramming" $900 million at the Pakistani government's request to deal with a disaster that's had a worse impact than the earthquake of 2005, Zoellick told reporters in Latvia today.
As the scale of the disaster continues to unfold, the gap between needs on the ground and available resources is widening, the Geneva-based International Red Cross and Red Crescent Movement said on its website today.
Leaders Rallied
President Asif Ali Zardari and Prime Minister Yousuf Raza Gilani met for two hours last night and decided to convene an urgent meeting of the Council of Common Interests, the state-run Associated Press of Pakistan reported. Gilani said damage to life, property, livestock and infrastructure may be far greater than initial estimates, providing a grim backdrop as the country marks its 1947 independence tomorrow.
Zardari and Gilani agreed that budget priorities will need to be adjusted, APP said.
The government may have to spend 150 billion rupees ($1.7 billion) to rebuild the nation, threatening a goal to contain the fiscal deficit at 4 percent of gross domestic product in the current fiscal year, said Muzzammil Aslam, an economist at JS Global Securities Ltd.
Respite Hope
Weather officials offered hope of a respite for Punjab state, where 7 million people are homeless. "Flood levels in the Chenab, Swat and Indus rivers are receding because there has been very little or no rainfall in the last two days," Muhammad Riaz, chief meteorologist in Karachi, said by phone. While another wave of water is heading south into Sindh province, protective dams had not been breached during stronger flows this week, Riaz said.
Zardari yesterday toured the Sukkur dam in Sindh, his home province, to see the damage first-hand, state-run Pakistan Television reported, after he was criticized by the opposition for traveling to Europe as the floods spread.
"President Zardari has greatly disappointed his people whom he has left in the lurch with his trips," said Karachi-based Sardar Rahim of the Pakistan Muslim League party headed by former Prime Minister Nawaz Sharif.
Zardari has decided to curtail a trip to Russia next week for a regional summit to a "few hours," Associated Press of Pakistan reported today.
Aid Arrives
Flood surges triggered by unprecedented monsoon rains have swept south along the 3,200-kilometer (2,000-mile) long Indus River, devastating low-lying areas of Punjab and Sindh, the densely populated economic and agricultural heartland of Pakistan, damaging 722,000 homes.
A charter plane carrying 100 metric tons of emergency relief for Pakistan's flood victims arrived in Karachi yesterday, the United Nations Children's Fund said.
The shipment included health kits, nutrition supplies, midwifery kits and tarpaulins for families affected by weeks of monsoon rains and flooding around the country, New York-based Unicef said yesterday. It estimates six million children have been affected, with some 2.7 million of them in need of urgent, life-saving assistance.
The U.S. yesterday announced it had added a further $21 million in financial aid, raising the total to $76 million. The U.K. has allocated 16.8 million pounds and earmarked up to 31.3 million pounds ($48.8 million) for relief aid, the Department for International Development said on its website. China, a strategic ally of Pakistan for 60 years, said it may increase its $1.5 million in flood assistance.
Before it's here, it's on the Bloomberg Terminal.
LEARN MORE