Nvidia Said to Take On Intel in Tablet Computer Chips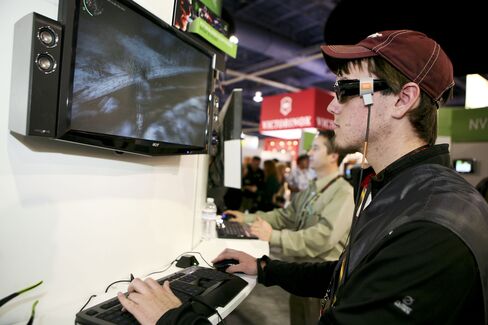 Nvidia Corp., the maker of chips for computer graphics cards, is working on a microprocessor for tablet devices that would directly compete with Intel Corp. products, two people familiar with the matter said.
Nvidia has a team of engineers developing chips that could be used by computer makers instead of Intel, said the people, who declined to be identified because the project hasn't been made public. Nvidia began working on a tablet chip after an earlier effort to create laptop processors didn't pan out, the people said. Those chips weren't cheap enough to compete with Intel's Atom chips, according to the people.
The effort would help Nvidia tap the burgeoning market for tablets, spurred by the success of Apple Inc.'s iPad. It also may serve as a counterattack against Intel and Advanced Micro Devices Inc., the two biggest makers of computer processors, as they encroach more onto Nvidia's home turf of graphics chips. Nvidia will need a central processing unit, which serves as the brain of a computer, to compete in the future, said Jim McGregor, an analyst at Scottsdale, Arizona-based In-Stat.
"They are between a rock and a hard place," he said. "Nvidia doesn't have that much time. Their business model is under pressure."
Tom Beermann, an Intel spokesman, declined to comment.
The Nvidia project relies on a technology pioneered by Transmeta Corp. that uses software to replicate the way Intel chips work, the people said. Intel, whose processors run more than 80 percent of the world's PCs, owns the so-called X86 instruction set -- technology that went into its first CPUs in the late-1970s. While Intel licenses the design to AMD, it hasn't granted one to Santa Clara, California-based Nvidia.
Graphics Features
Intel and AMD are changing the way the processors work by adding functions previously performed by other chips, including more graphics features. That speeds up communication between components and makes the computer more efficient. It also locks out companies that can't make those combined chips.
Nvidia's latest project may not result in a product, according to the people familiar with the matter.
Trying to replicate the performance of Intel chips using software -- an approach Transmeta tried about a decade ago -- hasn't worked before because it's hard to deliver enough performance to run computer programs like Microsoft Corp.'s Windows fast enough, according to In-Stat's McGregor. Intel's X86 technology has taken over the PC and server industries, displacing companies such as Motorola Inc., whose chips once ran Apple computers.
Nvidia has concentrated on the market for graphics processing chips, becoming popular with computer gamers. Those customers add cards to their PCs to enable them to play the latest games.
Nvidia rose 43 cents to $9.39 at 4 p.m. New York time in Nasdaq Stock Market trading. The stock has lost 50 percent of its value this year. Shares of Intel, also based in Santa Clara, dropped 30 cents to $19.15.
Before it's here, it's on the Bloomberg Terminal.
LEARN MORE